Yahoo! Fantasy Baseball app finally comes to Android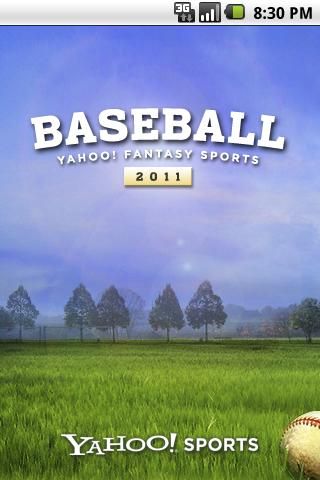 Right before baseball season started, we gave users a good selection of baseball apps that they could get on their Android device. ESPN had just released an app for fantasy baseball users, but Yahoo! was still missing. Today, however, the app is available for free in the Android Market, so it's time to get excited if you play fantasy baseball on Yahoo!.
With the Yahoo! Fantasy Baseball app, users can now:
Get access to real-time scoring updates by team, league
Manage your lineup
Track matchups
Search for free agents and read breaking news
It's been a long time coming, but Yahoo! fantasy baseball users can now manage their teams on-the-go from their Android device. Find the app links after the break. Thanks Ben!
Prob would have been a good idea to push this out BEFORE baseball season. More people prob would have used Yahoo! if it was.

Don't know why you're billing this as finally coming to Android. I was running version 1.2 on this EVO last year. I still have the installation App on my SD card.

You must be referring to football. Baseball has never been on android.

No honeycomb support. I installed on atrix but don't see it in the market on my xoom.

Ditto, X finds it in the market, but not my Xoom .. Fail :(

Ditto, X finds it in the market, but not my Xoom .. Fail :(

Totally useless if you use your gmail address to play on yahoo. Fantastic work guys.

Works good, loads very fast, but missing some of the great tools we got with "fantasy guru" (designed to work with yahoo fantasy leagues) Would like to see:
landscaping
Season totals (for my whole team)
Better stat comparison (vs the league)
Smoother roster moves
Graphing
Search parameters
See when a starting pitcher's last game was (without digging through the last week's games) Again, I think it's a good app. I'd much rather have it run well first, and add these things as they can make them work. Good job yahoo!

Also can't use FB login for fantasy app. WTF?

perhaps, things will be better with the improvement of app. while I still like the simplest things, like baseball jerseys ect, which are easily to access.Browsing my favorite on w w w .tradeyakeesjerseys.com. yahoo!
Android Central Newsletter
Get the best of Android Central in in your inbox, every day!
Thank you for signing up to Android Central. You will receive a verification email shortly.
There was a problem. Please refresh the page and try again.