Xiaomi surpassed Samsung as Europe's top smartphone brand in Q2 2021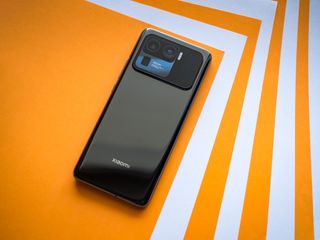 (Image credit: Apoorva Bhardwaj / Android Central)
What you need to know
The latest research from Strategy Analytics claims Xiaomi was the top smartphone vendor in Europe in Q2 2021.
Xiaomi reportedly captured a 25% market share with a strong 67.1% YoY growth in shipments.
Samsung's smartphone shipments, on the other hand, declined 7% YoY.
Xiaomi overtook Samsung to become the top smartphone vendor in Europe in the second quarter of 2021, according to the latest research from Strategy Analytics. Xiaomi's smartphone shipments in the old continent grew by an impressive 67.1% YoY to reach 12.7 million units in the April to June quarter. The continued economic recovery and strong demand from consumers helped the European smartphone market achieve a string 14% YoY growth to 50 million units in the second quarter.
Samsung, which led the European smartphone market until Q1 2021, shipped 12 million phones in Europe in the second quarter, down 7% compared to the same period a year earlier. Apple held the third spot with a market share of 19.2%. Rounding out the top five were BBK-owned brands OPPO and Realme.
It isn't just Europe where Xiaomi is seeing impressive growth. According to Canalys, Xiaomi's global market share stood at 17% in Q2 2021, only 2% lower than Samsung. While Samsung's global smartphone shipments only saw a 15% YoY growth, Xiaomi saw a much higher 83% growth. The massive growth doesn't come as a surprise, since Xiaomi phones offer fantastic value. Although there's no doubt that Samsung makes some of the best Android phones, its devices cannot compete with rivals from Xiaomi when it comes to sheer value.
Currently, the only major smartphone market where Xiaomi doesn't have a presence is the U.S. In case that changes, it could become nearly impossible for Samsung to hold on to its title of the world's biggest smartphone maker.
Redmi Note 10 Pro
The Redmi Note 10 Pro is among the best Android phones released this year. It offers a gorgeous 6.67-inch AMOLED display with a 120Hz refresh rate, Qualcomm's Snapdragon 732G chipset, and a capable 108MP main camera.
Get the Android Central Newsletter
Instant access to breaking news, the hottest reviews, great deals and helpful tips.
As long as Samsung continue to use Exynos chips for their European Galaxy S phones then they'll continue to be second to the likes of Xiaomi and of course price is also a factor too with Xiaomi beating Samsung in Europe but here in the UK, it's Apple that's in first place unfortunately.

Can you not buy any other phone brands because Apple is in first place, or are you a stock holder in a competitor? I don't see many other ways Apple being in first place makes any difference to an individual consumer.

It's about Exynos here in the UK, if Samsung would stop selling the Exynos versions of their phones then they'd be a lot closer to Apple. I only got my S20 FE because it had the Snapdragon 865. And also Samsung doesn't give us all the configurations of their devices, for example we only have the 6GB/128GB model of their Galaxy Tab S7 series while the US gets the 8GB/256GB models.

LOL...most smartphone buyers don't have a clue what chip their phone uses. Samsung wasn't going to stay in first place forever, especially in a free market.

Yep. No normal person in the UK or anywhere else cares or even usually knows what processor is in their phone.

I have a Oppo A72 and by all accounts it has a snapdragon 665 in it, and I only found that out by looking at the about phone section in the settings I have no idea if that is god, bad or indifferent, but the phone is pretty speedy and works well.
CPUs for a computer is a different thing, I am interested in what my machine has in.
When I was looking for a new phone, I had a look at the reviews and they all said the A72 was good value and was a good phone. It is a good phone, the camera is good, the phone is responsive and the screen is pretty good. But abort from the camera which i did take notice of, I really did not take any notice of what processor it had in, or system on a chip as they call it. I am glad Samsung is losing a bit, I have never been a fan of Samsung smart phones, not so sure if I want a chinese smart manufacture to be top, but then my phone is from a Chinese. company. Would be nice if we could get a phone designed and produced in Britain.

It would be nice but didn't we have a smartphone that was made by a British company? I forget their name but I think they went bust. Anyway I have an S20 FE and I'm really not a fan of Samsung's software but the hardware is top notch though, always been a Google Pixel fan (it has my favourite Android UI) ever since I had the Nexus 6 and especially the Pixel 2 XL which remains my favourite phone ever, and the Pixel 6 Pro is the phone I'd really want but I'll settle for the 4a 5G, I'll get either one this fall.

It's fiiiine...Samsung isn't going anywhere. I just hope they learn from mistakes and only improve here on out.

Yeah like stop giving us the Exynos chip and yeah I know the 2100 is the best Exynos chip Samsung has produced but it still wasn't as good as the Snapdragon 888 hopefully the Exynos 2200 which will use an AMD gpu will finally push the Exynos chip on par with Apple and Qualcomm.

Would never buy a Chinese phone... I use my phone for business and client security is important...

Redmi 10 note pro owner here, best value phone I've ever had. Flagship specs at Moto G price. Even cheaper when you buy during one of their weekday sales like I did.

I'd much rather buy a brand I can trust with updates, clean software and a point and shoot camera arr absolute priorities for me so Xiaomi and pretty much every other OEM is out and yes I have an S20 FE because I wanted to try Samsung and their software just isn't for me and my next phone is going to a Pixel as it's the only phone I was truly happy with and it's a case of your don't know what you got til it's gone.