Xiaomi phones may finally come to the U.S. by the end of 2018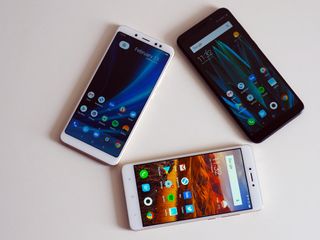 Xiaomi, one of the largest phone manufacturers in China and India, could finally make its long-awaited debut in the United States as early as this year.
This news comes via a report from The Wall Street Journal, with Xiaomi's Chairman Lei Jun saying:
Xiaomi was founded in April of 2010, and its revenue in 2017 was already being reported at $15 billion in USD. We've covered the company's phones extensively here on Android Central, with some of its most notable products being the Mi Mix 2, Mi A1, and Mi 6.
Also, while Xiaomi has yet to start selling its phone in the U.S., you can purchase some of its other gadgets in the country — including the Xiaomi Mi Box, Amazfit Bip smartwatch, a couple different headphones, and more.
I've personally been intrigued by a lot of Xiaomi's smartphones, and while it's exciting to hear that the company wants to bring its handsets to the U.S., it's going to be faced with an uphill battle in doing so.
Other Chinese companies like ZTE have seen success by getting its phones sold on a variety of wireless carriers, but on the other hand, Huawei's plans to launch the Mate 10 Pro on AT&T and Verizon were thwarted due to nonstop pressure from the U.S. government.
Xiaomi has to know what it's getting itself into with a U.S. launch, so here's to hoping the company has a plan of action against the backlash it'll more than likely be faced with.
Android Central Newsletter
Get instant access to breaking news, the hottest reviews, great deals and helpful tips
Joe Maring was a Senior Editor for Android Central between 2017 and 2021. You can reach him on Twitter at @JoeMaring1.
Glad to here this. I've been looking at the Mi A1 since it's release, but haven't gotten it due to no US model.

It'll work fine in the US as long as you don't mind not having LTE. If you're not a heavy data user streaming a ton of video, it's really not that big of a deal. I use my phone on Wi-Fi most of the time (anytime I'm downloading large files, like podcasts and stuff) so I wouldn't mind a 3G-only phone as long as it ticked all of the other boxes.

Since I'm out a lot LTE is one of my biggest wants

I will believe it when I see it. What is working so far for Xiaomi is the fact they don't have to pay those patents fees while in China and India. If they plan to venture in legally in the US and Europe, they better be ready to play by those rules. In which case their prices will have to go up. They have been saying this since 2013/14, I will believe it when I see it.

They use Qualcomm processors almost exclusively, and I can't imagine that most of the patent fees they might have to pay would be bundled into the cost of the chipset. I'm certain that their prices will go up a bit, but even if they go up by $25 per handset, they'll still be cheaper than virtually all their competitors.

If it's that easy, why haven't they done so yet? When Hugo B. joined them, I thought that's what he would worked on, but no.

Because the carriers. The unlocked handset market is almost non-existent in America, carriers are gatekeepers, and Xiaomi would need to get the carriers to carry their phones. The carriers are basically all-in on Apple and Samsung -- selling $1000 phones that most people finance through the carriers themselves keeps people locked in. Xiaomi drastically undercuts Apple and Samsung on price, which is not something that would benefit the carriers. If the carriers lock them out (like they've done to Huawei), there's no way that Xiaomi to do the kind of volume to make it worth their time. They'd need to do some kind of national ad campaign to boost their name recognition, but then people would run down to their carrier store and leave with a Samsung because Xiaomi phones wouldn't be there.

That's the excuse people make. Apple was a nobody in 2007 and they managed to cracked the carriers shields. I remember some folks saying carriers had everything under lock down, asked verizon how that worked out for them against Apple and the iPhone? The fact is, if you have a product that people want, the carriers maybe resistant at first but you can bend them to your will if people want your product. The thing is Xiaomi is selling nothing the carriers can't get from a thousand other vendors, if cheap android devices is what the carriers fancy they have no shortage of vendors who can offer them that. What exactly is Xiaomi bringing to the table besides cheap android devices?

Apple was a nobody in 2007? That's obviously not even close to true. iPod/iTunes were huge by 2007, and thanks to their switch to Intel a few years earlier and the public backlash against Vista, their PC business was actually doing quite well. Other than that, you're basically just agreeing with me -- the carriers have no interest in selling Xiaomi phones, and that's why Xiaomi has been reluctant to get into the US market. The carriers are happy with their portfolio, and only really care about selling $1000 iPhones and "Galaxy" phones. In the US, 90% of people buy phones directly from the carriers. Xiaomi sells millions of phones every month, but because carriers control the US market, if they can't get their phones into carrier stores then they'll be lucky to sell a few thousand a month -- not worth their time. The only way to get carriers to sell their phones would be to double the prices (to pay kickbacks to carriers), and they probably just don't much of a point to doing that when they already have booming businesses in China and India.

Have a Google news alert set for the Xiaomi Mi Max 3. Rumor has it being a 7-inch smartphone.

I was just posting that was what I was hoping for as well

Hopefully it is the Mi Max 3

They should come to Canada first. We complain less.
Android Central Newsletter
Get instant access to breaking news, the hottest reviews, great deals and helpful tips
Thank you for signing up to Android Central. You will receive a verification email shortly.
There was a problem. Please refresh the page and try again.