Xiaomi Mi Smart Shoes review: Obsessively track your workouts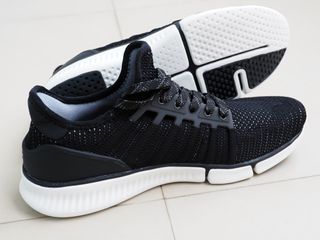 Xiaomi is no stranger to the wearable segment — its $20 Mi Band (opens in new tab) is immensely popular worldwide — and the brand is once again turning to fitness tracking with its latest product, the Mijia Smart Shoes (opens in new tab). Like the rest of its Mi Ecosystem portfolio, Xiaomi's smart shoes offer great value for money.
The heel and ankle portion of the shoe is made out of SBR (styrene-butadiene rubber), and the rubber outsole has an anti-slip patch. The knitted fabric upper allows the shoe to be lightweight, and there's a "torsion balance sheet" inserted in the midsole that protects you from spraining your feet.
Image 1 of 5
If you're running at night, there's a reflective thread that's woven into the shoelace and a reflective stripe at the back.
The brains of the smart shoe is an Intel Curie module, a coin-sized 32-bit SoC based on the Quark SE platform that has a 6-axis sensor, accelerometer, and gyroscope. The module can run for up 60 days on a standard coin battery, and it has enough compute power to crunch all the data recorded from the bevy of sensors and transmit it over Bluetooth LE.
The module is IP67 water-resistant and can be inserted into either the left or right shoe. The system is similar to the Nike+ sensor (opens in new tab) from several years ago, but it does a much better job of cataloging your data. Like the Mi Band, Xiaomi's smart shoes are manufactured by Huami. I picked up the black colorway, but they're also available in grey and blue.
Image 1 of 5
The module automatically differentiates between running, walking, and climbing, and you'll be able to see an overview of the total distance covered in a day along with the calories burned through the Mi Fit app (opens in new tab).
You'll need to initially pair the Curie module with the Mi Fit app during initial setup — the pairing process involves you placing the module in the shoe and shaking it to activate the sensor, and then enabling Bluetooth on your phone so the app can detect the shoe. Once set up, you can view your activity history broken down into daily, weekly, and monthly increments. There's also the option to sync your activity data with Google Fit.
The success of the Mi Band allowed Xiaomi to clinch the second spot in the wearable category, and a lot of that had to do with the fitness band's affordability. Xiaomi's $60 sneakers are similarly worth the purchase, even without the smarts. Factor in the Curie module and you have one of the best options in the wearable segment.
See at GearBest (opens in new tab)