Xiaomi made a $150 rice cooker that you can control with your phone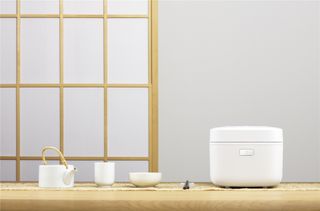 Xiaomi's latest smart home product is a $150 rice cooker that you can control with your phone. Dubbed the Mi Induction Heating Pressure Rice Cooker, the product is the first in Xiaomi's Mi Ecosystem sub-brand, which will house all the smart appliances made by the vendor.
Xiaomi dabbles in more than phones and tablets, with the vendor collaborating with other brands to produce water purifiers, air purifiers, blood pressure monitors, and a Segway clone called Ninebot. The Mi Rice Cooker features Wi-Fi, and connects to your phone through a dedicated app. It can also differentiate between 200 kinds of rice, with over 2,450 heating methods available to ensure that the rice is always cooked to perfection:
There's also a magnetic relief valve that regulates the pressure, and the lining is made out of grey cast iron. PFA powder coating at the bottom prevents the rice sticking to the cooker. The Mi Rice Cooker will go on sale from April 6 for ¥999 ($154), which according to Xiaomi is 40 percent lesser than the price of a high-end cooker.
Who's interested?
Android Central Newsletter
Get instant access to breaking news, the hottest reviews, great deals and helpful tips
Harish Jonnalagadda is a Senior Editor overseeing Asia at Android Central. He leads the site's coverage of Chinese phone brands, contributing to reviews, features, and buying guides. He also writes about storage servers, audio products, and the semiconductor industry. Contact him on Twitter at @chunkynerd.
Gimmick. You don't have to trust a database to make perfect rice, you just need a solid rice cooker, or barring that, experience. Instead buy a solid Japanese rice cooker, which sets you back a little more but guarantees that making rice is something you don't even have to think about.

Looks like u know quite a lot about cooking.... Posted via the Android Central App

I don't understand why the world needs a rice cooker with a bazillion options that optimizes itself for different packets of rice. Yeah, it's cool, but my "dumb" rice cooker at home already cooks rice nicely.

Plus I cook a lot more than rice in my rice cooker. Pasta, eggs, streaming veggies, ect. If this had more of a general database to know how long to stream cabbage or chicken, I would be more interested. Posted via the Android Central App

It is amazing how many expensive gadgets that people who don't have elementary cooking skills believe they need to make a basic dinner. You do not need a rice cooker. Period. Rice is not a complete meal. I've yet to find any type of rice that took more than 30 minutes to cook in a stovetop pressure cooker, including the time it takes for 1-2 cups of water to come to a boil. Start it when you get home, and by the time you've brougt in the snailmail and prepped , the rest of your dinner ( the vegetables and protein), the rice is done. If your time management skills do not leave you an hour in the evening to relax over dinner, there are cheaper, more reliable tech solutions. An old school electric pressure cooker or an electric frypan with a lid ($30, Rival) and a simple combination power temperature rotary knob, combined with a clock driven timer switch is enough - provided that you can read the directions on the rice package.

Wanna know how I cook rice? 1) Get some rice
2) Rinse them to remove any dirt or other foreign stuff.
3) Soak the rice for some time
4) Put it in the rice-cooker and push the "Cook" button
5) Wait
6) Done

Yes yes, but this has wifi and an app. So it must be better. Posted via the Android Central App

Yep lol Posted from my Nexus 6/Nexus 7 2013/Surface Pro 3

The only way rice can be cooked to perfection is if it's cooked by an Asian Posted via the Android Central App

Wrong.. italians do it great too you know

Lmao, that went that far... Either you know how to cook or you don't, period. Posted via the Android Central App

Seems like Xiaomi is solving a problem no one needed solved haha. You can buy a $3 rice cooker at your local Walmart etc. that works just fine (minus being able to start it over wifi) Posted via the Android Central App

Oh, awesome. I've been waiting for a rice cooker that can automatically distinguish between the different kinds of rice that I cook, for example "crappy ShopRite store-brand rice" and "crappy Fresh Grocer store-brand rice." This will surely be a culinary godsend for me.

There's obviously a market for this since there is a market for high end "dumb" rice cookers. Personally wouldn't get it. I agree w/ most that it doesn't take a genius to make good rice but then again, its not like most of us have ever had "expensive perfectly cooked rice". Can't knock it if you haven't tried it... lol

for Koreans this is brilliant. the rice cooker I bought cost me 599 so this is a good bargain if it's good. again if you don't know, Koreans buy rice cookers on the excess of 400-500 dollars. yes this is common Posted via the Android Central App

I might consider it as I am in the market for a new unit but probably will end up with this other (Japanese) model that I still do stuff like bake a cake. Yes you can bake a beast cake in a rice cooker.

why need to control something automatic? unless it can fill itself with rice and water and cook then that's basically useless.

My life will now be complete Posted via the Android Central App

On AndroidPit Forum I said the same thing " It is a gimmick" I am añ Asian n rice is my staple diet! I tell you all where the gimmicky stuff is " you forgot to put in the rice or water" and then from miles away you turn your cooker on and come back home to an empty pot! Or you thought that the water level you put in is for porridge rice but come back home to a burn rice because it is for ordinary rice. And a premier brand rice cooker is only USD35 - 50 irregardless ( here I am talking about Philips brand) I am aghast at the price some of you quoted here USD 300? Rudiculous ! A no brand China rice cooker is selling at only USD20. My Philips rice cooker has been humming along for 3 years without a hitch ( maybe a spring fell off) a China cooker will probably last about 2 years. Pure gimmick.

My rice cocker works fine even beps when the rice is done, don't need more smart gadget in my house.lol

even if it is april fools joke.. no i wouldnt but im sure there are plenty of ppl that would

Damn, this was an april's fool joke wasn't it... :)

What a load of nonsense! I'm all for the idea of controlling house appliances with a smart phone but a rice cooker??? When you make rice, you either put a timer on the rice cooker and you don't need a phone for that or, even better, you check on it to see if it's ready and you can't really do that with the phone (unless it has transporter beam to materialize the rice into your mouth for tasting). This is the single most idiotic product that I've ever seen.

Damn man wish I didn't have other priorities in life

This thing is like a Tassimo for rice. I never understood those either. Now, if I could get a vacuum cleaner that I could remotely control with my phone, we'll damn that's something to get excited about!
Android Central Newsletter
Get instant access to breaking news, the hottest reviews, great deals and helpful tips
Thank you for signing up to Android Central. You will receive a verification email shortly.
There was a problem. Please refresh the page and try again.