wp clock 2 review - big, bold, and customizable live wallpaper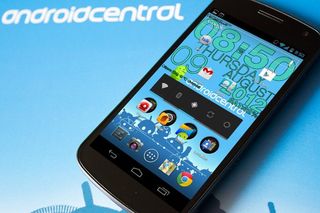 wp clock 2 is a popular typographic-themed live wallpaper for Android, with a whole bunch of bold customizations to create a stylish and functional home screen background. Users can set different levels of opacity for lettering, different colors, and custom animations for the block of text. Time, date signal strength, weather, and other information can all be used in conjunction with your existing wallpaper images.
Style
Right off the bat, it's hard not to get into the live wallpaper's style: big, bold text, crammed together at interesting interesting angles while staying legible. It brings to mind the kinetic typographic videos all over YouTube, especially once you start designating animations for the text to slide in on the middle home screen. There are a bunch of customizations available to suit the text to your particular tastes, including background images/colors, and which bits of text to show. For all of its options, you can't change which order the text shows in, nor the font size beyond "fit to width" for the clock. It's particularly annoying for the weather entry, which is particularly tiny. Other options get as detailed as setting font outline opacity, width and color. The paid version lets users manually designate vertical and horizontal offset to fit your screen layout, be it smartphone or tablet. It's available through an in-app purchase of $1.99.
Chugging through the settings menu isn't quite as enjoyable as just sitting back and looking at the wallpaper, mind you. They're all bare bones with no tab system in place or helpful icons beyond the top parent tree.
My only serious complaint about the wallpaper itself is that though wp clock 2 replicates the scrolling of the original wallpaper background, the framerate is a little choppy. Besides that, it would be nice to see the new text elements shift a little bit too when flipping between home screens. Also, it would be nice if the clock ditched the "0" as the first digit in hours (as in "05:03"), if only to save some room.
Function
Generally I'm not a huge fan of live wallpapers unless they're useful in some way, and wp clock 2 delivers on that front. Even though the big clock is the main thing, I'm more prone to switch it off and use the live wallpaper for date and weather, since the notification bar already shows stuff like signal strength and time of day. Weather needed a reboot before it started updating, but after that, it was showing the current weather based on my current location. I'm not sure that it would be enough to satisfy all of my mobile weather needs, especially if I needed a long-term forecast, but it could easily bump out a dedicated home screen weather widget.
Pros
Tons of customizability
Useful information options
Cons
Chunky settings hierarchy
Bottom line
wp clock 2 has a lot to offer as a free live wallpaper. It's always great to have some additional glanceable information that doesn't necessarily have to shoulder its way to the top as a home screen widget. Supporting native wallpapers is a great way to throw some extra flair onto your homescreens without having to ditch your established look and feel, plus the wealth of color options ensures that the extra text fits in nicely.
Android Central Newsletter
Get instant access to breaking news, the hottest reviews, great deals and helpful tips
Simon has been covering mobile since before the first iPhone came out. After producing news articles, podcasts, review videos, and everything in between, he's now helping industry partners get the word about their latest products. Get in touch with him at simon@futurenet.com.
Had this on my Fascinate, then on my current GNex, and now on my Note 10.1 This looks AMAZING on my Note. Yowza!

Is it smooth on your Gnex?
I've already buy it two month ago... but is quite unusable on my stock 4.1.1 gnex... switching pages is not so Fluid at all... for an application that is purely decorative this is really frustrating...

Want to become king of Gold clock live wallpapers? Yes, Visit us and download this free Android app:- https://www.androidcentral.com/e?link=https2F2F... It's really great with awesome and unique collection. You will love it.

Hey I got this on my verizon gnex and its amazing! By the way, whats the wallpaper in the video? where could i get it?

Why, in the Android Central Wallpaper Gallery, of course! http://www.androidcentral.com/free-android-wallpapers

I can't find the wallpaper from the video, I checked the gallery! If you know the direct link, can you please post it?

I'm sorry but it looks like someone threw up on your homescreen. That clock clutters up the screen wayyyyy too much. But that's the nice thing about Android. I think it sucks and you love it. Choice is a beautiful thing.

Main problem is weather on this app. I spoke to the dev and he said he's working on a fix.
Android Central Newsletter
Get instant access to breaking news, the hottest reviews, great deals and helpful tips
Thank you for signing up to Android Central. You will receive a verification email shortly.
There was a problem. Please refresh the page and try again.