Wikipad to be available from Gamestop this October for $499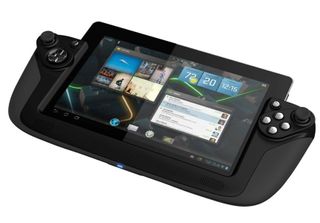 First seen at CES back in January, the world now finally knows where and when they can get their hands on a Wikipad. The gaming focused tablet with the detachable game controller will be available at Gamestop starting on October 31. The price? $499. It sounds a lot, but lets not forget that unlike the Archos Gamepad, the Wikipad is a 10.1 inch, Tegra 3, Android 4.1 tablet with a HD IPS display. The Wikipad is also one of the latest devices to gain certification for Playstation Mobile.
Pre-orders are open as of today, and buyers who purchase the Wikipad from Gamestop are promised "exclusive free, full-length game titles." Sounds tempting. You can find the full presser after the break.
WIKIPAD COMING TO GAMESTOP OCTOBER 31, 2012
GameStop Launches Pre-Order Program with Exclusive Content
LOS ANGELES, SEPTEMBER 7, 2012-GameStop (NYSE: GME), the world's largest multichannel retailer of video games, has partnered with Wikipad, Inc. to offer the Wikipad tablet, the first tablet with an attachable console-quality gamepad controller, through its stores and website. The Wikipad will be available October 31 to consumers at a retailer price of $499 USD.
"GameStop is the retail destination when it comes to video games. Nobody but GameStop provides gamers with the best gaming content on the market. And for those that purchase or pre-order a Wikipad at GameStop, their tablet will have access to valuable extras including exclusive free, full-length game titles. The Wikipad is powered by an Nvidia Tegra 3 processor and will support PlayStation®Mobile platform," said Fraser Townley, President of Sales for Wikipad, Inc.
Customers can pre-order the Wikipad now at GameStop stores nationwide or online at www.GameStop.com. Wikipads pre-ordered at GameStop will come with value-added extras including full-length titles and an issue of Game Informer Digital.
"We are thrilled to be partnering with Wikipad to launch this unique new gaming tablet," said Joe Gorman, vice president of GameStop's mobile business unit. "We love the innovation and know our customers are excited to see it in action."
Wikipad will launch in October with a full suite of games delivered by the latest video game platforms, including PlayStation®Mobile, NVIDIA's Tegra Zone, Google Play as well as several upcoming unannounced platforms. To bring the best gaming experience to consumers, Wikipad will offer a premium 10.1" IPS screen, ultra-light chassis, quad core processor, expandable memory and an attachable console quality game controller.
For more information on the Wikipad tablet, visit: www.wikipad.com.
About Wikipad
Wikipad Inc. is a leading developer and designer of video game tablets and devices. Headquartered in Los Angeles, California, Wikipad Inc. is uniquely positioned as pioneers and innovators in the mobile entertainment world by leading the way in accessible and comfortable consumer devices for video games, web, education, movies and television content. Wikipad devices are powered by Nvidia Tegra processors and are Sony Playstation Mobile certified.
I feel exhausted just imagining myself holding that beast. It looks very uncomfortable to hold for a few minutes. Forgot about longer gaming sessions with this thing.

Actually the part that turned me off was buying it from GameStop. I welcome Android gaming devices, but for this purpose I'll stick with my Xperia Play, it does looks too wide to hold comfortably for a length period. I can't justify $500 Android tablet anymore until they run full feather programs like Photoshop, which Windows tablet will. If I needed an Android gaming tablet I rather get the Nexus 7 and add a bluetooth gamepad.

I came from an Xperia Play. I use my Nexus 7 for gaming now. Got a PS3 controller with the Sixaxis app that maps touch games as well and I'm all set. It works very well!

I think this is what the PS4 should resemble. In that I mean a console that is really a tablet that can also transform into a controller. So many TV's are DLNA capable now that it would be amazing if they could get the flat screen experience to stream seamlessly that way if you needed wanted to switch viewing styles. Of course HDMI out could help out anyone without a DLNA capable TV. This would be the most simple way for Sony to drop the discs since on a table there isn't a whole lot of room for it and they could have chips like Vita is doing along with digital downloads. I would actually be surprised if the PS4 isn't some type of super tablet.

There have only been 2 tablets, previously, that I really wanted: A Transformer pad (and of them, really), or a Nexus 7. This would be number 3. Or, it would be, if it wasn't for the fact that I got a Nexus 7 for my birthday. Too late, Gamestop.

I'm baffled as to why they didn't just spend this effort in creating this as an accessory to an existing and popular tablet like the Nexus 7 or one of the Transformers or Galaxy Tabs.

Just when you thought something couldn't be more out of touch than the vita...

The Vita is out of touch? ROFLMAO obviously not as out of touch as you

Is the controller included for $499 or is it an add-on at extra cost?

so why's it called Wikipad?

This is totally a fail.. When will they realize to stop this tablet gaming madness. It's a good device don't get me wrong, I just hope they aren't expecting to sell these like hotcakes. This will be good for the 2% hardcore tablet gamers out there....Just saying
Android Central Newsletter
Get the best of Android Central in in your inbox, every day!
Thank you for signing up to Android Central. You will receive a verification email shortly.
There was a problem. Please refresh the page and try again.