Wikipad to be available from Gamestop this October for $499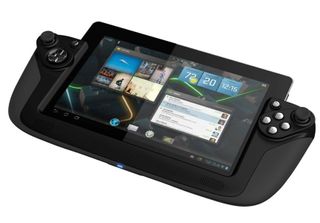 First seen at CES back in January, the world now finally knows where and when they can get their hands on a Wikipad. The gaming focused tablet with the detachable game controller will be available at Gamestop starting on October 31. The price? $499. It sounds a lot, but lets not forget that unlike the Archos Gamepad, the Wikipad is a 10.1 inch, Tegra 3, Android 4.1 tablet with a HD IPS display. The Wikipad is also one of the latest devices to gain certification for Playstation Mobile.
Pre-orders are open as of today, and buyers who purchase the Wikipad from Gamestop are promised "exclusive free, full-length game titles." Sounds tempting. You can find the full presser after the break.
WIKIPAD COMING TO GAMESTOP OCTOBER 31, 2012
GameStop Launches Pre-Order Program with Exclusive Content
LOS ANGELES, SEPTEMBER 7, 2012-GameStop (NYSE: GME), the world's largest multichannel retailer of video games, has partnered with Wikipad, Inc. to offer the Wikipad tablet, the first tablet with an attachable console-quality gamepad controller, through its stores and website. The Wikipad will be available October 31 to consumers at a retailer price of $499 USD.
"GameStop is the retail destination when it comes to video games. Nobody but GameStop provides gamers with the best gaming content on the market. And for those that purchase or pre-order a Wikipad at GameStop, their tablet will have access to valuable extras including exclusive free, full-length game titles. The Wikipad is powered by an Nvidia Tegra 3 processor and will support PlayStation®Mobile platform," said Fraser Townley, President of Sales for Wikipad, Inc.
Customers can pre-order the Wikipad now at GameStop stores nationwide or online at www.GameStop.com. Wikipads pre-ordered at GameStop will come with value-added extras including full-length titles and an issue of Game Informer Digital.
"We are thrilled to be partnering with Wikipad to launch this unique new gaming tablet," said Joe Gorman, vice president of GameStop's mobile business unit. "We love the innovation and know our customers are excited to see it in action."
Wikipad will launch in October with a full suite of games delivered by the latest video game platforms, including PlayStation®Mobile, NVIDIA's Tegra Zone, Google Play as well as several upcoming unannounced platforms. To bring the best gaming experience to consumers, Wikipad will offer a premium 10.1" IPS screen, ultra-light chassis, quad core processor, expandable memory and an attachable console quality game controller.
For more information on the Wikipad tablet, visit: www.wikipad.com.
About Wikipad
Wikipad Inc. is a leading developer and designer of video game tablets and devices. Headquartered in Los Angeles, California, Wikipad Inc. is uniquely positioned as pioneers and innovators in the mobile entertainment world by leading the way in accessible and comfortable consumer devices for video games, web, education, movies and television content. Wikipad devices are powered by Nvidia Tegra processors and are Sony Playstation Mobile certified.
Get the Android Central Newsletter
Instant access to breaking news, the hottest reviews, great deals and helpful tips.