What mobile ecosystem are you a part of?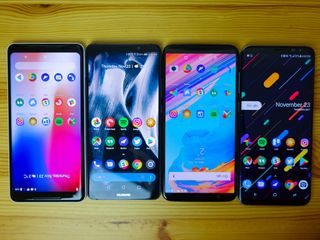 There are a lot of deciding factors that come into play when choosing which gadgets to use, and for a lot of people, the ecosystem certain devices belong to makes a big difference when it comes time to buy a new toy.
Samsung's Galaxy phones work seamlessly with Galaxy and Gear wearables, the Google Pixel 2 can tether instantly to the Pixelbook, and over in Camp Apple, the iPhone, Apple Watch, iPad, and more all sync up with one another in a truly magical way.
These added benefits you get by using various products from the same company can be really fantastic, and looking through the AC forums, there's a lot of variety when it comes to the ecosystems our forum members are invested in.
What about you? What mobile tech ecosystem are you in?
Get the Android Central Newsletter
Instant access to breaking news, the hottest reviews, great deals and helpful tips.
Joe Maring was a Senior Editor for Android Central between 2017 and 2021. You can reach him on Twitter at @JoeMaring1.
While I'm with HTC and it's sense interface (HTC U11 Plus) overall I'm with Android being that my phone works seamlessly with my Chromebook and my Google speaker and eventually my chromecast enabled Smart TV and sound bar.

I'm all in with Google now but not much more than 4 years ago, I was all in with Microsoft and Windows Phone. I was banking on a seamless experience across devices that was promised with Windows 8. I was sorely disappointed and slowly switched everything to Google. Microsoft made it easy to move to Google's ecosystem too because they beefed up cloud supported apps at the right time to jump to Android.

I'm an Android user. However, I'd like to see a 3rd ecosystem, something other than iOS or Android. I'm no longer a fan of Google. This company has very little respect for one's privacy. It's too big and too controlling. The gov't needs to break it up.

Break it up, are you insane? Do you know how many systems depend on Google API?

Check out Purism's upcoming Librem 5. It runs GNU/Linux instead of Android or iOS, and puts major emphasis on privacy.

And you think a new company would have that respect?

I've still got a little of a mixed environment, and only keeping my iPod Touch around for my iTunes library. I tried Doubletwist to sync my library to my Note 8 but it would never sync entire albums. Some it would grab all the songs, and some albums it would sync only one or two. Once I get that in order I can be out of Apple's world forever.

Just 3 years ago I was a BlackBerry guy thru and thru. No Google at all.
Now my household is Google most of the way.
A Google home, 4 minis, 2 chromecasts, a Pixel 2 and two LG V30.
As soon as the Hub is released it will take up station on my kitchen counter.
Google Routines are used several times a day. I've given my life over to the Oracle.

Oracle doesn't have anything to do with Google. They even use their own database to engine nowadays. They don't even Java as much anymore

Week by week Samsung is becoming the norm for me

Started off on Symbian with the Nokia e90, then used a galaxy s2, then bought an android Lenovo k3 note, and currently using the Oneplus 5t.
Never considered IOS and will never get out of android unless there is a very compelling reason to.

Samsung, Apple and Windows.

I'm a big, big music listener and I cannot stand having to use iTunes. That alone made me switch to Android. All I have to do is load all my music files on a microSD card once and I'm good to go.

Only reason I went Android. I hate iTunes with a passion. I prefer iOS ecosystem but ITunes is a turn off.

Note 9 for a phone, a iPad for my tablet and Windows 10 for my computers - the only thing I wish is that the Apple Watch worked with my Note 9

I was BlackBerry 4 Life. Had the tour, the torch, Z10, Playbook and then the Z30
but one birthday my girlfriend convinced me to get a new phone and it couldnt be blackberry as their support for apps was non existent, she was right the writing was on the wall. so I got a LG G3 and never looked back.
I had a Microsoft Zune because i detest apple but i caved and got a iPod Touch 3, still works to this day, minus the headphone jack but i use bluetooth and docks
after the G3 couldnt hold a charge i decided to go nexus because i refused to wait for updates ever again, i had enough of that in the BlackBerry days and having to sideload updates because carriers didnt acknowledge BlackBerrys existence. So I had the Nexus 6P but living in canada it died in extreme cold weather and now im at Pixel 2 XL, im staying google til further notice, probably going to pass on the Pixel 3, probably get the 4 when my contract is up. But Ive got 3 Google Home minis, 3 Chromecasts and after my windows 10 laptop died i bought a chromebook

Yes, I too used BB for years, ending with the 9810, the Playbook (which was a very good tablet for its day) and the Q10, which was a lovely little phone and extremely practical...but a year later I discovered the compact Xperias and since then it's been Sony, for the sound quality, size, weight, battery life and waterproofing.
I'm typing this on my third Chromebook, as I also started with them 4 years ago. Chromecast too. With Android apps coming to Chromebooks, it looks like Google had a plan. Meanwhile after the last W10 update I finally blew it, made a massive backup and today wiped W10 off my old development laptop and replaced it with Ubuntu. So I am 100% Linux based, and almost entirely ARM.

Andriod OS works best for me. Been using Andriod devices all my life, no specific brand, but recently discovered how much I love LG and Samsung. Currently using this snazzy Samsung 8+ though so I think I'm going to stick with Samsung products and fill in the holes with Google products.

I use an Android phone (a OnePlus 5) and a Windows laptop (a 15 inch hp Spectre x360, the i7 8705G one) and to be honest I'm becoming more and more jaded with both platforms... Very much the best of the bad options available in my opinion. Software aside though, I'm very happy with the hardware of both devices.

Try Installing Linux on your laptop. You won't go back ;)

I've used Linux a fair bit, I went back. It still pretty much sucks for gaming, and while I've not tried it on this machine I'd bet a lot of my laptop hardware wouldn't even have driver support.

Was BIG on #Nexus, now it's ALL #AndroidOne. And Windows 7, still. Haven't jumped on the Chrome (Android, Linux, Windows) bandwagon as yet. Figure it's just a matter of time.

Began with the moto droid. I knew people in the IT business, and they said android would rule the world within 5 years. Only took 3. After a few moto phones, I changed to the Sammy S models for a while and loved them. I made the bold move last year to the LG V30 after listening to that awesome 32bit quad dac and my high res files. Little did I realize that the rest of the phone would be incredible too. I know that Samsung screens are a little better, and their cameras are too, but unless you're doing a side by side comparison, you'd never know. I'm going to keep this V30 for at least 2 years then we'll compare and see. Unless samsung adds a hifi dac to their devices, I probably won't change. I'm also against a phone with a notch, bezels, and without a 3.5mm jack. I did buy the original pixel at launch but it was the biggest ripoff in the phone industry.

u said it, i'm part of the no-notch ecosystem

I started with HTC. I never had an iPhone because when the iPhone was released, I worked for Sprint in the retention department and had to convince departing customers how much the iPhone sucked, as per management. It stuck with me and I've been on Android ever since. I had the HTC Hero, my first Android phone, before getting the HTC Evo. It was my last HTC device before switching to the Galaxy S3. Since then, I've owned the S5, S6 Edge, S7 Edge, S8, Note 8, and now the Note 9. I own a Gear S2 and have had 2 Gear VR's. Aside from that, I own a Google Home and Chromecast. The only Apple device that I own is a 2015 MacBook, which I sorely want to get rid of but can't find someone willing to buy it for $800.

I use both and the house is majority Apple (out of my pocket too!), but Android is my primary device. Out of the iPhone 8 Plus, 7, 6S, Galaxy S7 Edge, a Note 8 I use at work, and an unknown LG, the U11 rules the roost.

I'm currently using an LG V30 in tangent with my Microsoft Surface Pro 4.

I have a MacBook Pro (use it for Dev purposes), a Linux laptop (my entertainment machine + plus Dev work because I am afraid of moving the Macbook Pro out of the apartment due to how fragile it looks), iPad (bought it mainly for reading and ocasional video watching) and Android phone. As you can see I am not married to any ecosystem.

Started with BlackBerry years back, first android phone was a Galaxy S1, been rocking the Notes and sticking with the Galaxy brand because everything just works, plus it read every media format at the time. Now the price is too high and thinking about buying the OnePlus 6T, even though I find the "stock" android very boring.

I started with a BlackBerry Curve 8530, and moved through a handful of them, ending with the white Passport. I saw the writing on the wall about BB10, and after the Passport kicking me off of the browser repeatedly, I moved up to the Note4. Loved that thing for about a year until I started having major issues with it - mainly it dying quickly, erratic restarting, amongst other things - so I Frisbee-chucked that b¡tch against a wall and tossed the useless remains in a scrap bin. I used a Galaxy S3 for a couple of months until I pre-ordered the Note8. Greatest device I ever spent C$1,500 on! I'm not so enchanted with my Chromebook, but the fact that the grand majority of what I do carries over from one device to the other is great!

I was one of those all in with Windows. I had a first gen Surface, 3 different Nokia phones, the Microsoft Band, a windows All in one desktop and a laptop. Saddened that the Windows Phone didn't get the support it should have as it was very smooth and integrated well with lots of stuff. It had the best integration with Ford's Sync platform and I haven't seen anything like it even now with Android Auto. For computing, I'm still in with Windows, and I'm now enjoying the Android integration with the Windows 10 environment. For mobile, I'm in the Samsung camp currently with an S9+, Gear IconX (2018 edition), a Samsung Tab S4 and a Samsung Gear Frontier smartwatch. My next TV purchase will be an 82" Samsung in the spring and that's all I have on the radar for now. Looking to upgrade to the S10 when it's announced in Q1.

I have had the same Samsung flip phone since 1995 and it works extremely well yet today. No need for a big
time consuming TV screen in my face all day. I have been to places in remote areas where your smart phones aren't so smart. They don't capture signals and yet my cheap flip keeps on going just fine. I run three successful
businesses and have never been out of touch with what matters and all this without relying on carrying
Youtube in my pocket.

I started with a small LG Chocolate flip phone, then toyed with some of the earlier iPhone models. No matter what, I'm always drawn to Apple, then I quickly get bored and try something else. I've switched back and forth many times over the years, usually between Apple, Samsung and Nexus/Pixel, but Samsung is the only one that gets me excited. Currently using a Samsung S8 Plus, and I love it. I will probably keep it until either the Samsung S10 Plus releases, or I will make the shift to the Note 10, but regardless, I will stay with Samsung.

I guess I'm part of the Samsung ecosytem. I try to use Google as least as possible but it's unfortunately burnt into android. At least Samsung has some of it's own apps that don't rely on a google account.

I am using apple for my mobile devices. I use an iPhone 8, 6s, and an ipad 2018 LTE. For my home use I use dell computers. I switched over my moible devices to use all microsofts mobile solutions. I use bing, edge, 365, onenote, onedrive etc. Also, with dell, I use mobile connect. It's great. I can send and receive imessages, and send and receive calls via my computer. I don't care about mirroring my phone on my desktop space as I do not play games etc. My phone runs everything through MS and Dell. Works great. I am not adverse to android based systems or anything. I just find that iPhone and dell work best for my wife's and my situations!