This is why you need a 360-degree camera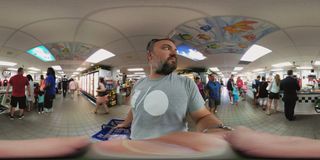 I have a big family, with a good number of us all living in the same town. Four generations of us in Pensacola, in fact. My grandparents. My parents. My in-laws. Myself and one of my two brothers. My two kids. Three dogs. And while we see each other throughout the week, we generally get together for lunch most Sundays. (Yes, it's also like herding cats. Every. Single. Week. But that's part of the fun of it all.)
This past Sunday was a little different. It was Mother's Day. And while I'm generally not all that sentimental for made-up holidays (and nothing will make you wish you were better to your mom than becoming a parent), there's something especially great about having three generations of moms around one table.
So, out came the 360-degree camera.
For all of the crap that Facebook spews, one of its redeeming qualities is the ability to give families an easy way to keep up with each other. And 360-degree cameras make it easy to keep up with what everyone is doing at a given time, all at once. So my grandparents' other kids can see their brother and their parents together, around the rest of us. My mom's siblings and far-away friends get to see what her kids look like, all in the same place. My friends get to see that my father no longer has the lone sweet beard in the family. My in-laws' friends get to see the crazy family they hang out with.
The 360-degree camera sees it all, and it sees it all at once.
We're just getting started with this stuff, of course. The first personal 360-degree cameras are only now becoming available. (I'm using the LG 360 CAM, still.) Prices will fall. Quality will improve. And sharing 360-degree video and pictures will get even easier. (Facebook and YouTube are great for video; Flickr is best for photos.)
This is one of those areas in which the possibilities are endless. Meetings. Family-get-togethers. Security and accountability. (A 360-degree camera mounted on top of emergency vehicles, instead of forward-facing dashcams, could change a lot of things.) Vloggers who chronicle their days are going to be all over these things. Google's basically going to turn everyone into a Street View car. (I've been uploading 360-degree shots all over town.)
These new "see everything" cameras can't and shouldn't take the place of traditional photography and videography, of course. Being able to see everything can be distracting. It is, perhaps, not as artistic. Not as mysterious. And perhaps the supper table isn't the most elegant of places to see everything. (Especially while eating corn.)
But there certainly are times when you want to be able to capture all angles of what's going on around you. When the family comes together, especially. And don't just wait for Mother's Day to make it happen.
Don't tell me what I need! :D Posted via the Android Central App
for LG G3

Ironically, the 360 video is not compatible with the AC app! We had mother's day from hell, which will take me a week to recover from, and I had no 360 cam to capture it.
However I did take a simple pano, which is the first time I've done so on a cell phone. I've been doing spherical photos for years using a Nikon and a 180 degree fisheye lens, well, 179.2 degree, lol). I was aware of the feature on the phone but had not used it. Then the most bizarre thing happened: A guy at the table asked if I could do a pano shot to get all 24 people at the table, and he did the same from his end. It was tough because we were next to the windows with the sun shining in. The pano on the guy's iPhone came out crappy with half the people blown out and stitching artifacts all over. The pano I took came out very nice with no blowouts, good exposure, and the only stitching artifact was the waiter who quickly leaned over between frames and became a siamese twin. What was bizarre about that? I was using an M8, lol. Posted via the Android Central App

Phil that at the patio table video example was some seriously crazy and cool ****. Holiday dinners will never be the same.

I just got the 360 cam and i'm trying to figure out how to get my videos and photos uploaded to facebook and flickr. Is it just a matter of hitting share, then tapping on the right app?

You have to download the pic to your phone first (the app is kinda stupid about this), but yes. After that you just hit the share button. Note that videos work great with YouTube and Facebook. Pictures work great with Flickr.

I'm using chrome on Android:
360 Video unavailable
The video can't play in this browser. Why not just post it to YouTube I'm not using Android to join the Facebook walled garden that follows you around the web.

I haven't tried with FB and flickr yet, but i was able to hit the share directly from the 360 cam manager app and upload straight to youtube.

Wait, aren't all holidays "made-up"? I mean, a human sometime somewhere decided to come up with it, you know. Posted via the Android Central App

Hopefully the Next Hardcore Henry Movie will be shot with a 360 VR

They all look a total mess. Just a nasty gimmick. Some folks will buy into anything I guess.
Android Central Newsletter
Get the best of Android Central in in your inbox, every day!
Thank you for signing up to Android Central. You will receive a verification email shortly.
There was a problem. Please refresh the page and try again.