Pixel phones and the Nexus line: How we got to 'Made by Google'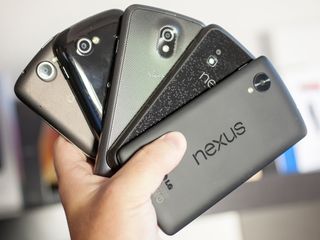 When the Pixel phones debut next week — a 5-inch Pixel and a 5.5-inch Pixel XL, if rumors are to be believed — they are going to be compared, whether Google likes it or not, to the Nexus phones that came before.
Google may be attempting a clean break from that legacy of annual Nexus refreshes, but there's only so much in a name: To many people, this will be yet another Nexus launch.
Last September was the only year Google announced two Nexus phones at once, the 5.2-inch Nexus 5X and the tall, properly massive Nexus 6P. Previous years saw, in reverse order, the 6-inch Nexus 6 (2014), the 5-inch Nexus 5 (2013), the 4.7-inch Nexus 4 (2012), the 4.7-inch Galaxy Nexus (2011), the 4-inch Nexus S (late-2010), and the 3.7-inch Nexus One (early-2010).
Each of these phones has a core set of loyal fans, nostalgic for something or other, be it the compact size of Samsung's plastic Nexus S, or the shimmering glass back of the Nexus 4. Let's go through them one by one and have some fun.
Nexus One — early 2010
The OG, the Nexus One was my first Android phone, and such a beast. Rocking Android 2.1 Eclair, its 3.7-inch display was kind of terrible, but it felt so fast and fluid — and it came in this amazing box.
More than anything, the Nexus One was a phone for developers. I wasn't — though I rooted the heck out of it — but the Nexus One felt to me like a blank slate, a phone on which you could do anything. It wasn't too far removed from the HTC HD2, which started its life as a Windows Mobile device but, even to this day, is used as proof that with enough patience you can basically keep a phone alive forever.
The Nexus One also had that colored trackball, a holdover from the early days of Android, and one of the most endearing parts of the phone. If the Pixel line brings anything unique to the table, I would love the phones to acknowledge the original HTC Nexus phone in some way.
Nexus S — late 2010
After the botched e-commerce launch of the Nexus One, Google stormed back 11 months later with the Samsung-built Nexus S. It was, for all intents and purposes, a reworked Galaxy S (not unlike the Nexus One, which was a retooled Desire), and judging by the screen alone it was worth the upgrade.
This is where the Nexus line got a bit more consumer-friendly, in my opinion. The camera was usable in more situations, the screen was huge for the time, and the interface, running Android 2.3 Gingerbread, was absolutely fluid. And those Live Wallpapers.
I still have a Nexus S kicking around somewhere, and I take it out every once in a while to snap myself back to reality, to reaffirm just how far this industry — and the Nexus line itself — has come.
Galaxy Nexus — 2011
The less I say about this one the better, for fear of Verizon customers storming the barricades. There were so many problems with this phone, from connectivity issues to the fact that Google didn't actually oversee updates to the phone (on the Verizon/Sprint models), that some would choose to forget Samsung's second Nexus device actually existed at all.
But once Google got around to selling the phone directly from its newly-minted online store, in the form of an unlocked HSPA+ model, everything was quite different, and Americans got to experience the phone that we in Canada, and many in the rest of the world, had been enjoying since late 2011.
The Galaxy Nexus was a big phone for 2011, with an ever-so-subtle curve that portended Samsung's eventual commitment to all things edge. It was also a bit of an industry anomaly, featuring a dual-core Texas Instruments processor that would soon stop being supported, and, on the Verizon model, one of the first to support LTE — which brought along terrible battery and inconsistent signal.
I can't say I loved the Galaxy Nexus in my time with it: the phone was marred by a number of software issues that came along with Google's biggest-at-the-time Android release, Ice Cream Sandwich. It took until mid-2012 and the release of Android 4.1 Jelly Bean for many of the major bugs to get resolved.
But the Galaxy Nexus also brought the Nexus program forward a considerable amount. It had enormous carrier support in many countries; it had a large HD display; it supported LTE, a burgeoning technology at the time; and it ran Android 4.0, which introduced the Holo design language, on-screen buttons, the deprecation of the physical menu button, and so much more. Android couldn't be where it is today without the Galaxy Nexus.
Nexus 4 — 2012
The Nexus 4 is still one of my favorite Android phones ever. As the Nexus S was to the Nexus One — a mature, polished successor to a very forward-looking, flawed original — the Nexus 4 was to the Galaxy Nexus.
Shipping with Android 4.2 Jelly Bean, Google had by then figured out many of the issues with the Holo design, and the Nexus line was beginning to feel more like a predictable project, less fraught with problems.
The Nexus 4 was awesome: it felt fast, had a great screen, and felt amazing in the hand. It had two fundamental flaws, but they could be overlooked at the time: it lacked LTE, and its camera was kind of terrible. OK, it was fully terrible.
Still, starting at $299 for the 8GB model, sold directly from Google, unlocked and unmarred by carrier interference, the Nexus 4 felt like an Android fan's dream phone. Sure, the rear glass cracked if you looked at it sideways, but man was it a heck of a looker.
Nexus 5 — 2013
This was the phone that everyone appeared to love at the time, and has since grown to hate. The phone was, as Alex Dobie writes, "a boring plastic nothing with bad battery life and a temperamental camera," but at $349 it was by far the best value for an LTE phone you could find in late 2013.
It also ran Android 4.4 KitKat, which to this day is an underrated upgrade. The last of the Holo versions, KitKat introduced the Google Now Launcher, HDR+, and a whole bunch of other subtle improvements.
Unfortunately, the Nexus 5 will likely be remembered more for its terrible battery life than anything else; I don't think I ever got past 5pm on that thing. And that camera — it may have been better than the Nexus 4, but only barely, and that was a pretty low bar to climb. Still, the Nexus 5 sold buckets, and proved, like the Nexus S, to be a tremendous commercial success. Indeed, while we don't know the exact numbers sold, it's believed to be the best-selling Nexus device by an enormous margin, since you couldn't find anything that matched its price to performance value.
Nexus 6 — 2014
What can we say about the Nexus 6? It was big. Massive. Stupid large. It was the first phone to ship with Android 5.0 Lollipop, and all the problems the new version brought with it. Material Design looked good, but this giant Moto X was too big for most people to use. It was also nearly double the cost of the Nexus 5, a reality that hit the hardcore Nexus community really hard.
The Nexus 6 represents the moment Google reasserted the Nexus as a premium product, meant less to undercut other Android flagships and promote competition than to stand on its own as a really great device. Unfortunately, even with its powerful specs, the Nexus 6 failed to live up to expectations. Battery life was disappointing given its massive 3,220mAh cell. The 13MP rear camera sensor, even with HDR+ and optical image stabilization, struggled in low light. The phone was a mess of contradictions, made even worse by the fact that Samsung had just released the staggeringly improved Galaxy Note 4.
Prior to the Nexus 6, I liked every Nexus phone to some degree. In 2014, I decided to skip a generation.
Nexus 5X and 6P — 2015
The 2015 Nexus phones were — are— great. Both of them. The smaller 5.2-inch Nexus 5X may have had some performance issues well into its lifespan, but it was a worthy successor to the ultra-popular Nexus 5, and brought the entry price back down to a more palatable $379. I never spent enough time with the Nexus 5X to form a comprehensive opinion of it, but I really enjoyed it for the week or so I had it in my pocket last December. LG really nailed it.
The Nexus 6P is, despite being a bit too tall for my liking, undoubtedly the best Nexus phone ever made, and a candidate for one of the best smartphones ever made, too. In my opinion, of course. It's one of the only Nexus devices with few, if any, compromises — you can argue its lack of optical image stabilization is problematic, but I find it rarely gets in the way of a great photo — and is one of Huawei's strongest showings to date.
Both the Nexus 5X and 6P feel easy to some extent: easy to use, with Android 6.0 on board at launch, and easy to recommend. Even the $499 tag seems reasonable after the previous year's absurd asking price. And both phones are even better now running Android 7.0 Nougat. Google did well with its partners in 2015.
Pixel phones — 2016
So now we come to the Pixel phones, two seemingly-identical devices that will attempt to justify starting price points of $649, if rumors are to be believed. If you look back at the history of the Nexus line, no phone has been able to walk into a plus-$600 market and succeed commercially; the Nexus S, at $529, came close, but that was a very different time.
And while it's easy enough for us to say that the Pixel phones should be priced lower in order to succeed, there are so many variables we just haven't considered. What will carrier support be like — we know at least Verizon will offer one or both of them on financing — and what does Google have up its sleeve to differentiate them from other Android devices in that tier? A few software tweaks — redesigned launcher with rounded icons, new navigation buttons, and so on — won't be enough, and specs alone can't win any arguments in the highly-competitive Android space these days.
The $650 market is saturated as it is, with Samsung's Galaxy S7 line dominant in ways we couldn't have imagined back when the Nexus S and Galaxy Nexus debuted. And in the $350-$400 space, where the Nexus 4 and Nexus 5 rested so comfortably, objectively great products from OnePlus, ZTE, Honor, Alcatel and Motorola fit the bill.
In some ways I hope Hiroshi Lockheimer isn't hyperbolizing the notion that someday we will remember October 4, 2016 as fondly as we reminisce about the debut of Android itself, since the Pixel phones have a huge legacy of beautiful, flawed, complicated products behind them.
It's also why I hope the Pixel phones in some way resemble the Nexus One, since the idea of Google starting from scratch to build something amazing is what made us yearn for the new Nexus year after year.
Android Central Newsletter
Get instant access to breaking news, the hottest reviews, great deals and helpful tips
Daniel Bader was a former Android Central Editor-in-Chief and Executive Editor for iMore and Windows Central.
I like to upgrade pretty often so I'll be going for the XL I think from my 6p but it needs to have something to make it stand out. It needs a USP not just more mega pixels and better screen... Smartfones save for OS are getting to similar and I think my interest is starting to wain...

like the design, looks same as my old blackberry Z10.

I got into android @kk 4.4.2 not much personal android history but I have become very attached to my N6.. glad it sort of failed..
I got mine with M6 out the box at half it's original rrp.. so my expectations and bang for my bucks are pretty much blown away at £241..
I'm thinking it's gonna be the same with the Pixel.

Nice retrospective. I loved my Nexus 5 though. Found memory's.

I still love my Nexus 5, battery issues and all. MM has helped, somewhat.

I remember the Nexus One. I want it again.

First Android I've ever used. Damn, the nostalgia

I have one and the massive box it came in......I pull it out and turn it on to reminisce what was

I think the best part about the Nexus 5 was its screen. It was gorgeous and easily one of the nicest non-AMOLED screens I've seen. That it came in a phone priced as low as the N5 was a bonus. And for all its blandness, the N5 was a great phone to hold and use. It made its (almost) 5" screen easy to use and for the first time I felt like 5" was a great size for a phone screen.

Yup, and to find a phone that feels nice, has good grip and isn't a fingerprint magnet all at the same time? Winner. I wish more phones came with backing like the 5 did. Felt great. It didn't need a case to stop it from scratching up the back and get all greasy. Perfect.

The fact this article dismisses the Nexus 6 2014 and its uneducated assertion that it fails to stand out on its own disappoints me as a reader. The Nexus 6 still outperforms phones released today and if only a phones "specs" could truly gauge a phones quality (errr LG G series). No the phone wasn't for everyone, but the Nexus phone in nature is a niche phone and it wasn't ever trying to please everyone and was Moto was selling lots of phones at the time to consumers that were requesting bigger and bigger screen sizes. Cry about the phones large size and leave it at that, don't make up issues and dismiss a phones performance b/c you don't have the ability to hold it in one of your girly hands. And pointing out it was expensive but not holding the 6P accountable in the same way is discrediting, once the price for added storage is factored in, the 6P is pretty much the same price. Cry away.

Agreed for the most part. I was still switching off my Note 5 to my Nexus 6 up to last week when I left Sprint for Verizon. It was a surprisingly capable phone for quite a while.

The 6 was priced at $649 for the 32GB version while the 6P was $499 for that amount of storage. How can you assert that's "basically the same"?

It was a little too big. The 5.5 XL is a perfect size for me

Yeah, the N6 was the first Nexus phone that I skipped, and that was entirely due to its size. I've kind of gotten used to a giant phone after a year with the 6P, but I still don't love it. My next phone will be 5.2", tops.

Feel exactly the same way, although I have really grown to love my 6P. I tried the 5X but the performance issues and screen color issues made me replace it 3 times before finally sucking up the size increase of the 6P. I REALLY hope we don't have to compromise performance if we choose to go for the smaller pixel. Otherwise I think I'll go with the XL. Regardless, the XL is still smaller than the current 6P, so now that we've gotten used to its size the XL will be easier on the hand :)

Same. I went from 5.2 to 5.7 and while I like my Note 5, the next phone I buy will be smaller, have a removable battery, and only have glass on the front.

I love the Nexus 6. It's my daily driver and will continue to be. The one feature that I want is a finger print sensor. For people that didn't like the size, I have small hands and I want the next phone I get to be as big as my 6. I'm not sure if I'll be getting the Pixel, especially because of the size. It will have to blow me away, if not I'll definitely be upgrading to next year's Pixel.

It's really good to see that the N6 is still holding up so well for so many people. It wasn't a device for me, but I'm glad to see that it seems to have significantly better longevity than previous Nexus models.

Honestly the only complainant, which is to be expected, is the battery is not as good as the day I got it. This phone really has been good to me.

That's to be expected, though. The only phone I've had for more than a year that didn't see pretty serious battery life decline is the Z3C, which is still going pretty damn strong.

I was even considering replacing the battery in this. I get through a day with it. I'll charge it when I can, but because I work outdoors I carry a battery pack. It charges slowly so I wouldn't mind having a new internal battery that holds a charge a bit longer, compared to what I get now. I get about 3 and half hours screen on time. Which isn't horrible, but could be better.

I love my Nexus 6, I just broke the screen and will fix it and keep it, it has Nougat , and is performing well, no need to downsize or switch to another phone anytime soon.

I still use the Nexus 6 too. Absolutely love the device. Running 7.0, might keep it for another year!

Yeah I agree. I was rocking a Nexus 6 until not long ago. I always KINDA wanted to go to the 6p - but the spec jump wasn't quite enough. I tried an HTC 10 for a little while when it came out. I returned it, just could not go down to such a small screen. After returning the HTC 10, I continued rocking the Nexus 6 with various up-to-date roms (including the last android 7 preview release). It performed like a beast. Screen was great. Battery "iffy" (but I got a wireless charger on my desk which made it easy to keep near-topped-off). The 6p still seemed like a really nice phone, but then I had gotten used to wireless charging and didn't want to ditch that. Anyways, I thought I would wait for the next nexus (what is now the pixel xl). I wanted daydream compatible and a nice spec increase. But NOTHING about the phone is exciting at all.:-( I ended up getting a Note 7 (on launch, yeah it was a "ticking bomb" and didn't come with a fire extinguisher, har har har). Got my replacement last week. I miss straight android and google's updates. I MIGHT miss daydream... but what are the chances that its really much better than Gear VR/oculus? But form factor wise, this is nothing short of incredible.... LARGE screen with capacative buttons (don't like how on screen ones take up screen space) that is 90% usable with one hand (I have smallish hands, the Nexus 6 was.... maybe 75% usable with one hand for me) and all the specs you could want with an unbeatable camera. I HIGHLY urge people to not write the note 7 off because of the problems.....

The Moto 6 was the best built phone (build quality) yet...hoping the pixel outdoes it but who knows... They tricked us with the 6p. Paper thin aluminum and a bunch of Glu to hold it together... Atleast moto had the sense to use hella screws that actually make the Moto 6 feel solid. Just sayin

My girly hands disliked the Nexus 6. That's my personal preference. But there's nothing uneducated about asserting that it had a tremendous number of issues, on both the software and hardware sides, when it debuted. Any review written on the phone when it debuted will confirm that. I am by no means discrediting the phone, nor the people who liked it. If you like the Nexus 6, good for you and your enormous, manly hands.

I also have girly hands and I approve this message.

I totally get what you're saying Daniel. The Nexus 6 is the first one I skipped as well. I've always wanted to try it though, but I guess I never made it a priority

Even Jerry said the Nexus 6 was a great phone performance wise, and I'd take his opinion over anyone else's at AC. Also the Nexus 6 has a 2.7 Ghz processor, still the fastest of any android phone on the market, the rest al are 2.3 Ghz and less

Processor frequencies alone mean nothing in terms of overall performance. Currently, the N6 is significantly outperformed by a slew of phones with lower clock frequencies.

Yeah that Snapdragon 805 was supposed to be a beast but gets left behind because everyone went to 64 bit processors a few months later. I think only the Nexus 6 and Note 4 got it.

I wouldn't call the 5X a worthy successor to the 5. It was barely an upgrade. The only gain really was the fingerprint sensor. Not everyone had horrible battery life with the 5. Plus, with wireless charging, I would just set it on a charger while at work and I never had to worry about battery with it. The convenience of wireless charging is well known to everyone that has had it. Shame more phones aren't retaining that feature. One thing they are definitely getting right this time around is offering 2 sized phones that have identical internals as well as the same exterior look to them. The 5X was a huge downgrade from the 6P, which was a big let down for people like me who can't stand phablets. I can finally get a smaller phone without sacrificing specs or features.

Fair enough! I just think that it did a lot of things right and nailed the price.

The camera on the 5X was a HUGE improvement over the 5.

I am pleased with my Nexus 6P and the rumors haven't given me a compelling reason to upgrade to the Pixel XL. I will wait until October 4th to see if that changes.

The more I use my 5x, the more i miss my Moto Nexus 6. The screen is beautiful compared to the 5x and it seems much faster. I've mostly only used AMOLED screens before the 5x and I'm sure that is what I'm missing. I'm glad both Pixels are AMOLED.

How is the N6's visibility in outdoor light? It's one of my minor gripes about my 6P.

Personally on my Moto N6 in bright daylight i think it's average at best... and noticeably less bright than the new N6p I compared it too.. not really an issue for me it's mostly cloudy, rainy where I live...

By every objective measure (except size), the N6P screen beats the N6.

This was a very well written and cohesive article. Very nice balance between subjective/objective talking points. With that said, I'm thinking that the Nexus project will continue to live on. I think that the Pixel lineup will continue to expand and be considered to be a Google branded product (i.e., Chromebook Pixel, Pixel C, Pixel smartphones, etc )

"Google starting from scratch to build something amazing is what made us yearn for the new Nexus year after year." And therein lies the problem: Nothing, nothing, nothing (nothing, just in case the other three nothings werent enough) about the pixel as rumoured make it 'amazing'

Exactly. Each Nexus had something about it that made it unique, other than the fact that it was Google's new "standard." I actually miss the form factor of my Galaxy Nexus. Other than the HORRID battery life, I thoroughly enjoyed that device.

In your opinion, I am really liking what I am seeing.

It seems like they are basically trying to give people an iPhone that runs Android in both form and cost.

And even the iPhone part they aren't going to get right. An example.... when updates roll out, unlike Apple they will be piecemeal and take forever

P. S. All well and good on 400-500 dollar device.... Not acceptable $800

The Nexus 5. Miss it so much. Such an excellent and easygoing device to hold and use. And the 6P. Pixel phones should take their cues from these. Hopefully the designs won't be as bland/unappealing as the rumours.

Great article. Thanks. I've been looking forward to the next "Nexus" phone since the 5X was released. I would still be using my Nexus 5 but I needed wifi calling so I reluctantly switched to the Nexus 5X. I was so looking forward to getting something new this year as I don't really care for the size (too tall) and form of the 5X but I will stick with the 5X. The price of the Pixel phone is too much for me if it really is $650. No phone is worth more than $500 to me. The performance improvements going from something like a $500 Nexus 6p or a OnePlus 3 just aren't there to justify an additional $150+ let alone an additional $350 or so over what I paid for the 5X which does perform very well for me though battery life isn't very good on Android 7..

Still clutching on to my N5. It's hard to justify a new device when it still runs great. I don't need the WiFi calling, but in weak signal areas on wifi I use whatsapp calling. This phone won't quit! Except for battery life, that's quit a while ago.

I sometimes still miss my Nexus 4, it was lovely.

Same here. My coworker has one and I've thought about buying it off her lol

Very good article, nice history of the Nexus phones.
Unlike most people I have fond memories of the Samsung Galaxy Nexus on Verizon. Yes there was connectivity and battery issues a plenty but it the was first LTE Nexus, the first on the largest US network, and It was my first Nexus phone and my first foray into flashing ROMs and Kernels. With the release of the Pixel line I plan on leaving root and flashing ROMs behind. As Android grew up and matured the need for root has lessened considerably.

I was in the same boat. Stuck with Verizon in my area back then, and it was such an awesome experience to finally have a Nexus. Before that I was stuck with rooting my Droid Incredible and later my Droid Incredible 2. It was nice to have a more "streamlined" root experience. Also like you, I no longer have a need to root my phones. My Nexus 5 was stock for the last 6 months I used it. Biggest issue for me was keeping Android Pay functional, which you can't do while rooted.

Yup, stopped rooting after the N4. No need anymore.. Plus, I'm much busier and can't be bothered with ROMs anymore, it was fun though.

I just CANNOT understand the hate the Nexus 6 gets. I think it was an amazing phone and the people that complain about it usually never owned it - just wrote it off due to the huge screen. If the screen was too big for you, fine (the 6P is the same size/bigger but with a smaller screen so...), but that doesn't mean the phone was bad. Battery life was the best of any phone up until its release, everything worked great after 5.1, and everything about the phone was at worst GOOD! The camera worked great and while it was waaaaaaaaaay too slow (a google software problem still happening with the 6P...) I'd say some of the pictures in good lightning still rival my current S7E. I really miss my N6 and if I could update the processor and camera, I'd still pick that phone over any other.

I think that the Nexus 6 was a great phone myself. Especially within the Nexus line. The Moto X Pure reminds me so much of that phone.

Well, if Baby Bear here truly "decided to skip a generation" in 2014, then he's just blowin' smoke anyway. His dismissal is easy to dismiss.

The Nexus 6 was my favorite phone that i've owned...large beautiful screen, amazing performance, and the issue with the camera was a software issue however once installed Manual Camera app specifically designed for nexus 5 and 6 the camera performance exceeded that of my moms iPhone 6P and simply put took amazing images with much better speed and excellent low light performance as well. if i had not dropped it a couple weeks ago and smashed the screen i would still be using it but the cost of a new screen was almost the same as buying a new Nexus 6 on Ebay...i ended up getting a Moto X Pure Edition after

That's funny I was/am in a similar situation. I broke my screen (first phone to break ever) a while ago and I'm now on an S7E. But I still have my busted N6 and I'm doing everything I can to try to find a new screen at a reasonable price. Lowest I can find is around 150 but that's way too much. I'm trying to get one for around 75. I would love to fix that phone and fire it up again! 64gb blue...

Redoing a modern Nexus one would be awesome

I agree. I love the trackball feature too!

"Objectively great products from OnePlus, ZTE, Honor, Alcatel and Motorola fit the bill." Could you please, please stop praising phones whose security updates badly lag and will at some undetermined point simply stop getting them at all?

Hardware. Objectively good phones for their hardware. You're right, could have been more specific about that.

All I have to say is that the Pixels better not be "bothered" by Verizon meddling. No bloatware, no nerfed features. What Google intends, Verizon better sell. Like they do with Apple. (and like Samsung, having the market share they do, should force them to do).

its hard to call something flagship and justify the high price without having an excelent build (it seems they nailed this), amazing camera (i hope they nail this so it will be on the s7 level) and waterproofing (which doesnt seem the new phones will have). I'll probably buy the regular pixel if they nail the camera...as having regular updates is more important to me then being waterproof... but without the last characteristic its hard to say its an real s7 competitor... let alone a iphone 7 killer

Gong for the Pixel here. Will be the phone I carry when I want a smaller phone. Love my 6p so will probably hold on to it. Unless the larger phones screen is referred to as magical or best ever. Then I might buy a refurbished model in six months and ditch the 6p.

Disappointed no stereo front facing speakers this year, I'll stick with my 6p for now. Still we might get new Chromebook pixel!

I love the front facing speaker of my 6P too, however they are easily bested by any good set of headphones. I would rather they had kept them, but it was not meant to be. That being said the reason I will keep my 6P is because of the build quality has kept it looking like new, and the way they tamed the Snapdragon 810, has made it churning smooth like butter. No need to throw down so much money and wait for shipping, when what i already have will hold me over another year (or possibly two).

So you go through all the Nexus phones, which Google apparently wants to be totally different than what the Pixels are supposed to be, but you don't talk about the last phone that was actually made by Google, which might actually give some clues to what we'll get in the Pixels.
Shame.

What phone would that be?

Still rocking my Nexus 4 as a backup phone. Got it on CM13, and it still flies. Typing this comment on it now.

I always wanted a 4 because it just seemed like the right size. I love my 6 when I'm out and about or on a long car ride sitting around,but when I'm just relaxing or laying down holding up some brick is just ridiculous. I have another phone I just use on wifi when I don't feel like holding the 6.

I heard a rumor yesterday that they may still be called nexus phones. I don't know if that was Pocket now or Android Authority,but what IF the phones launched as Nexus and Google was just laughing at us the whole time.

I love my 6p.. It is a kickass phone. It to me is the right size for everything I use it for. In today's market if you are going for a flagship phone, you need to offer many things to be competitive, and nothing has been said in this regard yet. Some phones offer the best camera, others offer the best audio and others offer software features to entice sales.. What are the Pixels going to offer? High quality Dacs? Top of the line sensors? Waterproofing... Nope... To me.. Google has screwed up.. They could have vastly improved on the 6p retaining it's front stereo speakers,thrown in some high quality Dacs and amps, increased the storage, processor, added OIS .. Increased the battery size, and added waterproofing, and built the biggest badassed phone of all times with 7.1 and the price increase would be generally acceptable if they built 2 sizes of them exactly alike with the same specs... And everyone would be lining up to buy one on day one , myself included,and I just got my 6p... As it is right now... From what we have.. Not so much... Oh.. 1 last thing.. Only having 1 carrier selling them is one of the most asinine ideas they could implement...I have always seen more Nexus phones in the hands of the people who love them in the various carriers stores working there.. They generally are the go to guys in the stores the other techs ask for help.. That should tell you something... I really liked the article of the history of the Nexus.. So thank you for providing it...

I still have my Nexus One lying around, and it still functions. It was my first Android device after my time with the Symbian-based Nokia e71x, and I never looked back. I power it on, and appreciate how far the Nexus line has gone. I have the Galaxy Nexus, Nexus 5 (my backup phone, and my previous favorite), and my Nexus 6P, my current favorite. I probably won't get the Pixel XL, not right away anyways. I might get it later in the product cycle.

This was an overly negative look at the history of Nexus devices. "A boring plastic nothing"? Wow.

Did we read the same article? It didn't seem that negative to me. Yes some of the Nexus were not really much to write home about.

If you read the article, and go to the link, that's not my quote.

Very interesting Nexus info & history. Great read.

I had a N4 and currently a N6. I still have my N4 but after dropping it the lower 3rd of the screen is not responsive to touch. That was a damn good phone. I never had the glass back crack on me either. The N6 still performs well, and with my old eyes I appreciate the large screen.

My Nexus 4 was great but it didn't survive that 5ft. drop down to the kitchen floor. My 5x has performed flawlessly for the last 11 months and I hope to make it last until this time next year. What happens after that? I just hope my luck with phones continues for a while longer...

Really, those huge bezels are a turn off in 2016.

I have owned every version of the Nexus line except the 5x and Nexus S. My most favorite and first was the Galaxy Nexus as I was a Verizon customer and soon realized how much they locked it down and screwed it up. After that I left Verizon and wnet to ATYTnever looked back and got the Nexus 5, followed by the Nexus 6, and 6P. In between I found opportunities to buy all of the other Nexus phones love the Nexus One and the Nexus 4 a lot. They really represented what was good about Google when they were released. The great feel in hand of the nexus one with the track ball and the entire glass solid build of the N4. The 6P is a solid phone but when I hold it up to my iPhone 6S Plus for work I am left wanting more. I love my leather case by Apple for my iPhone, it feels good in the hand and gives decent protection. And i Have never dropped it......
I have the Live case for my 6P and it is slippery and fell out of my hand from my nightstand and landed on the corner and killed the screen. 79 dollars later I have a refurbished one from Google. I have also owned the Nexus Q, Chromecast, Google Glass, and Chromebook PIxel. I have huge expectations for the 4th and hope to walk away with Home, Wifi, and an XL. I am planning on going back to Verizon and hope the Pixel is not locked down and hampered by VZW....I do not need their badge or apps on the phone just want their network.....My work phone is Verizon and it blows LTE and data speeds to dust where I work in Goochland VA band at our river house in Deltaville. All in all this feels like the hype that led up to the Nexus One.......I brought all the accessories and cases waiting for the phone to come out on Big Red, that was a painful time.

If the Pixel phones happen to be priced lower than rumored or miraculously include the waterproofing and SD card slot which is highly unlikely, I'll go for them. But I'm not getting my hopes up. Android news outlets and leak people like Evan Blass have been pretty spot on lately.

All it needs to do is mimic the pricing tier of the Nexus 5 or the 5X/6P

Boring plastic nothing is still better in almost every aspect then 90% of phones.

I loved the nexus 5, and still regard it as the best Nexus device. I have used them all as daily phones, with the exception of the One (I have a Nexus One, but bought it as part of my nexus collection). The Nexus 5 camera wasn't anything to write home about, and while battery wasn't amazing, it was one of the most fluid nexus devices. I currently rock a OnePlus X, which I view as a successor to the Nexus 5. We'll see if Google gimps the Pixel for 8 months, and makes the XL more fluid, like they did with the 5X/6P.

I only became an Android fan not that long ago, so I never got to experience the older Nexus phones. Unfortunately.

I feel for the G1, anytime an article talks about the Nexus line of phones. The G1 was the first Android phone, in my view the original Nexus. I fire it up once in a while just for memories. Ah how far Android has come, keep going little green guy.

I liked my Nexus 5 , responsive, excellent size, very decent performance, BUT, it lacked "native" WiFi calling and preemptively could not work on Project Fi. The Nexus 6P is as described one of the best phones in the Nexus line. Maybe the new Pixel phones can live up to expectations, but, from what I've heard, they don't have front stereo speakers and if that's true would be a non-starter for me. And, the price point is higher. It's a gamble sometimes waiting for the newest version and winding up with a greatly exaggerated "upgrade"... We'll see. A phone is more than just the processor.

First Nexus I got was Nexus 4. I was tired of waiting for official updates from Samsung on my Note 1, and just made the jump after thinking about but not pulling the trigger on Nexus S or the Galaxy Nexus. Loved it from day 1. I jumped on Nexus 5 only because the 4 lacked LTE, but missed the sexy glass back. The 5 was a great phone internally (with the exception of that battery), but the 4 was definitely a better external design. Skipped the 6, because it was too big, too pricey, and offered little compelling benefits to me to dump my 5. The 6P is what I have now, it gives the best qualities of both 4 and 5 together. Great external design, great specifications, and very fair price. The pixels look good to me, but I will likely skip them this year. The 6P is maturing very well, and no need to jump on the latest shiny. If I had gotten a 5X last year, I would definitely have made the jump to the smaller Pixel though.

I can't disagree any more strenuously about the review of the Nexus 6. To the point that I'm going to be abandoning the Nexus line, or pixel line or whatever you want to call it. The Note 3 and Nexus 6 are the first two phones that I've been able to comfortably thumb type on since losing a physical keyboard. If they are decreasing the size of the XL's screen. As much as I enjoy having a pure Android experience I'll deal with Samsung's crap UI. And go with a Note 7

Still rocking my Nexus 6 and I absolutely love it. Running 7.0 and the battery life isn't terrible.

I always smile at articles like this since I always seem to have the controversial nexus devices but love them all the same. I absolutely had a love/hate relationship with my GNex: loved the SCREEN, the LTE, and the easy root/ROM on Verizon - hated the battery life as the spare battery sized imprint in my old wallet will attest. After going through a GS3 and a LG G2 (both dropped when security hardened so it got too cumbersome to ROM anymore) I grabbed a N6 from Moto's site ($700 is easier to swing when you can spend 7 months paying it off w/out interest) and I still love the thing. Unlocked and easily messed with while still being fully compatible with my VZW UDP, it gave me exactly what I want. Now if it could only get a stable release of 7.0... I am going to seriously look at swapping to the Pixel XL if the price/features are right, but for once I don't feel pressured to upgrade and that is sweet.

they should model it after the nexus 4 , no three ways about its, it was the most visually appealing nexus phone maybe even nexus device in general

I just want an android phone for my Donald Trump sized hands. I don't want a 22" phone. 4.5" was ideal. A few weeks ago I was loaned an iPhone 6, it was a perfect size for me. I really wish there was a quality sub-5" android phone. (I really just miss my original Moto X.)

In my opinion, the Nexus 5 is terribly underrated. I had it for two years as my main phone, and even now, I feel it is one of the most amazing handsets ever sold. I am now rocking a 6P which will help me skip the Pixels, but it didn't give me the same feeling as the N5. The battery was disappointing, but its camera is absolutely serviceable, or even good (after a few software updates). I have been comparing shoots I took with N5 and N6, and I often liked the first one's better.
Also, the screen had amazing color reproduction, and the phone is still amazingly fast, almost on par with the 6P, whereas I often see the N6 stutter.
Android Central Newsletter
Get instant access to breaking news, the hottest reviews, great deals and helpful tips
Thank you for signing up to Android Central. You will receive a verification email shortly.
There was a problem. Please refresh the page and try again.