What's the current desktop setup at your home/office?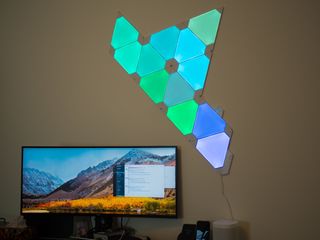 Even though we spend most of our time talking about Android and the mobile gadgets they power here on AC, there's always something to be said about a great desktop setup. As someone who's been working from home for just about two years, I've quickly learned that the perfect combo of monitors, desk, office chair, etc. can go a long way in making the 9-5 grind far more enjoyable.
James Falconer, an Android Central Community Manager, recently checked in with our members to see what kind of desktop setup they're currently rocking. A lot of you have already chimed in, and these are just a few of the responses so far:
What about you? What kind of desktop setup are you currently using?
Join the conversation in the forums!
Android Central Newsletter
Get the best of Android Central in in your inbox, every day!
Joe Maring was a Senior Editor for Android Central between 2017 and 2021. You can reach him on Twitter at @JoeMaring1.
A ThinkPad/docking station, 32" Asus monitor, WASD keyboard, Logitech Wireless Performance mouse, and like half a dozen empty coffee mugs that I haven't brought downstairs yet.

We don't have a home computer, just our phones. 2 Pixel 2 XLs

https://nanoleaf.me/en/consumer-led-lighting/products/smarter-series/nan...

PC is a new build, Threadripper 1900X on a Gigabyte X399 Auros board. Main drive is a Samsung 960 Pro M.2 512GB. Running 32GB of Corsair Vengeance RAM 2933MHz. GPU is a GTX 1060 and that's connected to a Dell 2515H monitor. I'm using a Logitech G703 mouse on a Powerplay charger mat, and Logitech G810 spectrum keyboard.

I remember when I thought 16GB of ram was enough... then I realized im a Chrome tab hoarder and that Chrome MF is a memory pig. I started doing some simple photo editing and found the need to goto 32GB... pc running happy as a puppy with two peters now.

Dell desktop with 12 gb of ram used as a web browser hooked up to 28" 4k Samsung monitor with Xbox one x hooked to it as well.

What's a desktop? We're a family of 5 that rely solely on our cellphones and a couple of tablets for our computing needs.

Congratulations for not needing a real computer. *cookie*

http://lqrs.me/wp-content/uploads/2017/12/ergonomic-computer-table-and-c...

I'm shocked by so many people with nothing but tablets and phones. I make a lot of use of my iPhone 8 Plus, but have two actual fixed desktops. Work: 8th gen Intel i7, 32GB, 1TB striped SSDs, GTX1060, 1x Dell U3417W, 2x Dell U2717D. I run the 27s vertically. I work in software.
Home (sad): 4th gen Intel i7, 32GB, 512GB striped SSDs, GTX780, Dell U3415W. I plan to get another desk so I have enough space since my old Jerker is finally hitting the limits of usefulness. It was designed back when people had CRT monitors, so it's deep, but it's not wide enough for a modern multiple monitor desktop setup... My laptops are even sadder because I legitimately don't care about them and only use them when I need to be mobile. My main one is an old (6th gen i7?) Latitude with an SSD that I captured when an exec turned it in that I reloaded with Linux and upgraded to 16GB of RAM.

I couldn't get away with just my phone, but I definitely don't need a traditional OS computer for personal use. I have a ThinkPad for work, but my personal computer is a Chromebook (Asus Flip), and it meets all of my (admittedly very basic) needs.

At work it's a pair of Dell Latitude laptops with different images and a docking station, supplemented by a Dell and an HP desktop for imaging and creating virtual tours. All have 24 inch screens, but only one is a touch screen. At home it's an HP desktop for the kids, one chrome book, three MacBooks, and an Acer laptop.
For my own use at home it's a custom built tower with a Gigabit motherboard and a Phenom dual core that's been tuned. One system SSD for the OS (Win 10), one 400 GB drive for data storage, and one 300 GB drive for scratch and audio project editing. It runs good and boots in 15 seconds. From sleep mode, I can be up and online in 3 seconds. On the small device front we have a Lenovo and two Amazon tablets... all junk. Phones are iPhones 5S, 6, 6S, 7, and 8 Plus, along with a pair of HTC M8's and one HTC U11.

What's that app running on the screen in the article photo?

Razer Blade Stealth - i7 8th gen 16GB 1TB
Razer Core with Nvidia GTX 1060 6GB
3 24" Dell Ultrasharp Monitors
1 4K LG 45" TV
Razer Cynosa Keyboard
Razer Lancehead Mouse
Razer Kiyo webcam
Logitech Z337 2.1 Speakers I have a demanding job with lots of data processing, presenting, database work, and I also form a lot of presentations, layout graphics, edit photos, and do light video editing too and this set up works. I love that I can dock and push all those pixels but still have a small laptop with a good battery for those long haul Asia flights or working at home. 😁

My desktop PC only serves as a breeding ground for fans. Threadripper 1950x + 2 MSI RX Vega 56 OC GPUs in a crossfire setup + a bunch of extra holes drilled into a NZXT case and fans everywhere. It's a space heater, but it sounds like a helicopter unless I turn the volume way up.

Alright Jerry! Go Team Red!

While I also notice spending less times on my desktop, I can't get away from it completely. Main machine is an Intel Core i7 (8 core don't remember exactly which model) which I had to build last year just before the AMD zen chips came out. 32GB of RAM, Nvidia GTX 1070, running a SATA 512GB SSD as the main drive and multiple mechanical HDDs, the machine runs Windows 10 only. It's my main computing device at home, one of the big hitters for me is Photoshop which I use extensively to these days mostly finish up art that I make on the iPad. I have another desktop which stays docked to my receiver, but last year became my primary computer for a few months when my old machine failed. This one runs an original AMD phenom with 8GB of RAM and a cheap AMD card. It's a linux machine only, over the last couple of years it's been on Ubuntu 16.04 and it's soon going to get updated to 18.04. I do have a regular laptop, one of the cheap Acer E15s that I got for ~$300 on Amazon during a sale. Ironically that computer now costs more. I put in an SSD from another laptop that died on me (System 76 Galago Pro) and extra stick of RAM. Running Ubuntu 17.10. This tends to be the machine I use the most when I need general computing and a keyboard. The screen is terrible, but for the price I love this machine. The reason I need real computers like these is encryption. While I don't run bit locker and system-wide encryption on my machines I use secure encrypted containers extensively. Frankly said I don't trust the major OS manufacturers with their encryption because of backdoors. Too many times we see encrypted devices easily being hacked by unauthorized users. I've found Android and iOS to just be terrible at accommodating that need. Yes, I do have an iPad which I use exclusively for drawing in Procreate. I do believe that we have reached the moment when most people don't need full out desktops. Phones are powerful enough these days that if manufacturers can standardize a docking station it could accommodate the need for customers and businesses for keyboard/monitor environments.
Android Central Newsletter
Thank you for signing up to Android Central. You will receive a verification email shortly.
There was a problem. Please refresh the page and try again.