What we'd like to see next on the Gear VR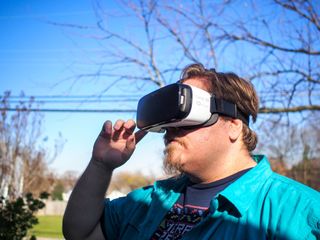 Over the last year, Samsung and Oculus have rapidly transformed the Gear VR from nerdy tinker toy to full fledged VR platform. There's no shortage of great content, both in video and gaming formats, and the new hardware is performing well for just about everyone. It has gotten easier to use, and with more users adopting the platform every day it's clear this isn't going anywhere anytime soon. While VR has been growing in popularity everywhere, the Gear VR is clearly the most improved over the last year.
That said, there are a few things we'd like to see Samsung and Oculus tackle next to take the Gear VR even further into the future.
Desktop view
Right now if you get a notification in VR mode from something else happening in your phone, there's nothing you can do about it in VR mode. That is, you can't act on it at all. You have to take the headset off, remove the phone, act on the notification, and then go back into VR. Samsung would be well served to work with Oculus on a Desktop View in the Oculus environment, something that let the user see the phone home screen and interact with notification inside of VR mode. Basic things like answering phone calls or replying to messages is something you can already do through the Gear S2, so why not in VR?
Finger controllers
Samsung started 2016 with a demo of the Rink finger controllers for the Gear VR. They weren't perfect, but putting your fingers in the virtual environment was an incredibly compelling idea. The current Oculus environment doesn't really need a different input, but for gaming alone these controllers would be cool. Make it happen, Samsung!
Augmented reality
The Gear VR camera passthrough mode is terribly under-utilized. Where are the Terminator Vision apps or live vision filters to make everything around you look like you're in the Iron Man suit? While not nearly as purposeful as some of the current features in the Gear VR, it feels like a mistake to not wield the exceptional camera on the back of Samsung phones for some kind of Augmented Reality experience. Even if it's something as simple as QR-code AR stuff, through the Gear VR those experiences would be terribly surreal.
Total experience bundle
Samsung sells the Gear VR for $99, but it doesn't take many users long to realize you need a good gamepad, some Bluetooth headphones, and probably a battery backup if you're going to be taking this VR experience with you everyone. Samsung should put together a full bundle with everything you'd need to fully appreciate the experience, complete with a nice carrying case like the original developer kit for the Gear VR had. It's clear Samsung worked hard to hit that $99 price point, but there are absolutely people out there who will see the experience their friends have and want to dive in with a full kit of their own.
What I'd like to see is delivery of promo units. Posted via the Android Central App

Get your phone at Best Buy and you walk out with it.

Little late for that,obviously, but thanks anyway Posted via the Android Central App

I want to see video input. The next version will probably use USB-C, which (if equipped with USB 3.1) can carry a video and power. So not only would the phone be able to charge, you could use it as a full VR headset. Some sort of dual-camera 3D tracking would be cool too, for orientation in relation to the monitor of the computer. The only reason I think this doesn't exist is that Oculus might see it as competition, but they just need to make it an entry level system, and for the full effect recommend a full Rift. Basically make it not as robust, but serviceable for casuals. Posted via the Android Central App

Also Sammy.... please make both straps a few inches longer. I have an Alien type head. It's enormous. Gigantic. Pumpkin like. I had to mod the straps on my VR and it isn't quite right. Not really comfortable for me past like 30min of use.

Lol Posted via the Android Central App

Luckily you can just go to any Michael's Fabric store and buy yourself a few strips of Velcro and make your own head straps.

H&M! I really want to see more of their advertising on this site, especially in VR! As a 40+ male it's right up my alley! ;)

What I'd like to see is it running for more than 5 minutes before overheating. I know 5 minutes is twice as long as I need to fap to VR porn, but still.

I have the same problem with my Note 5 if I take over 5 minutes of video.

Turn down the brightness and get acooling gel pack. alternatively I have yet to experience any overheating with the s7 edge. Even after hours of Netflix binging.

Yes! These are all things I think about every time I put my VR'S on, especially the pass through camera, that would be awesome to have the Ironman vision, lol play: Note 5 work:GS6 Edge
Samsung Galaxy Gear & Gear S
Samsung Galaxy Tab S 8.4
Samsung Galaxy Tab S2 9.7
Samsung Galaxy Tab 2 10.1
Samsung Gear Circle
Samsung Gear Level U
Samsung Gear Level Box
Samsung Gear VR Innovator Edition
Samsung Gear VR for Note 5

The number one lacking feature is adjustable IPD so EVERYONE can actually use it and see clearly. There are tons of us just outside of the fixed range Samsung has chosen to use that makes this product pretty unusable.

Doesn't it already have that? There's a binoculars-style focus knob on mine, and it works well enough that I don't need my glasses.

That was my thinking Posted via the Android Central App

No that's a focus ring that adjusts the focus distance. The IPD adjustment would allow the space between the lens to be increased or decreased, so the pupils would be directly in the middle of the lens.

Ah,I understand now.Thank you. Posted via the Android Central App

What I'd like to see is Samsung fix the widely reported p-poor focus/half the screen out of focus problem. I'm pretty sure that those of us with FUBAR Gear VR headsets are just out of luck and that thousands more customers will just be out of luck with useless impossible to focus headsets. Get them consistently working right before worrying about putting a cherry on top. I'll wait a bit for the technology to mature before putting any money into VR.

I'd like to see a video input, and watch in oculus video or something like that. So I could game in 3d from Xbox or ps. Posted via the Android Central App

if you're going to be taking this VR experience with you everyone.... Posted via the Android Central App

Well, I'm probably one of those people. But I hope the next one has a Type C connector, and a slight redesign to allow a Type C to microUSB adapter so earlier Galaxy devices are still compatible.

We need advancements in lens technology. They are not clear and induce headaches.
Android Central Newsletter
Get the best of Android Central in in your inbox, every day!
Thank you for signing up to Android Central. You will receive a verification email shortly.
There was a problem. Please refresh the page and try again.