Wear OS 'H Update' introduces an improved Battery Saver mode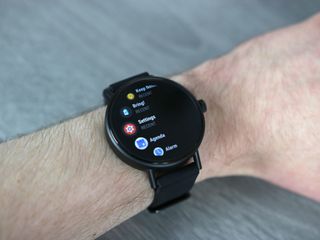 Google's big Wear OS update that started rolling out to users in late September has been a joy to use, and over the coming months, it's going to get even better thanks to the new "H Update" that was just announced. This isn't nearly as radical as the previous Wear OS 2.0 firmware, but there are still a few new additions to keep an eye out for — a lot of them focused on extending battery life.
The Battery Saver mode has been reworked to only show the current time when your battery dips below 10%. Similarly, if your watch detects that it's been off your wrist or inactive for 30 minutes, it'll "go into deep sleep mode" to further extend your battery.
Something else to keep an eye out for is Smart App Resume for all of your apps — allowing you to instantly pick up where you left off the last time you were using an app on your watch.
And, finally, the new Two Step Power Off feature enables you to turn off your watch by holding down the power button and then tapping "power off" or "restart" on the screen.
Google says that the update is "progressively rolling out over the coming months" and that it'll show up as System Version H when it arrives.
Wear OS 2.0 review: Simplicity, speed, and Assistant's wearable redemption
Android Central Newsletter
Get instant access to breaking news, the hottest reviews, great deals and helpful tips
Joe Maring was a Senior Editor for Android Central between 2017 and 2021. You can reach him on Twitter at @JoeMaring1.
The 2.0 update was very good for me, and I've been going two days per charge and ending day two after midnight with power to spare on the Ticwatch E.

I'm guessing you don't have your E in AOD mode? And all gestures are turned off?

Everything is turned on, except for AOD. I'm also using a watch face by Thema with eight data sets and interactions turned on. It's 4:47pm where I'm at, and the watch is at 85% after a heavy day of getting notification-bombed. So no complaints about battery life, but I'm still looking because I want NFC which the E does not have.

I have the Ticwatch E also, and use AOD. I can get about a day and half. With AOD off I can get close to 3 days, epsecially if I have the day off(I look at the watch a lot more at work than I normally would).

Which Thema display are you using? I have one that sounds just like your on my Gear S3 but haven't been able to find for wear os.

Nice I look forward to it.

Great. I've been enjoying the updates but I always always HATED the procedure to turn the watch off. It was annoying, long and complicated. I understand why the button holding could be an issue if you're in a weird situation where your wrist or hand is pressing against it by accident but they could have put a power off button on the quick pull down menu or an additional swipe option. I stopped turning off my watch during the week because of this. I only turned it off on weekends when I know I'm not going out.

Still getting two days out of my Huawei Watch 2 Sport with heart rate monitor continually on. Best Wear OS watch ever for me. Looking at the Montblanc for Christmas for a dressy option.

I assume everything with the current update is getting the H update?

Great! Now if only we ladies with small wrists could get some more options! Fossil has the Sport and that's a good start.

Any ideas about the Sport Mode? I am interested in the Fossil Sport, and would love to be able to do long runs I could track, like using a Garmin, etc.

Ticwatch Pro already has all that except the Smart App Resume.

Too bad LG Watch Style even loses power when completely powered off, almost as fast as if on. I have no expectations that this will in any way help the Style last any more than the work day, sometimes not even that long. Since WearOS update mine is usually completely dead before I go to bed, and I don't have that many notifications on it.

Yeah, the Watch Style had me take an extended hiatus from the Wear platform. I actually couldn't believe they released a watch with battery life that abysmal. Generally I ignore the "battery" section of reviews because tech bloggers complain about ONLY getting 4.5 hours SOT and generally don't reflect how I use devices, but I actually think they oversold this one. Now I'm on a Galaxy Gear S3 Frontier and, except for somehow breaking Android Auto, really enjoying the user experience.

This newest update has worked wonders for me my Moto 360 2nd Gens battery is tons better
Android Central Newsletter
Get instant access to breaking news, the hottest reviews, great deals and helpful tips
Thank you for signing up to Android Central. You will receive a verification email shortly.
There was a problem. Please refresh the page and try again.