Hands-on with Android Pie on Wear OS: This smartwatch doesn't need a charger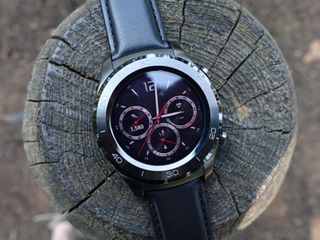 After officially rebranding Android Wear to Wear OS a few weeks ago, Google has released a developer preview for the Huawei Watch 2 that gives us an early look at some of the improvements Android P will bring to the platform.
The preview system image is available on the Android Developers site, where Google also provides instructions on how to install it through ADB on any Windows, Mac, or Linux computer. The developer preview works on both the standard Watch 2 and the more ritzy Huawei Watch 2 Classic — I've been testing it on the latter for a few days now, and making notes of some of the changes made to Wear OS.
The biggest visual change to Wear OS is the dark UI that's now enabled by default. This isn't necessarily a new feature — dark mode has been around since Android Wear 2.8 — but having it enabled by default encourages much better power efficiency on watches with AMOLED displays. The Huawei Watch 2 only has to illuminate the pixels for text and icons, leaving out the pitch black background and causing significantly less power drain.
That's not the only new way that Wear OS conserves power, though. With some exceptions like watch faces, apps can no longer run in the background unless the watch is on its charger. Wireless connections like Bluetooth and WiFi will also automatically turn off when the watch detects that you're not wearing it. If you have a Huawei Watch 2 with LTE, your cellular radios will be disabled as well.
WiFi no longer turns on automatically when Bluetooth is disconnected. In the past, this has been a measure to continue seamlessly receiving notifications when you're not connected to your phone, but moving forward you'll need to turn on WiFi manually if you want to keep on top of new notifications. This may seem like an annoyance, but it's a good way to keep your power consumption low when, for example, you're at the gym and only brought your watch to stream music to your headphones.
In the Wear OS release notes, Google lists a few known issues, but they're mostly related to filing bug reports. For the most part, the Android Pie developer preview has been perfectly stable, though one usability issue to bear in mind is that the Watch 2 sometimes has trouble accepting incoming phone calls. If you like to handle most of your calls from your smartwatch, you may want to hold off on the developer preview build for now.
It's great to see Google finally giving its wearables some attention again, but I fear it may be too little, too late. The Wear OS selection has been dwindling for years, and the Huawei Watch 2 is already over a year old — how much does new software matter without any new hardware to demonstrate it on? Still, even in their diminished state, smartwatches offer a number of conveniences for the right kinds of people, and it's good to know that Google hasn't completely given up on the market.
Are you still interested in Wear OS and smartwatches in general? And if you have a Huawei Watch 2, would you or have you installed the developer preview? Let us know in the comments below!
Be an expert in 5 minutes
Get the latest news from Android Central, your trusted companion in the world of Android
Hayato was a product reviewer and video editor for Android Central.