Walt Disney World starts accepting Google Wallet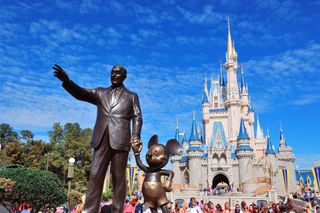 Disney announced that it would bring contactless payments to its resorts before Christmas, and is now rolling out the feature this week. Visitors heading to Walt Disney World will be able to pay using Google Wallet from December 24.
Last year, Disney rolled out MyMagic+, through which customers could charge purchases made within the resort to their hotel room. The technology leveraged RFID and made use of wearable bands called MagicBand, which allowed customers to interact with contactless payments gateways within the resort.
Disney has stated that support for other forms of payments like Google Wallet and Apple Pay are designed to make it more convenient for customers visiting the resort to purchase merchandise and other goods. Here's where support for Google Wallet will be available within the resort:
The locations that accept Google Wallet will feature the EMVCo symbol. Disney is expected to bring contactless payments to the Disneyland Resort in 2015.
Source: WDWMagic
Harish Jonnalagadda is a Senior Editor overseeing Asia at Android Central. He leads the site's coverage of Chinese phone brands, contributing to reviews, features, and buying guides. He also writes about storage servers, audio products, and the semiconductor industry. Contact him on Twitter at @chunkynerd.
Being how big they are I'm surprised they haven't already. Posted via Android Central App

It cost a lot of money to roll out technology like this. However, considering the rumor that they just weigh their money at the end of the night rather than count it (b/c it is faster), I'm surprised as well.

It costs a lot of money if you don't have the units. But if they use the same units as their magic band system then all it takes is a software upgrade. On the other hand, if its separate readers then the ones they use for their magic bands then yes it was probably expensive. But they way disney sees it is, the easier a guest can pay, the more money they will spend.

As someone who worked in merchandise there, they count. Trust me. I've had to help before. Posted via the Android Central App

Weighing it would be so much cooler. "I'm da Blur boys!" - Me with 1200 ping. Yes. My Internet got worse.

I've got no doubt that every last cent is counted. The rumor always just struck me as humorous and even when I first heard it (some 20+ years ago), I never took it seriously.

They definitely weigh low value coinage in a lot of places. Can't say for Disney. Wubba lubba dub dub!

They have already been taking the payments ever since apple pay. They just didn't officially announce it till now.

There's been a lot of... "controversy" between banks and retailers over how NFC payment will be handled. I assume that most people know that retailers pay a fee anytime you use a card. Usually, it's something like $1.00, plus 1.2% of the transaction over a certain amount. It gets complicated, and can vary greatly depending on the deal you have setup with the payment processor. That's why a lot of smaller convenience stores have those signs about "Minimum Credit Card Purchase". Well, that's for when they swipe the card. If it won't swipe, and they have to enter the numbers manually (or if they're taking payment over the phone), that is what's called "Card Not Present" by the banks, and they charge a significantly higher transaction fee. Potentially more than double. 1.2% of $5 starts to add up, if you're, say, Disney World and you're processing that charge 10,000 times a day. That looks even worse if you're getting charged the higher rate. 5.00 x 0.012 = 0.06 * 10,000 = $600/day in transaction fees 5.00 x 0.034 = 0.17 * 10,000 = $1,700/day in transaction fees And that's just on $5 charges. Disney likely pays *way* more than that per day in credit card transaction fees. So far, as I understand it, the banks are wanting NFC payments to count as "card not present" since the card wasn't actually swiped or looked at by someone at the store, which has made a lot of retailers reluctant to implement NFC payment in the past, even though a lot of them have devices capable of doing it right now. There are a huge number of retailers that have NFC payment capability right now. Many payment processing terminals sold in the past couple of years have NFC built in. They just don't have the NFC part turned on because they don't want to pay the higher fees.

That pic of Walt and Mickey is awesome. Couldn't have picked a more perfect day to take that shot. Posted via the ACA on NEXUS 6

I was in Orlando on business two weeks ago. Not a cloud in the sky. Didn't get to go to any of the parks, but I remarked to my business contacts that I was sure the Disney photographers were taking advantage of the weather. As for Disney taking Google Wallet, I guess it's time to update the metaphor for WDW - "A giant virtual vacuum cleaner that sucks out the contents of your Google Wallet"

I'm actually shocked since they already have wireless payment via the Magic Band. They give you a bracelet at check-in that works as a room key, park pass and let's you charge everything on it. Why bother with more competition?

Because every payment method they accept makes it easier for guests to part with their money. It's totally to Disney's advantage to accept as many methods as they can.

Bitcoin will be next (if not already lol).

So true Posted via the Android Central App

I believe they also have a section where you can actually pay with an Arm or Leg.

I hear human hearts and souls are also acceptable currency. Wubba lubba dub dub!

Not everyone who visits Disney stays a Disney hotel. The way the article is written Magic Band is only for their hotel guests. So having Google Wallet available for everyone makes a lot of sense. Posted via the Android Central App

Magic Bands are especially useful to resort guests but all guests can buy and use them. They're waterproof, so guests who spend a lot of time at the pools and water parks will find them well worth the cost. I personally want to play with one and see if I could use it to trigger things in Tasker, like an NFC tag... Posted via the Android Central App

You beat me to it. I'm going to have to try that this week and see what I can do with mine now. Posted via Android Central App

Magic Bands can be used by all guests. They cost an additional $15 to purchase if you aren't staying in a Disney resort. You can't use the mobile payment option unless you are staying in a Disney Resort though.The extra money for the band is very much so worth it. We were down there in June and not having to pull out your ticket for every fast pass or Park entry was very convenient. Posted via Android Central App

Why would i ever PAY $15 for a magic band just to make it easier to PAY Disney money? Don't get me wrong...as a Disney Vacation Club member...I've stayed quite a few times in the past 2 years and have a bunch of Magicbands around the house....but they were free....they send you one for each reservation you make. But to actually PAY for one? HAHAHAHA. I guess there IS a sucker born every minute

You can only use it to pay if you're staying at the resort anyways, though the fact that's it's waterproof and stays on your wrist might make it worth it to some people.

Not everyone has magic bands, and out of those that do, not all can use them to pay. As of now they're only used for payment when you're staying on property (a Disney owned hotel). For those of us who are locals, or stay at non-disney hotels, this means even though we have magic bands we needed a credit card to use as payment. I can now stroll down main street or in Epcot with nothing but my magic band and phone.

Plus it sounds like the MagicBand is very similar technology to EMV so it didn't take much for them to enable tap to pay, combined with their connections to Apple, and their business philosophy, I'm not surprised.

I'll add the upcoming liability changes to encourage EMV here in the states and the fact that most of the Western world has already switched, so this benefits tourism.

When I first went to Disneyworld in Florida as a kid, Al Gore has not even "invented" the internet yet. Nobody that I knew had cell phones. (unless you count those really big baggie phones) Now I see 8-year-old paying for stuff Disney characters with a swipe of the smartphone. Guess that's progress? :)

There's a great big beautiful tomorrow
Shinin' at the end of ev'ry day
There's a great big beautiful tomorrow
And tomorrow's just a dream away Man has a dream and that's the start
He follows his dream with mind and heart
And when it becomes a reality
It's a dream come true for you and me So there's a great big beautiful tomorrow
Shinin' at the end of ev'ry day
There's a great big beautiful tomorrow
Just a dream away :) Posted via the Android Central App on my Nexus 7 2012

LOL! You beat me to it! The Carousel of Progress is a great ride to sit back and relax. Posted via the Android Central App

+100 for that reply. I've never seen all the words to that song before. Nice! Of course now it will be stuck in my head all day....thanks. Lol Posted via Android Central App

Disney IT has a lot going on; I was in on the redesign a few years back to better enable their systems to integrate... This set the groundwork for the bands and inclusion of mobile payments, but they still need to test and get it right from the start. Rushing leads to mistakes; no customer wants to be over charged or put at (credit) risk, and Disney has the brand to protect as well.

I'm an annual pass holder and heading there this week for vacation. Definitely going to try this out.

And now. Mobile payments systems take off. Its great that google took the lead with Wallet, and I am glad Apple finally got in the game. I wish it took off a bit more when it was just wallet, but it is like having a new feature as more and more retailers are using accepting it. Posted via the Android Central App
Android Central Newsletter
Get the best of Android Central in in your inbox, every day!
Thank you for signing up to Android Central. You will receive a verification email shortly.
There was a problem. Please refresh the page and try again.