Volvo unveiling first Android Auto car in October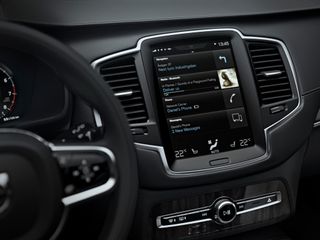 Volvo is one of the new members of the expanded Open Automotive Alliance and as such has announced its own plans for Android Auto. The first new Volvo to get the new system will be the next XC90 which will be given its grand public unveil at the Paris Motor Show in October.
Volvo has also already confirmed Apple CarPlay support for the XC90 alongside it's own system based upon its new Scalable Product Architecture. With the vertical touchscreen XC90 drivers will be able to see not only their Android content but also Volvo's own controls on the same display at the same time providing a seamless experience for all.
The new XC90 will be on the road in early 2015 with orders being taken towards the end of 2014. The full press release follows.
Volvo Car Group joins the Open Automotive Alliance
Volvo Car Group (Volvo Cars) has joined the Open Automotive Alliance to make the Android smartphone platform available to drivers through its new ground-breaking user interface. This move brings together one of the world's most progressive car companies and the world's most popular smartphone platform, developed by Google.
The integration of Android Auto™ promises to add yet another dimension to the Volvo in-car experience. Android Auto brings features and services familiar to Android smartphone and tablet users directly into the car via Volvo Cars' large centre console touch screen display.
"Google's approach to user-centricity and the application of technology to improve peoples' everyday lives makes Android Auto a perfect addition to the Volvo experience," says Håkan Samuelsson, President and CEO of Volvo Cars.
The interaction between Android Auto and Volvo Cars' brand new user interface transforms the look and feel of a car's interior. Volvo Cars' interiors will be characterised by their high-tech simplicity and functionality.
"We have worked hard to ensure an enjoyable user experience with Android Auto. This will offer our customers a new degree of fluidity and accessibility in the usage of their mobile devices, and bring the digital ecosystem our customers already enjoy into the car, complementing Volvo Cars' existing connected car services and applications," says Håkan Samuelsson.
Android Auto will provide access to Google Search, Google Maps, Google Play Music and specially adapted third party applications, such as Spotify. All phone-based applications can be controlled via voice or steering wheel controls or the car's touch screen ensuring the entire interaction with Android Auto content is both safe and easy.
Volvo Cars' portrait touch screen provides users with the benefit of having both Volvo Cars and Android Auto content on the screen simultaneously, removing the need to switch between car and Android phone screens.
"Android smartphone users will feel completely at home in a new Volvo. We have created a wholly-integrated user experience in our large portrait-oriented touch screen that takes the in-car mobile device experience to a new level. That, coupled with the obvious driver safety benefits of an advanced voice control system offered by Google, made Android Auto a perfect match for Volvo," says Håkan Samuelsson.
Android Auto will be available on all new Volvo cars based on the new Scalable Product Architecture (SPA), starting with the all-new XC90, due to be publically revealed at this year's Paris Motor Show.
Volvo Cars will also include Apple CarPlay™ interoperability in all new models based on the new Scalable Product Architecture. This will make it possible for Volvo car drivers to connect the most widely used smartphone platforms directly to their car's touch screen display.
Awesome! Posted via Android Central App

Nice! Go Volvo.. Winner of the OnePlus Storm of Invites contest thingy... °Sony XPERIA Z2 white
°LG Optimus G Pro white
°LG Optimus L70 black

Maybe in 15 years when I can afford to buy one of these cars it'll be great n5

While I'm excited for this, I want to give Volvo a shout out for ignoring their target market and including In Flames in their press release photos.

I'm just waiting on a good aftermarket running Android for my car. The ones out now are bland Posted via Android Central App

This. App radio3 is what I'm using in my work truck, and it's still geared more for the iphone. Can't wait for a screen like it, but all android. Posted via Android Central App

I think I like this future, where you just plug your phone in and you get your preferred UI and Apps, adjusted for car use.

Now this is awesome. I was afraid there was going to be some kind of exclusivity with these platforms, but thank goodness that isn't the case. This will allow both iOS and Android users to be happy, but also allow car makers to keep doing their thing. Not to mention both the Android and iOS platforms will be customized for each device so that the experience will be personal for each user and will follow them between cars. Posted via Android Central App

I presume like iOS, it uses QNX as the embedded OS. Google is listed as one of QNX partners along with Apple on their website. Posted via Android Central App on BlackBerry Z30

Crud! Just pulled the trigger on a Volvo a few months ago. Too late for buyer's remorse.

I want to see an aftermarket 2 din head unit already! i'm not buying a new car for the radio!!

Gonna get my 960 rooted soon :DD

Woah woah woah, who's listening to In Flames in their car? Yes please!

This is what every car company should do: be compatible with android auto AND CarPlay. So everyone's happy Posted via Android Central App
Android Central Newsletter
Thank you for signing up to Android Central. You will receive a verification email shortly.
There was a problem. Please refresh the page and try again.