Vivo Apex 2019 has a full-screen fingerprint sensor, 12GB RAM, and no buttons or ports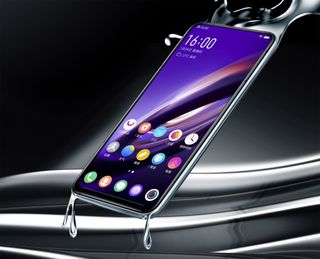 Vivo seems to be making a habit of releasing otherworldly designs. The Chinese company showed off the Apex last February, revealing a design with a 98% screen-to-body ratio and in-display fingerprint tech. Vivo is now kicking things up a notch with the Apex 2019.
Vivo announced the Apex 2019 at a press conference in Beijing, and it's safe to say that the phone is unlike any other in the market today. There are no openings anywhere on the device, and Vivo even got rid of the USB port and substituted it with a magnetic connector at the back called MagPort that lets you charge the device and transfer data.
The end result is that the Apex 2019 is just a slab of glass and metal with rounded edges and a flowing design. There are virtually no bezels at the front, and Vivo got rid of the front camera altogether. On the hardware front, the device is 5G-enabled and powered by Qualcomm's latest Snapdragon 855 platform, along with 12GB of RAM and 256GB of storage. Vivo says it used a duplex PCB design to free up space for the 5G modules.
As there are no openings or protrusions, the camera at the back sits flush with the body of the device, and there are no physical power or volume buttons either. Vivo is instead relying on what it calls Touch Sense technology, which uses a combination of capacitive touch and pressure sensing along with "carefully designed programming logic and software" to translate touch inputs along the sides of the frame to corresponding actions.
Image 1 of 8
And as there's no speaker grille or earpiece, the display is effectively turned into a speaker through Body SoundCasting technology, which is similar to what Vivo used last year. Vivo is also retaining in-display fingerprint scanning, but this time it is offering a sensor that covers almost the entire surface of the display.
Basically, you'll be able to touch anywhere on the screen to unlock the device, and Vivo is relying on a Fingerprint Light feature to light up the area around your finger to get a detailed fingerprint image. From Spark Ni, senior vice president of Vivo:
Vivo will be showing off the Apex 2019 at Mobile World Congress next month, which is when we'll be able to see if all that futuristic tech is actually usable. In the meantime, what are your thoughts on the Apex 2019?
Android Central Newsletter
Get instant access to breaking news, the hottest reviews, great deals and helpful tips
Harish Jonnalagadda is a Senior Editor overseeing Asia at Android Central. He leads the site's coverage of Chinese phone brands, contributing to reviews, features, and buying guides. He also writes about storage servers, audio products, and the semiconductor industry. Contact him on Twitter at @chunkynerd.
Very cool. Give Samsung and Apple another 5 years before letting that many sceptical consumers who would skip this at this point time to catch up.
I would not mind a phone with no front camera to get rid of all these screen wasting silly notches. Magnetic or wireless chargers I will rule the future apple went back on itself with this on the MacBook Pro Series. I am back to trip hazard/ computer destroying, port wasting cables once again.

Still they have chins, yes small but have chins. I hoped Samsung will finally done away with chins but they even can't get around that. worst part about these phones are they can't play Netflix or Amazon prime in FullHD. Oppo and Vivo failed in usability and they are here just for show.

It will be interesting to see once these phones have come out how they can handle HD content I still like being able to fill more than 90% of the screen with content. Even on my Note 8 Netflix looks incredible. I don't mind a 2 mm chin. I definitely do not want a 1 inch by quarter inch notch anywhere at all in my screen. I would rather have a balanced set of bezels. I am patient. I will skip this half measure of bezels. I don't mind the small hole but I wouldn't mind if it all went away. Meizu Pro 7 had the right idea!

No front camera is ok, but accompany that with a smallish rear camera screen that can be switched on an off.

I remember a phone that actually had a small postage stamp sized rear screen that was more than enough for framing selfies that would probably work very well as screen technology has advanced so much

Damn it, now I'm going to have to get all new car-mounts and attachments.

Looks nice. So how long before we get phones like in the movie Looper? Holding on to my Note 8 until then...

Perfect idea! I'm with you!

Somehow I don't think this will catch on. Cool concept but that's it - it's just not practical for the average Joe Consumer.

Another phone manufacturer that doesn't care about audio.

Looks better than the Meizu and like I said about that phone, it's an interesting concept and I like it. It might not be completely practical but further down the line other manufacturers can take elements of it and incorporate it into more traditional designs. Without a bit of bravery and experimentation you're not going to see any design changes at all.

Hah, this! Finally, someone says this!

With no speaker and no microphone how does the audio work? Is sound transduced through the front glass? If so how is the sound quality for both speaker and microphone? Tell us more about that. Secondly, how does one take a selfy with no front camera?

Stupidest idea ever to do away with charging ports. So now if you need to be away from home or not in your car you need to drag along a charging pad everywhere you go. No more borrowing your friends charger. Thanks, but no thanks you can keep this hunk of junk.

No. You would need a simple cable adaptor that connects the magnetic to a USB c

We really don't need more adapters

So the sim card goes where?

Remember in the good old days when they used to PAY beta testers? Now, they expect us to pay to BE beta testers. That's what you are when you buy tech like this: a beta tester.

That is such a good point about paying to be beta testers. Pretty much that is how Microsoft treated Lumia owners. And how they treat windows 10 customers now. All their OS updates are just beta tests and so unstable.
Android Central Newsletter
Get instant access to breaking news, the hottest reviews, great deals and helpful tips
Thank you for signing up to Android Central. You will receive a verification email shortly.
There was a problem. Please refresh the page and try again.