Unreleased PlayStation VR games we're most excited about in 2022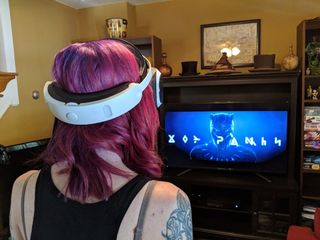 (Image credit: Android Central)
Out of all the amazing VR technology out there, in terms of adoption, the PlayStation VR reigns supreme. With an incredibly low entry price, the PSVR is an excellent way to get into room scale VR. After all, you only need a PS4 or PS4 Pro to play, and there are a lot of people with those already.
Every month there is something new for the PlayStation VR, and we've already seen some amazing games come to the platform. But we want more — these are the forthcoming games we're excited for!
PS4 Slim vs. PS4 Pro: Which Should You Buy?
Luna
What a weird and wonderful game this looks to be. The artwork is beautiful and the gameplay is a mixture of puzzles and world building. One of the best things about VR is being able to step inside art, and Luna feels like it will be exactly that, an artwork you can be a part of. Luna is currently available on Oculus and SteamVR but it's coming soon to PSVR.
Golem
There is a lot of mystery around Golem. First seen several years ago, this fascinating puzzle/action game has been delayed more times than I would wish.
I am still holding out hope, though, that Golem will arrive on the PlayStation VR sooner rather than later and we can enjoy some giant magic robot fighting! There is still no pre-order for Golem but you can check out its website here.
Wolfenstein Cyberpilot
Based in the world of Wolfenstein, Cyberpilot puts you in the cockpit of giant mechanical beasts for you to kill Nazi's. There are multiple mechs for you to play and you can be sure of a lot of mayhem.
We have an article listing all the cool things you might see in Wolfenstein Cyperpilot, so be sure to check it out right here.
Paper Beast
Paper Beast is a beautiful looking game full of gorgeous imagery. It's all about those lost pieces of code and algorithms hidden in the network that don't have a home. In this game, they have interacted and produced an entire ecosystem of living creatures.
It sounds fascinating and I can't wait to try it out whenever it finally arrives.
The Walking Dead: Onslaught
The Walking Dead is zombie royalty and this new VR game from Survios could be the most fun you can have with zombies, without being eaten alive. You can find out everything you need to know about Onslaught right here at Android Central.
Suffice to say it will be gory, and satisfying to kill those zombies.
What about you?
What are you most excited for on the list of upcoming games for the PlayStation VR? Let me know in the comments, and while you're there tell me what you are enjoying on PSVR right now.
Accessories you should have for your PlayStation 4
EasySMX VIP002S RGB Gaming Headset ($40 at Amazon)
Good headsets tend to get expensive, but the EasySMX VIP002S headset gives you the best of both worlds: affordability and quality.
Skywin PSVR Charging Display Stand ($40 at Amazon)
Make your room clutter free with this all in one charging stand for your console, controllers, headphones, and the PSVR itself.
DanYee Cat 7 Ethernet Cable ($9 from Amazon)
The braided cord and premium connectors make the DanYee Cat 7 cable a great choice for your PlayStation 4 and PC needs. The better your internet connection, the better your gaming experience will be.
Sign up for Black Friday email alerts!
Get the hottest deals available in your inbox plus news, reviews, opinion, analysis and more from the Android Central team.