Unlocked phones in Europe (Or, a Guide to What Americans are Missing)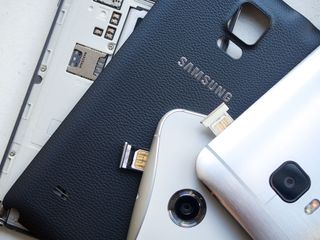 For most smartphone buyers in the U.S., picking up a new device usually involves a trip to the carrier store and the signing of a new multi-year contract. Even if you were upgrading mid-cycle — and paying full price for the privilege — you'd need to pick up your operator's version of your chosen device to guarantee compatibility. But doing so is a double-edged sword: devices are often SIM locked to prevent them being used on other carriers, and loaded with unwanted bloatware. And in the Android world, updates for operator-branded phones have an extra certification hoop to jump through before roll-out.
Hence the draw of unlocked phones — handsets supplied directly by the manufacturer without any operator meddling. In the U.S., unlocked phones typically fall into two categories: super-cheap burners from your local mall, and pricier mid-to-high-end models sold online, like the the ASUS ZenFone 2, Alcatel OneTouch Idol 3, Moto X, Nexus 6 and HTC One M9 unlocked/dev editions. A broad selection, sure, but major players like Samsung and LG are unrepresented, and unlocked versions aren't available anywhere near as widely as the carrier-branded models.
Over in Europe, things work a little differently. The carrier model still dominates, but it's just as easy to pick up unlocked, unbranded versions of Android phones big and small that work on just about any local operator (and often many not-so-local ones.)
The technology
There are a few reasons why European buyers have more choice when it comes to unlocked phones. The first has to do with technology — just about every major operator on the continent uses GSM standard for cellular connectivity, compared to just two of the big four in the states. Indeed, the history of GSM is a story of co-operation between European countries to create a common global standard, making it easy to use the same handsets across borders.
Similarly, when it came time to roll out 3G services in 2000, most major operators in Europe gravitated towards UMTS and HSPA networks on 2100MHz and 900MHz. By comparison, Verizon and Sprint in the U.S. used EVDO. The two GSM operators, AT&T and T-Mobile, used UMTS/HSPA, but initially without any overlap in frequencies. (Though that's recently started to change.)
The move to 4G LTE complicated things further, but most European carriers have deployed 4G on a mix of 800, 1800 and 2600MHz, while the U.S. is all over the map.
For manufacturers, the use of the same collection of frequency bands across most European operators that means it's easier to create one model for the whole of Europe and just SIM lock it as required. That also means it's also easy to just sell an unlocked phone that'll work on any carrier. Samsung, for instance, sells the same model Galaxy S6 — SM-G920F — to just about all Euro operators, while also offering it unlocked.
By comparison, an unlocked phone in the U.S. has to target a much broader range of frequencies, and there's little incentive for the big U.S. carriers to offer contract-subsidized phones that have full band coverage on rivals' 3G and 4G networks. Supporting extra bands is an additional financial hurdle, as licensing these frequencies doesn't come free of charge. That's why most big Android phones exist as different models for each of the big carriers. And different models with different frequencies means there's no guarantee that a SIM-unlocked T-Mobile phone will have full band coverage on AT&T, or vice versa.
The business
Unlocked phones would be no good without a major retail presence, and in Europe the major player is the UK-based Carphone Warehouse, known as The Phone House in continental Europe. The chain operates 2,400 stores across Europe, offering its own subsidized deals for phones on major operators, as well as advertising a SIM-free price for unlocked versions.
That being the case, it's easy to walk into a Carphone Store, or another independent retailer, and walk out with an unlocked version of the Android flagship du jour. But there are exceptions — stores (and staff) make more money on contract sales, so they're more likely to push undecided buyers down this path. In some situations, stores might simply refuse to sell a high-profile phone off-contract if it's in short supply. (And since the demise of Carphone's major competitor in the UK, Phones 4u, the retailer's dominance shows no sign of waning.)
Fortunately there are many independent online stores willing to sell unlocked European phones to whoever's buying, with the big UK-based names including Clove, Expansys and Unlocked Mobiles.
And as more unlocked phones with U.S.-compatible radios start to appear, this model has grown in popularity across the pond. Though in the American market you'll generally be buying your unlocked, AT&T-and-T-Mobile-ready flagship from the manufacturer directly. Sony and HTC both have online stores selling unlocked, high-end phones directly to consumers, to say nothing of smaller players like OnePlus, ASUS and Alcatel.
The way forward
It's not impossible to create a single SKU that works across all four major carriers. The unlocked North American Nexus 6 will work on AT&T, T-Mobile, Sprint and Verizon (in addition to a good chunk of international bands) thanks to the inclusion of a bevy of networking technology. But right now that's the exception, not the rule, and Google's about the only big player in wireless pushing one phone that can hot-swap between any of the big four.
It's unlikely that access to unlocked phones will become as widespread in the U.S. as it is in Europe — at least not anytime soon. The technology involved and the nature of the business continues to favor the traditional carrier-subsidized model. But in the meantime there are plenty of great unlocked, T-Mo and AT&T-supported phones on the market — you'll just have a look a little further afield to pick them up.
Android Central Newsletter
Get instant access to breaking news, the hottest reviews, great deals and helpful tips
Alex was with Android Central for over a decade, producing written and video content for the site, and served as global Executive Editor from 2016 to 2022.
I am not missing anything i already abandoned contract and locked phones

Please read the article.. Even if you buy a "unlocked" phone in USA you're still dependent on using it with some carriers because of the frequency bands that are being used. Unless you buy an unlocked iPhone or nexus 6 that is..! Posted via the Android Central App

Nexus wins over IPhone with the support of 700mhz banda 12 on Tmobile :)

I've been contract free for about 3 years now and I will never go back to carrier contracts in the US. I switch phones to much in a year to be held down by carriers to lose money in ETF fees. GSM is the way to go if those carriers work in your area. I would never do Verizon/Sprint's CDMA technology. A lot of GSM phones be unlocked for great deals on Ebay, Expanses, Swappa, and other outlets.

Hasn't Verizon started to make all the phones they carry global ready since they deployed 4G LTE? Meaning the phones will work on any GSM network. I'm not sure if they have to be unlocked before using on a different network but I've been on Verizon for the past 5 years and upgrade frequently. So gave phones to my wife and friends on T-Mobile and att without needing to unlock. But the only issue is that they can't get 4G on GSM networks which would also be the case if you want to use a T-Mobile device on Att or vice versa. All that said, I agree with you on GSM is the way to go as switching device is always a breeze. Posted via the Android Central App

Canada is similar to the United States, in that everything is locked down tight. An exception to the rule is the availability of Google's Nexus phones. That's one of the big reasons that brought me to the Nexus line. Now both my wife and I use one.

A big difference is that Canada has a universal standard. It's not a broken up mess of CDMA and GSM carriers like the US. Unlocked phones are much more compatible in Canada than the US.

SIM locked phones are still the most common ones though, as you basically get an interest free loan without any thorough financial background check if you buy a phone that way. Though, many European countries do have laws forcing operators to offer free unlocking of the phone once the contract expires. Also, you're not forced to sign up for years, they have contracts spanning from 6 months to 24 months (and in many cases even month by month contracts with no cancellation period). I think there are also a lot more variation in the EU to what you can pick for your contract, if you want a certain amount of data, texts or calls.
Regulations really isn't a bad thing. They usually to protect the consumers from extortionist companies. :D

The officially unlocked/SIM-free iPhone 6 that Apple sells is also a single-SKU device for all US carriers. With advancements in today's RF technology, it is possible to create single-SKU devices for all US carriers but carriers have no incentive to push OEMs for such devices (on the contrary, from their perspective it's better to limit the use of the device on another carrier as much as possible as it helps hold the subscriber captive). The OEMs happily go along with this trend as while it is possible to create single-SKU devices, it is also more technically challenging (especially with some of the more esoteric bands like the ones only used by AT&T, and Verizon's main LTE band whose RF configuration differs considerably from AT&T's and T-Mobile's bands in the same overall frequency range).

iPhones are the only phones I'll buy from my carrier. Apple is smart not to allow carrier branding or bloatware on their phones. Sure they're locked, but now at the end of the contract they have to unlock by law. The Android phones I buy are unlocked and contract free.

It's not so much about being "smart" as it is having the virtue of being the first person to arrive to the party. Back before the carriers understood the implications of smartphones it seemed like a good idea for AT&T to give Apple what they wanted in terms of device control.

Yeah, but I had smartphones before the iPhone. While it's not as much that comes pre-loaded on Android phones today, they had carrier stuff preinstalled.

In my country iphones came with carrier bloatware.

I am hoping that the Moto X 2015, which is likely to have an RF design based on the Nexus 6's will come out with a single-SKU unlocked variant that could be used on all carriers. Later in the year the Nexus 5 and the iPhone 6S should also be single SKU for all carriers.

In Czech Republic, SIM-locked phones are illegal, all the phones sold here have to accept SIMs from any operator. So the only "unlocking" we Czechs have to care about, is a bootloader unlocking for being able to install custom ROMs :)

As mentioned in the article, in the USA, for a phone to just be unlocked is not sufficient due to the many different LTE bands used by the different carriers, often exclusively so. A good example are devices sold by Verizon, the largest of all the US carriers. ALL of Verizon's LTE devices are unlocked (regardless of wether they are purchased under contract or not). However, a typical Verizon device might not work well on the other 3 nationwide carriers as most Verizon devices lack bands to support those other carriers. So, a typical Verizon phone used on SEE BELOW will not support the following: AT&T (missing bands 17, 29 and 30; will support bands 2, 4 and 5)
T-Mobile (missing band 12; will support bands 2 and 4)
Sprint (missing bands 25, 26 and 41, will not support any of Sprint's current LTE bands)

That's why I buy phones like Alcatel OneTouch, Asus Zen Fone 2 or Huawei P8 lite for my T-mobile needs. They all support band 2, 4 and 12.

Any phone carphone warehouse and 3 sell are sold as unlocked, contract or not. Staying on Kitkat.

as often the case good government regulators is important or otherwise we end up with an alphabet soup pf bands and phones that can't work on all providers - this is intentional done by ATT and Verizon to lock yo9u in suckers.

I am using a unlocked OnePlus One with a Lyca Mobile SIM because I travel around a lot. In Ireland, I get 1GB of Data, which is all I need, for 4,50 Euro - when I am out of the country, I can purchase 1 GB to use in that country for around 10 Euro and similar packages for voice or text. Getting the phone unlocked basically payed back for itself within 3 months, as most high-end phones on contract cost at least 40-50 Euro a month here.

Here in Portugal buyng an unlocked phone is as easy as buying a locked one, here all the major appliance stores that exist in all cities and often more than one in each city sell the phones locked and unlocked, and the my carrier sells unlocked phones cheaper with 2-year contract.

The problem is when you try to have it unlocked. The morons come up with all the excuses in the book to charge you for it albeit what the new communications law states. Specially the guys at TMN (or MEO or whatever the f they're called now) Posted via the Android Central App

After 2 years contract they can't charge anything to unlock the phone, in the first 6 month's they can charge the difference between unlock and lock price,after those 6 month's they can charge 80%, in the last year they can charge 50%.

I picked up the Maxwest Android Astro 5 (Kit Kat) from Yippz. This phone has a 5 inch screen, 1.3GHz quad core, 8.0 mp camera and is Dual SIM. It's also manufactured unlocked. I use Puretalk (at&t) for only 10 dollars a month (personal line).This phone has tethering & wi-fi built in., so I can use it at any coffee shop, restaurant, park, or who ever is offering free wi-fi. The best thing is I am not stuck in a contract and I can switch to any MVNO carrier at any time. I use one sim for personal and the other sim slot for business. It's so nice not to carry two phones.
I'm really excited to have it because, I am going to be traveling and I can take it with me and use it oversea's. All I have to do is pick up a sim card in the country I am visiting at the airport or at a local store.

I just started my first venture in unlocked phones with my LG G4. Don't think I will ever go back...

One thing I do hope going forward in all this is that not only will the big 4 carriers be more universal as far as bands and frequencies and being able to use unlocked phones on them, but also smaller regional carriers like C-Spire and SouthernLINC, who are each popular in my area, C-Spire is similar to Verizon and Sprint at the moment as they have a CDMA network and LTE, then SouthernLINC who still uses iDEN at the moment but is working on LTE in the 800 MHz now and can maybe get some 700 MHz in the next auction, not sure what specific band, but hoping the regionals will be able to start accepting unlocked pretty soon as well! Posted via my Moto G 2nd gen on Cricket

The Phone House isn't, however, the only major player. In many European countries they're not that relevant, being replaced by the French retailer FNAC or by the germanic Saturn and Media Markt. Though it's very common to find ALL of these retailers in the same country competing with each other. People also buy less and less from carriers. The only phones in Europe most people buy through carriers are the iPhones because they're so stupidly expensive in Europe (and probably the Galaxy 6 and 6Edge now too). Oh and you can thank Nokia for pretty much having unified the GSM market in the 2000's. Posted via the Android Central App

All you need to know is that in the US, the carriers are raping us with those contracts and we think we get a bargain. Posted via the Android Central App

I had no idea the nexus 6 was truly unlocked and compatible with all 4 major US carriers. That's awesome. Makes me consider nexus 6 even more. Technically the moto e lte 2nd gen Verizon variant can work on T-Mobile and ATT. Don't know about sprint and this is even without jailbreaking but still some steps. Major kudos to Google with the nexus 6 sort of justifies the flagship price. Hoping nexus 7 (lol) and moto x3 or (2015) is the same. Save us moto. Posted via the Android Central App

Almost all phones in Sweden is unlocked. Easier to find a unlocked rather then locked. The carriers sells unlocked phones. Posted via the Android Central App

I also tend to buy unlocked phones and since I have been holding onto my almost 4-year-old Galaxy Nexus, I pulled the trigger on the unlocked LG G4 H815 model. It supports most of AT&T and T-Mobile's LTE frequencies here and also supports LTE in my home country of Panama so I went with that.

Aren't Verizon phones unlocked? I went to England with my Droid Turbo and got a EE microsim. I replaced the Verizon sim with this sim and was on the air in 30 seconds at full 4G LTE speed. I assume I could stick in an AT&T sim or T-mobile sim and have the same results. If so, could not I use my old Verizon Galaxy S5 in the same way here in the US?

Just waiting on an unlocked LG G4 to arrive from Amazon on friday. They were £30 ($46.28) cheaper than Carphone Whorehouse for an unlocked handset. Then I pay £14 ($21.60) per month with Tesco mobile (like Walmart / KMart; it piggybacks on the O2 network) for 750 UK mobile or landline mins, 5000 texts and 3gb of 4G (LTE) data per month.
When i'm abroad I use a 3 mobile sim card with their 'feel at home' tariff, that lets you use your UK allowances as normal in the country you're in, including most of the EU, USA, Canada, Oz, Nz, Hong Kong etc.
Android Central Newsletter
Get instant access to breaking news, the hottest reviews, great deals and helpful tips
Thank you for signing up to Android Central. You will receive a verification email shortly.
There was a problem. Please refresh the page and try again.