Trello review - clean task management for individuals and groups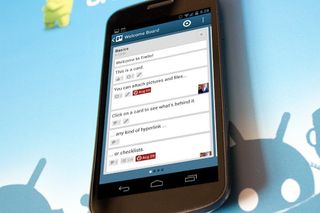 Trello was launched on Android recently, offering yet another way in which folks could keep track of multiple projects and collaborate with others. There's a set hierarchy where boards have lists, and lists have cards. Cards can be thought of as individual tasks as part of a particular project, while boards are larger categories encompassing multiple projects.
Cards can be assigned to individual users by e-mail (though only from the web, not from the app), complete with due dates, check lists, labels, attachments, and collaborators. Those cards can be moved, copied, subscribed to, voted on, or archived once complete. An activity stream of you and collaborators on any given board makes it easy to stay up to date on who's been doing what, though you can also subscribe to individual cards to keep tabs on task progress.
Style
Despite all of the function crammed into Trello, everything is laid out in an exceptionally simple and intuitive way. The overall UI does a good job of sticking to the Android design standards. Trello has a full-bodied web component that is equally optimized for mobile as well as desktop. Color-coded tags and due dates along with thumbnails of collaborators and stylish, clean icons make it very easy to tell what's going on in any given card at a glance.
Function
Though you can't add much in the way of status updates (such as "In Progress", "Delayed Until...", or "Completed"), there's a full comment section for each card where collaborators can talk about what's going on.
For all of its prettiness, some functions are hard to work with. For example, attached files aren't shown on the card's primary view, but rather you have to tap through on a separate attachments section, tap the file, and then you're kicked out to your web browser. Ideally, that stuff would be viewable the second you tap through on another card. A particularly neat feature, voting, also isn't available in cards from the app, even though you can see those that have voted.
Another conspicuous gap is the ability to add new boards from the app. Cards and lists are fine, but adding new boards still requires going through the web app. Repositioning cards is easy enough (long-press, drag, and drop, even across lists), but you can't reposition lists. This could be done with pinch-to-zoom-out and provide a homescreen style overview, and should be expected since lots of other gestures like pull to refresh and swiping between lists have been implemented. There's also no search function, which can be a real pain once you start juggling multiple boards and cards. At the very least there's a tab on the home screen for seeing all of the cards that you've been assigned to.
The biggest killer for me is that important notifications didn't work particularly well. Setting due dates with times for cards I was assigned to didn't trigger system or in-app notifications when the date passed. Comments from others on cards I was assigned to or subscribed to would show up in the system notification menu, though they took awhile to refresh and show up in the in-app notifications tab. This will be a dealbreaker for anyone that is really serious about staying on top of task management. At the very least, users can set their profile to be instantly e-mailed notifications, but if you're anything like me, it can take awhile to get to those, unless you set some e-mail filters to add extra visibility to these notifications when they come in.
Even though files can be added to cards, Trello doesn't populate the system-wide Share menu, which means you have to drill into the card's individual attach menu. Even then, Gallery and Google Music are the only defaults to show up; if you want to upload any other kind of file (like, say, documents), you need a file browser like Astro installed. Even the mobile web app manages to pop up camera options.
Pros
Excellent web component
Sharp, intuitive, UI
Cons
App lacks several key features
Bottom line
In some ways, Trello reminded me of Springpad, only a bit more intuitive to navigate. It's just unfortunate that the mobile web interface is so much more fully fleshed-out than the actual app, but it's easy to see that changing in future updates. For small businesses looking for an easy way to streamline their workflow or simply busy family with a lot on their plate, Trello is an excellent way to keep everything in order.
Trello on Android still has a ways to go before it can be considered a fully-functional project management app, but if its web component is any indication, I suspect it will reach that status sooner than later. For a 1.0 product, I'm willing to cut 'em some slack, though not everybody will be as forgiving.
Android Central Newsletter
Get instant access to breaking news, the hottest reviews, great deals and helpful tips
Simon has been covering mobile since before the first iPhone came out. After producing news articles, podcasts, review videos, and everything in between, he's now helping industry partners get the word about their latest products. Get in touch with him at simon@futurenet.com.
We have been using their web component here at work for a couple of months now, and it is a fantastic product. They are always making improvements and even have their own development board you can follow to see what's coming up next. I agree with you that I think given some time this app will catch up to their web counterpart and be just as good.
Android Central Newsletter
Get instant access to breaking news, the hottest reviews, great deals and helpful tips
Thank you for signing up to Android Central. You will receive a verification email shortly.
There was a problem. Please refresh the page and try again.