Travel app Hipmunk searches for flights, hotels around your schedule with new calendar integration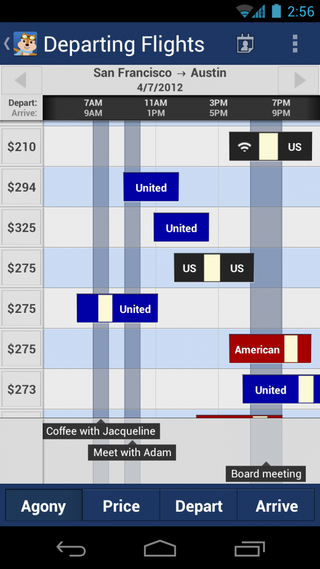 Listen up, road warriors. Searching for travel on your phone just got load easier. Hipmunk this morning announced an update that brings calendar integration to its already excellent search app. That means when you look for flights, the app knows that you've got a lunch in Sandusky, so don't bother with anything that gets you there at dinner. And it knows that you've got a breakfast meeting downtown, so maybe staying in the Bronx isn't such a hot idea, so let's not bother with hotels there. (We can hear our Brooklyn fans already cheering at that on principle anyway.)
The idea is that flipping back and forth between a calendar app and Hipmunk is a pain, and this update takes care of that. Meetings that conflict with flights show up on the screen. And the locations of events are shown alongside hotel listings. Invaluable stuff.
The calendar integration includes Google Calendar, Outlook and iCal, which should cover, oh, just about everyone. We've got download links and the full presser after th e break.
Hipmunk Brings Travel Industry First Calendar Integration to
Mobile Search
Save time while travel planning on mobile by viewing calendar
appointments in-line with flight and hotel
results
SAN FRANCISCO – April 5, 2012- Hipmunk, the travel site removing the agony
from travel planning, today launched the ability for mobile users to integrate
Microsoft Outlook, Google Calendar and Apple iCal events and meetings into
both mobile flight and hotel search results. With this major update to the Hipmunk
iPhone, iPad, and Android OS applications, leisure and business travelers will
easily find travel options fitting their unique schedules while eliminating the need
to toggle between search results, multiple calendars, and maps. Any meetings
that conflict with a flight are displayed on-screen, and event locations are plotted
on the map alongside hotels.
"With mobile calendar integration, we are immediately saving users from toggling
between apps, calendars and search results—cutting out thousands of hours
of agony. And we are thrilled to be the first travel company to allow this type of
unique personalization," said Adam Goldstein, Hipmunk CEO. "We're dedicated
to solving actual travel planning problems, and from personal experience, we
understand how agonizing it can be finding the right flight between two meetings
or the best hotel within walking distance to the day's first meeting."
Mobile flight search integration features:
• Events and meetings are overlaid on flight results with vertical stripes
highlighting any flight and meeting conflicts;
• A conflict notification appears within the flight details when a conflicting
flight leg is selected;
• A menu allows users to select which calendars and events should appear
in flight results;
• On Android, a "no conflicts" button lets users to hide flights that conflict
with a user's calendar.
Mobile hotel search integration features:
• Meetings with location information are marked on the map showing users
which hotels are nearest to which individual events;
• A list of the highest ecstasy ranked hotels is sorted by proximity to an
individual result;
• Flags denote the meetings and the number on the flag represents the date
of the event;
• A menu lets users select which events and meetings are displayed on
map.
Calendar integration on mobile is ideal for anyone managing their own business,
leisure, family, or colleague calendars and travel plans. Users can easily
schedule travel fitting within multiple schedules by hiding and showing specific
calendars. Hipmunk also provides the ability to turn calendar integration on and
off.
"Since business travelers are constantly on the move and glued to their phones,
many of them are on the leading edge of mobile technology adaption," said
Goldstein. "They've been asking for this feature on mobile and we're confident
the integration will save them time while travel planning."
The Hipmunk Flight and Hotel Search App is available for free from the App
Store here and Android Market here.
About Hipmunk
Hipmunk is a travel site removing the agony from travel planning. With its
superior user experience, breadth of travel options and innovative "Agony"
and "Ecstasy" sorts, Hipmunk allows travelers to select the best travel options at
a glance. Flight results are displayed in a visual "timeline" and hotel results on a
map with the ability to overlay unique, city-specific heatmaps.
Hipmunk is one of TIME Magazine's "50 Coolest Websites," TIME
Magazine's "50 Best Smartphone Apps," Travel + Leisure's "Best Websites of
2011," Budget Travel's "Top 10 Most Useful Websites," and Inc.'s "Best Booking
Website." Co-founders Adam Goldstein and Steve Huffman were named to
Bloomberg BusinessWeek's "Top Tech Entrepreneurs," Forbes "30 Under 30"
and Inc.'s "30 Under 30" lists. The company launched in 2010, is based in San
Francisco, and has funding from Ignition Partners, Y Combinator, SV Angel,
Webb Investment Network, Quest Hospitality Ventures, and several angel
investors.
Just tried this out. It is very impressive. I'll be using this on an upcoming trip. Would be cool to add additional features such as restaurants.
Android Central Newsletter
Thank you for signing up to Android Central. You will receive a verification email shortly.
There was a problem. Please refresh the page and try again.