Advertisement Feature
TPO: Why Saving Money on Cellular Service Never Felt so Good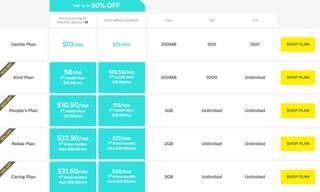 The People's Operator, or TPO, is a mobile virtual network operator (MVNO) based in the UK that has been servicing the US since 2015. It's mission is to save you money on your monthly cellular bill, while bringing about social change via charitable donations to various causes.
If you'd like to help out folks in need with your monthly phone bill — at no extra charge! — then TPO might just be the network you've been looking for.
Save money and give to great causes!
How does TPO save me money?
TPO is a mobile virtual network operator, which means that, instead of running its own network and set of cellular towers, it leases coverage from one of the "Big Four" carriers (AT&T, Sprint, Verizon, and T-Mobile). Since it's simply leasing another network's coverage, it can sell it to you for less.
Which network does TPO use in the US?
TPO is partnered with Sprint's fast 4G LTE network in the US. It offers both GSM and CDMA service to a wide range of the latest devices, so you can bring your own phone (check eligibility) or buy one from TPO. You can even bring your phone number, so you never have to lose touch.
Is TPO slower than Sprint?
Think of it like this: You go to your supermarket and need Advil. On the shelf, next to Advil, is a bottle of store brand ibuprofen for three quarters of the price. Is it any less effective than Advil? Absolutely not. It's the same thing, but you pay a premium for Advil's branding. Same goes for TPO and Sprint.
Other MVNOs do the same thing? Why TPO?
Sure, you could give your hard-earned dough to any other MVNO, but wouldn't you rather that your money actually had a meaning rather than just giving it to corporations so that they can profit?
Sign up with TPO and 10% of your monthly bill will go to the charitable organization of your choice. The best part? There's no additional charge to you. You pay your regular monthly bill and give to charity at the same time. TPO is partnered with organizations like the ASPCA, Planet Water Foundation, Art Start, the American Lung Association, and many more. Find a cause that's near and dear to your heart, and initiate change — just with your phone bill!
Save money and give to great causes!
Why you should think about switching to TPO
TPO is perfect for the majority of Americans, since most folks don't use more than 3 or 4GB of data per month. If you're a data sipper, you could be paying less than $6 for your first month and only $16 per month after that, and you get 500MB of data, 1000 voice minutes, and unlimited texting. If you're on par with most folks, you could still be paying only $35 per month for 3GB of fast 4G LTE and unlimited talk and text!
The best part is that you save and you get to give to worthy causes that mean something to you and the rest of the country.
Fine, but carriers aren't always friendly. How's customer service?
Great! TPO staff are there seven days a week to help you with any questions you might have about your service or to simply get you started. TPO's care center is based in the US, so you'll get to speak with someone who understands the nature of the mobile business in the US and who understands your needs better than anyone else in the world.
Switch, save, make a difference
If you're thinking about leaving one of the Big Four carriers, then weigh your options and consider TPO. You get to save more on the plans you need, while 10% of your monthly bill goes to creating change for the better. Save money and feel great doing it. Check out TPO today!
Save money and give to great causes!
Android Central Newsletter
Get the best of Android Central in in your inbox, every day!
Thank you for signing up to Android Central. You will receive a verification email shortly.
There was a problem. Please refresh the page and try again.