Some Pixel 5a users are complaining of camera overheating issues, Google investigating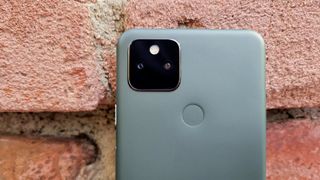 (Image credit: Ara Wagoner / Android Central)
What you need to know
Multiple Google Pixel 5a users (including myself) have experienced overheating when using the camera.
The bug can also disable the flash at a much lower temperature before the cameras start shutting down.
These thermal issues are very similar to those on the Pixel 5 — and they can also be triggered by gaming or intensive use.
I've been very much enjoying my Google Pixel 5a since it arrived three weeks ago, but the honeymoon period is over and some issues are starting to rise: the phone easily overheats when using the camera for a prolonged time. HotHardware and Android Police both focused on this happening when shooting 4K video, but on my own Pixel 5a, I didn't even have to bother with video to a get heat-related warning.
Just taking a bevy of photos and some short 1080p videos on an 80-degree Florida morning (can summer end already?) had it slow down and eventually stop working in under half an hour, and in many instances, the phone wasn't uncomfortably hot yet when the warnings appeared, turning off the flash and later the camera. This has led some to believe that rather than a hardware flaw we'll be stuck with, these issues are might be caused by a bug in the Google Camera app triggering shutdowns at lower-than-usual temperatures.
I have reached out to Google and they are investigating the issue.
Overheating was also an issue on last year's Pixel 5 — which the Pixel 5a shares most specs with — so this might just be a design flaw. Mr. Mobile's review noted the Pixel 5a getting unusually warm at times, something I've seen as well after long sessions on my match-three game or particularly intense Reddit deep dives, but the camera didn't shut down for Fisher or many other reviewers who tested the Pixel 5a's camera to the moon and back.
Google is looking into the issue and specifically the Google Camera app, but there's no word yet on a cause or, more importantly, a solution. For that, we'll all have to stay tuned. There's one more issue I and Android Police's Ryne Hager have experienced with touchscreen oddities in the bottom half of the screen. Google is also looking into this, but given that it's not triggering in safe mode, this is likely a software bug that needs to be ironed out somewhere. If you're seeing the same bug, tweet me at @arawagco or sound off in the comments so we can see if the issue's more widespread than we think. For an example of how the bug looks, check the video below.
Get the Android Central Newsletter
Instant access to breaking news, the hottest reviews, great deals and helpful tips.
Ara Wagoner was a staff writer at Android Central. She themes phones and pokes YouTube Music with a stick. When she's not writing about cases, Chromebooks, or customization, she's wandering around Walt Disney World. If you see her without headphones, RUN. You can follow her on Twitter at @arawagco.
Gotta love new phone release time 😂

LoL very true. Always something with the new Pixel phones

Just wait till the 6 hits....untried experimental processor, 5g modems by Samsung, new camera sensors. Not all will be solved with software update. And the testers will be the customers....

Every new processor is an 'untried experiment'. Yes, it's Google's first SoC, but purportedly largely based on an Exynos and using established designs. Given how many phones had thermal issues with the SD888, it hardly seems like a bad thing. 5g modems by Samsung... can't speak to this other than to say that it's 'new' only for the US market. Hope it's a solid performer. New cameral sensor... If sticking with old was wise, Google was 'King Solomon' with the Pixel 5a. The Samsung sensor has been out for a year, and has been met with very high acclaim in the Vivo X50 Pro - and that's without the benefit of Google's industry-leading post-processing. It's a bit early to wonder if problems will be solved by software when we don't know what the problems will be (I'm definitely not arguing that there won't be any, though!). But if I'm going to put faith in a company's ability to resolve an issue with software, Google's the one I'd bet on. Yep, customers are testers, as with every new product. Where they're really testers most is in the way that they'll be among the first to use Android 12, and there'll surely be some early pains there - but they're normally pretty quick to patch those up, and the large number of enhancements 12 offers should offset that temporary pain.

Customers are testers. But I'll sit back and wait till all the google zombies get the bugs out, listen to their complaining on the forum; just like those 1 2 beta testers are currently doing.
And laugh my rear end off at their crying.

😂😂 standard pixel launch issues as regular as clockwork

Never had an overheating problem with my Nikons. :-)

The camera isn't the only thing causing overheating. I have a Pixel 5 and when I turn on the personal hotspot feature in 72 degree weather I quickly get a message that the phone's temperature is rising and the cellular radio shuts off. If I reboot the phone the same thing happens consistently.

Same here and even just taking pictures can cause it to say it's overheating

Hey, does anyone know if the Pixel 4a 5g ihas had any problems like these? Or can point me in the right direction of a forum? Was looking to get a 5a but i guess if i catch a 4a 5g on sale before it discontinues it would be better than dealing with hardware issues. Not realing looking to experience said issues again.

I have the 4a 5G phone, and it's one of the best phones I've ever had! Absolutely no overheating. Unbelievable battery life! Nice and light. Perfect size screen. Camera takes amazing pictures! The 'specs' don't/won't impress the picky spec-snobs. Just use the phone for a while and it will win you over!

Mine did not. I have the Pixel 5 now and no issued either

Yes it unfortunately does. I have run into the problem quite a few times. It also eats the hell out of the battery.

Man Google and their pixel can never seem to get the bugs worked out before release.

Its always best to wait 3 to 6 months after launch to make sure the bugs get worked out. I bought my P5 6 months after launch and it has been flawless.

Always best to wait. The 5a should be 349 by Christmas

It's funny seeing eventful **** on Google saying ask their new phones have issues. When is the last time Samsung had a new phone with no issues? Oneplus? Any other popular phone that you would hear about? I don't own a Pixel and never have, so no pony in this fight.

is google ever going to make a device that doesn't have Major issues

RMA this morning. First and last Pixel for me! My OnePlus 8T completely blows this thing out of the water...period. Not going to elaborate. Waste of $35.00 for restocking fee.

Loved this device the first couple off days now it's really starting to annoy me with random sluggishness and music stopping repeatedly I'm Android Auto

Only problem I've ever had with a Pixel was the 4a was too small....

My P5 has the same issue. Shoot 4k video outside, or in a room above 75 degrees, and after 3-5 minutes it'll kill the camera due to temp. Shooting in 1080p does not have this issue. Google has been pretty useless on fixing this - I am guessing it is a design flaw and every P5 has this issue - it's the weak point in an otherwise damn near perfect phone.

At least when the Ford Pinto overheated, you could use it for a BBQ.

What did they expect? Recording 4k on an SOC with half the power of a 3 year old flagship. The 765G just can't handle the processing load.

Why is that the tech reviewers never encounters these problems but as soon as the phone gets in the hands of regular customers that when the obvious issues come too light?

I've hit the flash disable/overheating issue without even taking any pictures at all. Just opening the camera app, in an air conditioned car was enough to trigger the issue. And my wife's Pixel 5a has had issues with the touchscreen occasionally not working in the top right corner. I've updated both phones to Android 12 Beta and the overheating issue at least still persists. I got the phone via the Google Fi Phone Subscription program, and because I have had the phones for more than 15 days now, they are telling me I cannot return them, so I'm stuck with them for the full 2 years of the subscription plan. Others might want to beware of the subscription plan for this reason. Lastly, I've talked to at least 10 different customer service reps and none of them will acknowledge the issue, and they are telling me I cannot get a replacement phone for this issue because they don't believe it exists. They will, however, insist that if I do a factory reset (of a brand new phone), whatever issues (that they won't confirm exists) will be immediately resolved.