Toshiba Excite Pro review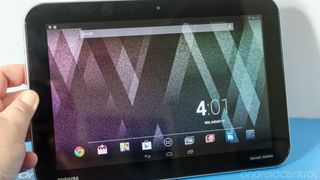 Finally, a readily available Tegra 4-powered Android tablet — the Toshiba Excite Pro — is up for sale in the United States. Complete with a super high-res (2560x1600; 299 ppi) display, premium sound system and Android Jelly Bean, this is one worth taking a close look at if you're in the market for a 10-inch tablet.
Toshiba's been at the Android tablet game for a while, and their track record is a mixed bag. They get a lot right, especially in the looks and style department, but we've just not seen a must-have tablet from the Japanese electronic giant. They aim to change this with the Excite Pro, but is there anything there to get excited about?
That's the question we aim to answer, as I've been using this one for a bit and have a few things to say. Head past the break to find out more.
Pros
The Excite Pro has a great display, and mated with the latest Tegra from NVIDIA it's a gaming and multimedia powerhouse. Videos and movies are stutter-free in playback, and look exceptional on the ultra high-resolution screen while indoors.
Cons
The Excite Pro is thick and heavy, coming in at 10.4mm and 631 grams. The excellent sound system, provided by Harmon/Kardon, is hampered by poor speaker placement when using the tablet in landscape. The biggest issue is the software stability — it's lacking. The camera is poor, and has no auto focus in video mode.
The Bottom Line
Coming in at right around $500, the Excite Pro has stiff competition at the price point. The Tegra 4 justifies a little of this cost, and for the hardcore gamer it's one to look at, but for an all-around device we can't help but think you can do better, and save some money while you're at it. We would avoid this one.
Hardware
The Excite Pro is a very well built piece of equipment. You can feel the quality when you hold it, and all the seams and places where parts mate together are precision and I'm impressed that something this well-built came off an assembly line. Toshiba deserves a bit of well-intentioned praise for this. The tradeoff is that it's heavy — too heavy. Checking in at over 1.3-pounds your wrists will soon let you know that it's heavy, and even though it's well-balanced there isn't much you can do about it.
The faux-aluminum casing wraps around the back and sides, providing smooth and graceful lines with round edges. It also wraps around and extends ever-so-slightly past the edge of the glass, and while we wouldn't recommend you rest the Excite Pro on it's 10-inch face, you probably could get away with it a few times if you did so.
The front of the tablet houses the 1.2MP camera and the usual bank of sensors and the bezel is uniform on all four sides of the LED-backlit IPS display. Across the bottom edge, you have a small Toshiba logo on the left, and the Harmon/Kardon logo on the right. Both are small and tasteful.
The top edge houses the power switch, and two microphones for noise-cancelling purposes — a main one in the center and a smaller one in the top-right corner.The bottom edge is smooth and unbroken with no controls or holes of any sort. The left edge is where all the action is, with the 3.5mm headphone jack, volume switch, power port — a proprietary non-USB affair that reminds you of your laptop — and a small door that covers the USB data port, the HDMI output and the miscoSD card slot. The right edge has a set of slots for (of all things) a lanyard.
The rear of the tablet has the 8MP camera and LED flash housed in the upper right corner, and a pair of poorly placed speakers in the lower-third. This is a real shame, because while it's not loud, the Excite Pro delivers clear and excellent audio through the external speakers. Harman/Kardon may not be your favorite brand, but it's evident that Toshiba spent some time and money to provide premium sound for the Excite Pro, and gaming and videos are both the better for it. Unless of course, you cover the speakers with your hands. And you will, because of their placement. I don't know where the best place to put the speakers would have been (the front bezel comes to mind — hello Nexus 10) but I do know where these ones are is not it.
The display is a nice 10.1-inch backlit IPS LCD, checking in with an ultra-high 2560x1600 resolution. this puts the Excite Pro at just about 299 pixels per inch, and your eyes will appreciate the quality and color. The digitizer supports 10-finger multitouch, and touch response seems accurate and fast. One thing we're not seeing with the display on the Excite Pro that we did on the Nexus 10 is lag from the high-resolution used. We're going to chalk that up to the Tegra 4 under the hood, which packs some serious power in there.
Overall, the Excite pro looks good and feels like a very premium product. The weight is a real issue in both portrait and landscape viewing, so be prepared with ideas how you're going to handle it.
Battery life
We'll drop this in it's own special section, both because it's an important statistic, and because the Excite Pro isn't very good at it. There's a 33Wh Lithium polymer battery encased in the unit, and Toshiba advertises 11 hours of screen-on usage, which is about four more than I'm seeing. The big, bright screen really sucks down the juice, and with the ridiculous power supply setup, you'll not want to use it while charging if you can help it. If long battery life is at or near the top of your tablet wish list, the Toshiba Excite Pro shouldn't be.
Specifications
CPU: Quad-core 1.8GHz NVIDIA Tegra 4
RAM: 2GB
Storage: 32GB; microSD card
Display: 10.1-inch backlit IPS LCD; 2560x1600 resolution; 299 pixels per inch
Android version: Jelly Bean 4.2.1
Wifi: 802.11 a/b/g/n/ac; dual-band 2.4GHz and 5GHz
Bluetooth: 4.0 with A2DP
Dimensions: 261.6 x 177.8 x 10.2 mm
Weight: 630.5 g
Front camera: 1.4 MP; 720p with timelapse recording
Rear camera: 8MP; 1080p with timelapse recording
Sensors: Accelerometer; gyroscope; compass
Battery: 33Wh; advertised 11 hours of use
Software
There's not a lot to say here. Toshiba has taken basic, "Stock" Android and added a few new settings for the screen and audio. On top of this, they have added a handful of their own applications — some good, some bad — and media assets like wallpapers and system sounds. It's a basic Android experience, much like you would get from the Nexus 10. There are a couple issues, though, and they may be serious enough to look elsewhere.
The easy one to talk about — and I'm not above reaching for that low-hanging fruit — is that you've got the stock Android experience, but two versions behind. Things have progressed along where I can accept that version numbers don't matter much when a manufacturer replaces the UI and most of the system with their own take on things, like Samsung or HTC does with their products, but what you have here is the stock experience that you would have gotten from the Nexus 10 when it launched, and about $200 cheaper. There is nothing wrong with preferring the stock Android look and feel, but if that's what manufacturers want to give us, they need to keep things recent.
The second issue, and this one really bugs me, is that the software itself seems poorly built and is unstable. The launcher and home screens stutter and lag, often-times locking up completely for a few seconds or spontaneously rebooting the system. Factory resetting doesn't help, not installing any apps doesn't help, and shaking the tablet and muttering obscenities under your breath doesn't help. We're not exactly sure why things are this way, but they are and the experience is bad. Really bad. Don't buy this tablet.
The good things that happen when you launch an optimized game for the Tegra platform, or watch a video on the gorgeous screen just don't make up for it. Using the Excite Pro has been frustrating, and the poor software performance is completely the reason why.
Bundled apps
There are more than a few. If you've ever bought a Toshiba laptop and noticed that the Windows installation was riddled with crap that you would never install yourself, you know what I'm talking about here. Some of it is useful, but nobody would ever appreciate or use all of it.
Of course you can disable and hide the apps that you'll never use, but I still think it would be easier to put them in the Play Store and let folks decide for themselves which they want, and which they don't.
Cameras
There's nothing special here. The 8MP rear camera does an adequate job, but you won't be replacing any camera with a Toshiba Excite Pro any time soon. The small sensor on a mobile device's camera means to get a good one, you need great post-processing software and logic, which is neither cost-effective or practical on a 10-inch tablet. We've all seen that guy who holds up his tablet at an event to get a picture. It works, and sometimes it can work well, but it's just not what the device was designed for. That's not specific to the Excite Pro — all tablets from all companies are lacking when it comes to the camera.
There is an interesting application named TruCapture included that supposedly reduces reflection, and is ideal for capturing images of a whiteboard. it didn't seem to do much in my testing, but if you need to try and get a glare free image it's worth trying at least.
What I look for in a tablet camera is what goes on around front. Mobile videoconferencing is a legitimate use-case on a high-spec'd device like the Excite Pro, and a front-facing camera that can do the job well is important. The 1.4MP camera here won't win you any awards for image quality, but it is bright with great contrast — exactly what I would want in a front-facing camera. It's grainy and a bit washed out, but if I'm talking to my family on a Hangout, they can see me just fine.
The rear video camera is officially the worst camcorder on the planet. It's 1080p (though you'll never know) but it doesn't auto focus. It. Doesn't. Auto. Focus. Never turn it on unless you want to be really, really disappointed.
Here's some samples of the still camera and a couple videos to look at.
Pictures
The same picture as above, edited with the TruCapture utility
Video
The bottom line
As much as I hate to say it, I can't recommend anyone rush out to spend $500 on the Excite Pro. The great screen, exceptional build materials and quality, and pure muscle to play Tegra-optimized games can't overcome the two major shortcomings — the weight and the poor software performance. Maybe tablets like the Nexus 7 have me jaded, but when I think of a great tablet experience I think of a light, easy to carry device that works well most of the time. I don't get that feeling from the Excite Pro.
If Toshiba were to send out an update that brought the software to the current version, and one that was better optimized and addressed the stutter, lag and lock-ups I'm experiencing with the unit as it is now, I may feel differently. Weight is a trade-off when using a full sized 10-inch tablet, but poor performance isn't — at least not one I'm willing to make. Spend your money elsewhere guys and gals. You'll be glad you did.
Jerry is an amateur woodworker and struggling shade tree mechanic. There's nothing he can't take apart, but many things he can't reassemble. You'll find him writing and speaking his loud opinion on Android Central and occasionally on Twitter.
I actually miss last year's 13" Toshiba Excite tablet. A pity Toshiba didn't bring it back but given the review of this 10" Excite Pro maybe not. Weight I can forgive, glitchy software not so much. Other than the Nexus 10 and the forthcoming 8.9 Kindle HD what else has this high a resolution? Where is the new ASUS Transformer Infinity?

You're probably not looking for a 7 incher, but the new Nexus 7 has the best screen of any tablet currently available. Just a suggestion.

I remember all the marketing buzzwords about Tegra 3 like "QUAD-COAR BEAST WITH 12 GPU COARS ZOMG EQUALS 16 COARS IN YOUR HANDS!!" and how it "runs every game smoothly becoz it's nvidia", so I ended up buying a Tegra 3 tablet only to be disappointed at the laggy UI (even on JB) and the absolute shitty gaming performance compared to the SGS3 I owned back then... I mean really try running even a Tegra game like riptide gp or dead trigger side by side on these devices and notice the difference in performance....
I was done with nvidia tegra after that. I will continue to use their GPUs on my gaming PC though.

Well too bad you have such bad experience with Tegra 3 device. I have Nexus 7, and it plays Riptide GP 2 better. And here on SHIELD forum, you can read a post there that Riptide GP 2 which optimized on Tegra device runs better on Nexus 7 compared to HTC One. I played most Tegra optimized games without problem. Even not optimized for Tegra runs great too on Nexus 7. Tegra 3 benchmark surely not as good as other SoC, but when game build from ground for Tegra it runs very great. Ie: ARMA Tactics, Riptide GP 2 , Batman Arkham City Lockdown, Choplifter HD. Tainted Keep (medium setting) So what nvidia claim for their SoC, not entirely wrong. If there are Tegra 4 smartphones and tablets, they will be on my priority list.

"you can read a post there that Riptide GP 2 which optimized on Tegra device runs better on Nexus 7 compared to HTC One"
I don't believe such posts. You should compare them yourself side by side. riptide gp 2 runs at a sub 30fps (sometimes less) on my 2012 N7 while on my GNote 2 it runs at a buttery smooth 60fps. Using the same graphic settings on both devices.
Same thing for all Tegra games. Some even run at a low resolution on my N7 in order to reduce lag(try the game Horn). Simple games run fine on tegra 3 though.

Sure I know fps on Nexus 7 not high, 30fps is quite good enough. but having additional effect such water splash on screen on Riptide GP 2 is good. More over I love gaming, If I have Tegra device I can play most of the game. While if I choose another device with different SoC I can plays on better fps but lose some interesting games. So for me, I think as gamer I will always choose Tegra SoC compared to other because I want all games can be played. With Tegra 4 device which have competitive performance against S800, It worth to buy. That's why I want to know if Tegra Tab rumor is real or not. Here about Kevin said Riptide GP 2 on Nexus 7 better then on HTC One (post #5)
http://forums.androidcentral.com/nvidia-shield/301571-ama-i-have-shield-... Maybe you can ask him if what he said not correct.

That's understandable I guess. Myself though, I prefer higher frame rates.
And about the HTC One. I think it's because of the high resolution 1080p display. Thanks for the link I'll be sure to ask there.

I fell for the same trap, my ASUS Transformer Pad Prime (TF201) is still laggy, NVIDIA probably had the slowest Cortex A9 SoC with the Tegra 2 and 3 (no experience with the Tegra 4i, so can't comment). My TF201 is so laggy that I have to let my tablet think for a good 15 seconds before anything will happen. Sometimes worse, had to wait 30+ sec before. This is something simple like switching between apps or launching things like Facebook or what not. This isn't something like games. However, I don't blame the Tegra 3 completely since the Nexus 7 I bought for my parents works decently but the Tegra 3 and its single channel memory plays a big part in the device's slowness which makes a very terrible experience. If it wasn't for the detachable keyboard I may have gotten another tablet honestly without Tegra 3.

It is not Tegra problem, Prime has problems with eMMC. ASUS used cheapest flash drives in their Transformer Pad serie. That's because Prime is laggy in I/O performance. You can root your tablet and download fstrim from Google Play. Tablet will work faster.

Good grief. You do realize this weighs less than an iPad right? Docking a 10" tablet because it weighs more than a 7" tablet is ridiculous. And oh no, it's a full 1 mm thicker? How did you ever manage to hold it at all? The software stability is a valid criticism and reason enough to stay away. Griping about the weight and size which is perfectly acceptable for its class is not. Such statements make me wonder if the software was really as bad as you claim. Guess I'll have to look elsewhere to find out.

Weight is very important in anything your going to hold up for a long period like longer than 5 minutes. I have a Kindle e-reader which is super light but after reading for about an hour I'll be wishing it was lighter. Consider reading, movies, Web, games. Just how long you can comfortably use a tablet at a time is very closely related to weight. Posted via Android Central App

I understand weight is important. However, this tablet's weight is in-line with its 10" competition. It's as silly as saying the Nexus 7 is too heavy because it weighs twice as much as a Nexus 4.

you are right but believe me tablet feels really heavy. A 10" tablet shouldn´t way more than 500g, anything more is just too much

@prlundberg I'm with you. The whole time I read this review, all I could think of was: "Holy crap, that's a huge emphasis on the weight of this thing, considering it weighs about the same as others in its class." And, having owned a 1.33lb Galaxy Tab 10.1, there's no way I'd call the Excite heavy because of its extra .06lb.

+1. I have a galaxy tab 10.1 and watched the extended editions of Lord of the Rings and the weight didn't tire me, you're not going to use them as weights, you can rest them on your lap, blanket, etc. so that weight is not that bad imo.

I can verify the software issues. I also read horrible reviews on this tablet through Amazon. I didn't want to believe them. I figured a handfull of people must have received bad devices. The device does run hot even if I am just browsing and some light apps, but I figured I can place it in a case and will never feel the heat again. Unfortunately, my tablet locked up on me several times in the first hour of playing around with it. The rear camera does auto focus but only if the setting is 480p standard def. If you switch it to 720p or 1080p then it does not auto focus. You have to hold the tablet close up to stuff to get focus but not from far away. However, the rear camera does auto focus if you are just taking pictures. It is very bizzare and I can't imagine why any manufacturer would release a blunder like this. I haven't seen this much dissapointment since the original Transformer Prime was released with a faulty gps and wifi antenna only to be replaced by the Transformer Pad Infinity like 6 months later to fix the issues. There is another Tegra 4 device out right now. It is the HP Slatebook X2 but it only has a screen res of 1920x1200 and 16gb of on board memory. Still has 2gb of ram but only a 5mp camera on back and I don't believe it has a flash and only a 1mp camera on the front if I am not mistaken. I don't know when the new Transformer Pad Infinity will be out. I have Also heard rumors of a 12.2 inch Galaxy Note comming out with the new Octa Core Processor. I hope so. I also noticed that scrolling web pages was not real smooth with this tablet.

Correction required: "Across the bottom edge, you have a small Toshiba logo on the right, and the Harmon/Kardon logo on the left"

Great job reminding me why I got a Nexus 10 Toshiba. It has everything nice about this tablet without any of the lag. Not to mention front-facing speakers, the most current version of android, and it's lighter. Other than "tegra optimized" games I don't see any reason to get this.

For Tegra 4 device, better buy from ASUS or maybe Nvidia themself compared to Toshiba, HP or Acer. I hope there is review for HP Slate X2 which have quite similar spec with this Excite Pro.

This! Posted via Android Central App

I also reviewed this tablet a few days ago. My biggest complaint was the heat and the rhrottling that extreme. Did you notice anything similar, i speak of throttling of around 50% in performance which was reproducable all the time. But therefore I didn´t have any performance issues otherwise, practically no lags what so ever. Did you maybe use the device in balanced mode in the battery settings, this reduced the performance drastically ,extreme mode was necessary all the time.

My second take on this tablet: I'll wait for the Firesale and let CyanogenMod work on this thing.

sorry to disappoint you but it is highly unlikely this tablet will ever get any custom rms if even root.

As a Developer, Toshiba tablets are the worse to work with, everything on the systems is blocked and there is no way to root it to get access. so its usually a shot in the dark when adjust performance on them.

Toshiba advertises 11 hours and you guys get 7 hours, so I should expect about 4.

Yup, I got about 4.5-5h of normal use even though my normal use seems to be very rough on battery in the first place

never never again a TOS.. bought a Thrive and took forever to get updates. They should exit the pad business. Their supports SUCKS.. Jap style

If they can my improve from Nexus 10, why is Toshiba bothering to waste their time on this?

Would've been nice if you guys would list some of the alternate 10 inch tablets. I'm going to get the new Nexus 7 to replace my first gen Galaxy. But I haven't a clue what to get that's 10 inches. Also, AC is getting to be a really obnoxious web site. Something is refreshing, it seems like every thirty seconds. That ticks me off. And when I get ticked off at a website, it stops me from coming back.

I'm sick & tired of the negative comments about Tegra4 & the Excite but every one is entitled to speak their opinion. I've bought this tab just 2 weeks ago & whilst I have a couple of small gripes (occasional bad ui lag & in-game) these issues are readily fixed with a quick reboot. Shouldn't have to do this, on a machine with this spec, but it's something that can update can easily fix. Problem is Toshiba have a bad reputation for support as it is, so I'm not holding my breath. However, as another poster said, the Tegra platform on Android is best for hardcore gamers in terms of compatibility & availability of different & even unique games. That's why I went with a Tegra4 based tablet. Why Toshiba? First to market & I'm an early adopter, for better or worse. You win some & you loose some.
Going by most of the reviews I've read about the Excite Pro, is be very put off, to say the least, but having owned it sure does shed a different light on things. Yes it's too heavy for prolonged holding, but then a device of this size is nearing Notebook PC's and we don't exactly hold them up at all. It's being positioned by Toshiba as a convertible, hence the bluetooth-keyboard/case accessory, which does give it that Netbook/Notebook feel. Personally, I wasn't interested, so bought my own stand & am pleased with it. I use my tablet mainly in various different positions but in the multi-adjustable stand. For me, it's a brilliant front room media/gaming device with all the bells & whistles associated with Jellybean. Yes I'd prefer 4.2.2 or better still 4.3, but the truth is I'm dandy as I am. I hope Toshiba address the lag issue, because it's definitely there & as aforementioned, 'reproducible'. But when this baby blows, she blows! Got myself a Moga Pro bluetooth game pad & I must say, playing the likes of Nova 3 or Dead Trigger is really knocking on 'consoles door' in like the experience whilst playing. Simply amazing. Anyway, I'm a satisfied customer & 'would' recommend this tablet, but not to anyone, because the true value of this tab is in the screen resolution & the Tegra4 chip. In conclusion, I agree largely with what the reviewer actually said, just not the negativity in which it was delivered. Yes you can do better for the money, but not until they release the Snapdragon based tablets (& as great as the 600 is, it'll take the 800 to challenge & or beat the Tegra4). And for the record, I've benched this thing on most available top benchmarking apps & suffice to say, the Snapdragon 800 wins in the 3D department, but that's about it. The Tegra4 is much stronger in CPU based processing (games use lots of physics based programming which is handled by the CPU & not the 3D chip). What I'm trying to say is that whilst Qualcomm are the reigning Kings of mobile soc's, Nvidia have been the kings of PC graphics before we had smartphones, so I think they know what they're doing, albeit a little different to fastest GPU approach only. Right, enough of my ramblings. Save your money, if you're that way inclined, a better alternative, both Tegra4 & Snapdragon based is right around the corner. Just be patient, or buy this & see for yourself that it far better than the negative reviews it has been getting.

I'm glad the included a lanyard point. I wish all tabs and phones had that option. Posted via Android Central App

So, can more users please share those experience of heat and throttling? I know that in the US, an update has been given to the Pro but it doesn't mention fixing the reboot problems that can occur when gaming for greater than 10-15 minutes.
Android Central Newsletter
Get the best of Android Central in in your inbox, every day!
Thank you for signing up to Android Central. You will receive a verification email shortly.
There was a problem. Please refresh the page and try again.