These are all the carriers that support Google's 'Chat' enhanced messaging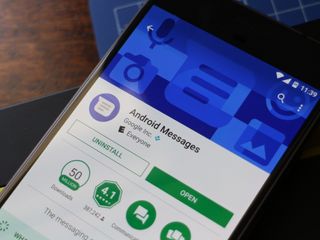 Google pledged its support for Rich Communications Services back in 2015 by acquiring Jibe, and last week we heard that the company is looking to build out a suite of advanced messaging services into its Android Messages app with a new feature called Chat.
Chat will bring a whole new set of capabilities to Android Messages, and the feature will leverage the Rich Communications Services standard to do so. As a refresher, RCS is the next-gen SMS protocol that includes features like read receipts, group chats, file transfers, and much more. Its feature-set is similar to what you'd find on messaging platforms like WhatsApp or Facebook Messenger, but the key difference is that it is built on top of SMS.
The main goal with RCS is to facilitate seamless conversations across carriers and phone manufacturers, and major carriers as well as manufacturers have committed to the standard already. The four main carriers in the U.S. — AT&T, T-Mobile, Verizon, and Sprint — will support RCS, but only Sprint and T-Mobile thus far have committed to the GSMA's Universal Profile.
Universal Profile is essentially a specification that guarantees interconnection between carriers. This is where Google's acquisition of Jibe comes in: Jibe built a cloud platform that allows carriers and phone manufacturers to implement RCS without any hassles. So if you're on T-Mobile and are looking to send messages or transfer files to a Sprint user over RCS, you'll not face any issues as both carriers have committed to the Universal Profile.
Here's the full list of 48 carriers that have pledged their commitment to the GSMA's Universal Profile:
Advanced Info Service (AIS) - Thailand
Airtel - India
América Móvil - Mexico
AT&T - USA
Axiata - Malaysia
Beeline - Russia
Bell Mobility - Canada
China Mobile - China
China Telecom - China
China Unicom - China
Claro - Latin America
Deutsche Telekom - Germany
Etisalat - UAE
Globe Telecom - Philippines
Ice - Norway
Indosat Ooredoo - Indonesia
KDDI - Japan
KPN - Netherlands
M1 Limited - Singapore
MegaFon - Russia
Millicom - Latin America and Africa
MTN Group - South Africa
MTS - Russia
NTT Docomo - Japan
Optus - Australia
Orange - France
Personal - Argentina
Play - Poland
Reliance Jio - India
Rogers - Canada
Singtel - Singapore
Smart Communications - Philippines
Sprint - USA
StarHub - Singapore
Telcel - Mexico
Tele2 - Nordic countries
Telefónica - Spain
Telenor - Norway
Telia Company - Sweden
Telkomsel - Indonesia
Telstra - Australia
Telus - Canada
TIM - Italy
T-Mobile - USA
Turkcell - Turkey
Verizon - USA
VEON - Netherlands
Vodafone - UK
In addition to the carriers listed above, RCS is being rolled out by phone manufacturers, including the likes of Samsung, Huawei, and HTC:
Alcatel
ASUS
General Mobile
HTC
Lava Mobiles
Lenovo
LG
Huawei
Intex
Samsung
ZTE
With Chat, Google is finally looking to integrate RCS into Android Messages and make sure that at least a base set of features are available on every Android phone. That's a wonderful thing.
Harish Jonnalagadda is a Senior Editor overseeing Asia at Android Central. He leads the site's coverage of Chinese phone brands, contributing to reviews, features, and buying guides. He also writes about storage servers, audio products, and the semiconductor industry. Contact him on Twitter at @chunkynerd.
What I'm wondering is, if AT&T supports RCS, does that automatically mean Cricket Wireless and Straight Talk will support it, too? Or do they also have to support it explicitly?

Any company that operates on their network will also have RCS support.

Do you know that for a fact, or are you assuming? I haven't seen confirmation of this from a reliable source anywhere.

Currently, only AT&T post paid subscribers can use AT&Ts advanced messaging (which is AT&Ts current implementation of RCS and only works with other AT&T phones). Obviously that can change when the universal profile is enabled.

I thought RCS was strictly software based (as in supported by Messages/Chat). I didn't think there needed to be a firmware update to support it.

Not firmware, but the network needs to support RCS as well as the app you are using. They are listing the OEMs because those OEMs are going to build support into the default texting app for their devices.

Ah I see. I switched to Messages a long time ago. It handles MMS way better than OnePlus's app. Also, I'm on TMO so it looks like I'm good. :-)

Why is the UK bloody lagging behind tho? Seems like only smarties have the answer.

Can't believe only Vodafone have signed up. Surely EE will get on board..?

Telefonica have said they intend to support RCS so I would imagine O2-UK will, begrudgingly, support it as well.

Because most people in the UK is already using WhatsApp or FB Messenger.

So, doesn't mean the UK should be left out!!!

just give me a RCS chat with a similar quick reply like textra and I'm happy. also HOLLY CRAP bell is on the list. way to go

Stupid question: will something like this support messaging across platforms as well as devices? I.e., will I be able to send messages from my phone, then resume the conversation from my laptop or web browser?

Yes, desktop apps will be able to support RCS.

Android Messages will have desktop messaging support, similar to WhatsApp. Basically it's just a webpage mirror of your ongoing conversations on your phone.

They are on the list of carriers that "pledged their commitment to the GSMA's Universal Profile". How long it will take them to actually implement is another story.

That will be after getting off CDMA. So never and a day.

Not sure why you think their support for RCS hinges on getting rid of CDMA. Verizon will certainly support RCS fully, it just hasn't put its foot down on a specific date yet.

Why does everyone think CDMA is still a big deal? I've been on Verizon several years and I'm always in LTE coverage. Take CDMA out of my phone. I don't ever need it.

You're a bit confused on what CDMA is. Which is the network technology that Verizon operates on. As opposed to GSM, like the rest of the world. CDMA and/or GSM based networks can both supply LTE or 4G or 3G. Having LTE has nothing to do with the the type of network technology used.

That's not an accurate description of CDMA with respect to Verizon. If you have a Verizon phone that supports LTE and Advanced Calling (pretty much all of them since 2015), then when you have an LTE signal, CDMA is not being used at all. Voice, data, and SMS all go over the LTE or WiFi connection (if VoWiFi is turned on). Verizon is due to switch CDMA off completely by 2020, which sucks for me since my 2015 Sonata uses their CDMA network to communicate with Blue Link. They already sell an LTE-only flip phone.

A big problem with Verizon eliminating CDMA is that their LTE network still doesn't have the same coverage footprint. Just because you're always in coverage doesn't mean that's the case everywhere. For example, we're still on CDMA where I live. We might see some flickering LTE signal, but it's not something I'd want to rely on at this point. If Verizon we're to drop CDMA today, we'd have no network. With carriers like AT&T and T-Mobile, they still have their GSM signal to fall back on in areas where LTE coverage is spotty. With Verizon, dumping CDMA means they have nothing to fall back on. As for their LTE only flip phone, just because they offer it, it doesn't mean it's a good idea. Sure, for some people who live in a metro and never travel the beaten path, it's probably fine. But until Verizon's LTE network can match their CDMA coverage footprint, they need to have a way for their customers to connect. I may save battery removing the CDMA radios, but if I'm in an area that currently has CDMA coverage but not LTE, it'd just be a paperweight with great battery life.

three UK needs to support this ASAP 😡

Ditto. But we need all the UK carriers to get on board for it work. Vodafone so far are the only ones and they've been the worst network here 7yrs in a row

I can't believe 3 havnt signed up to this absolutely none of UK networks have absolutely shocking.

Well, Telefonica have shown support so I would expect O2-UK to have no choice.

I was certain Sony was also on board. Android Messages is their default messaging app. Correct me if I'm wrong.

The OEM's listed are ones that put their own branded messaging app on their phones. Android Messages will support it no matter what phone its on.

I'm confused, article says ATT didn't pledge support for the GSMA Universal Profile but then is listed as doing so.......

Same with Verizon. Pretty confusing.

I was wondering the same thing. I think they wanted the these are the 48 carriers who will support RCS, not Universal Profile.

Exactly what I came here to say! There's two adjacent sentences above that completely contradict each other, which makes it very confusing and counterproductive to the reader that came here specifically to learn if their carrier supports this!

The Headline is a bit misleading saying all the carriers that support, but this is a list of pledged support. In the US Verizon and AT&T don't support it yet, and T-Mobile hasn't rolled it out yet either. Sprint is the only one of the top 4 to have actually implemented it. How about you update the list to those that currently support and then the ones that have pledged support.

Yeah, read the list and came here to say this.

Pity that only MTN locally has pledged support, Vodacom, CellC and Telkom Mobile need to join the party otherwise the service will suffer limitations...

I'm sure they missed Sony and Nokia of the list of supported manufacturers.

Doesnt Bell only support it with Samsung devices? I have a Pixel 2 XL on Bell and my Girlfriend has one on Rogers and far as we can tell nothings changed, we tend to lean on Allo, and if Telus is supporting it then my best friend with S9 or S8 should have worked with me since hes on telus. but it was to my understanding Bell was keeping it only to Samsungs version of it thus leaving the Google Chat original version unsupported

Won't Vodafone support in other countries except UK ?

Bummed that Sony isn't on that list :/

So Sprint supports it now through Android Messages?

R.I.P the no contract carriers.

Interesting to see Project Fi NOT on the list, possibly because USCC hasn't yet committed to support? Once web support is provided, and cross-device support (so I can still use my tablet for it such as I do now with Hangouts for texting), I'm all-in for switching...

Except Telstra has only currently got rcs available on two Samsung phones, through its default messaging client which isn't even Android messages and being tight lipped over any expansion past that

Messages NEEDS a night/dark mode. I can't stare at all that white screen. Ugh.

It also needs scheduled messages, the ability to set vibration patterns, and the ability to change the size of displayed text.

Completely agree that it needs the ability to schedule messages. Also I would like the ability to mute specific conversations.

Maybe a stupid custion, but Lenovo being there means that Motorola phones under Lenovo ownership will support RCS or only strictly Lenovo phones will support RCS leaving Motorola phones out?

Is this already live on T-Mobile? I'm currently using the S9+ and with the changes to how notifications work in Oreo, I've been looking for a different SMS app. Android Messages is nice and works well, however any messages sent to me that are labelled as "Chat" (mainly from Samsung and LG devices on T-Mobile) do not show up in any apps other than stock Samsung Messages. The same issue existed on my Note 8 and V30. I can send messages to anyone from other apps, but it will compress what sends as a 9MB message in Samsung Messages as a 800kb MMS in all other apps.

I can just see AT&T severely limiting it.

Verizon will be introducing VRCS. The rollout will include supporting apps that feature a red icon, support for the V+Universal Profile, and will come pre-bundled with all Verizon offered mobile devices. /s

Don't forget the Verizon locked eSIM.

LOL! I hate to say your probably right!

Curious to see how this applies to project fi

"only Sprint and T-Mobile thus far have committed to the GSMA's Universal Profile" "Here's the full list of 48 carriers that have pledged their commitment to the GSMA's Universal Profile" - and AT&T + Verizon are on that list. You've got some contradictory verbiage going on here...

Vodafone - Portugal also supports the Universal Profile RCS.

I use tracfone(I know, wow! But you don't have a monthly bill, and it's going thru T-Mobile). Will subsidiaries, of major carriers get the benefits of this?

Isn't this unencrypted messaging? No thanks.

Would Microsoft app "SMS Organizer" support RCS? This app is available only in India.

We need to get Oneplus on board with this. Additionally, I have metropcs which is owned by t-mobile so will it trickle down to metro pcs?

Reliance Jio Supports RCS from last one year in its own messaging app, But i cant find chat option in google's ''android messages'' app , so can i be enabled on the app basis as it seems in this case,or there's some other problem
Android Central Newsletter
Thank you for signing up to Android Central. You will receive a verification email shortly.
There was a problem. Please refresh the page and try again.