Tank Domination coming to Android next year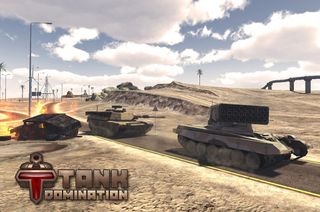 Online multiplayer combat game will be free on Android
With World of Tanks Blitz still in development, the only proper alternative on Android is Tanktastic. But that is due to change early next year. Game Insight, publisher of the My Country series and Dragon Eternity is preparing to bring their largest game yet to Android: Tank Domination.
With 10-against-10 online battles, a large array of realistic tanks, and even the celebrity voice talent of Michael Ironside, Tank Domination aims to be a serious contender in the tank combat genre. We recently visited Game Insight in San Francisco to try the game out and came away impressed. Head past the break for gameplay details and our hands-on video with the iPad version.
Preparing for battle
Like World of Tanks and Tanktastic, Game Insight's Tank Domination is an online-only free to play game. After logging in, players arrive in their own personal tank hangar. From there you can manage your tanks, purchase equipment and upgrades, and hop into battle.
Every good tank combat game needs an armada of realistic tanks for players to drive, and Tank Domination doesn't disappoint. Each is based on a real-life vehicle or concept tank from the United States, Russia, and China.
Tanks falls into Light, Medium, Heavy, and Artillery categories as well. A tank's size determines its movement speed, durability, and firepower – the bigger they are, the harder they fall. Artillery are a special class, with limited movement and defense but especially high damage capabilities. A light escort can be essential to keeping Artillery tanks safe.
Various tanks and armaments will unlock for purchase as players level up. 30 is the highest level, at which point you'll have everything unlocked. You can own three tanks by default, with defeated tanks becoming unavailable for a short time. A fourth tank slot will cost Warbucks, the game's premium currency.
Tank you sir, may I have another?
Tank Domination on iOS currently offers a single game type: Capture the Flag. Game Insight plans to add new modes over time, so the Android version will either launch with new types or get them shortly after release.
Capture the Flag is a team-based game type. Teams can consist of 2-10 players. The two teams strive to steal each other's flags – by reaching the flag and staying with it long enough, you'll win the game. Matches can also be won by eliminating all of the other side's tanks; no respawns here.
Tanks are slow and deliberate vehicles. As such, touch screen controls work better in games like this than faster-paced shooters. A stick on the left side controls movement. A button beside it will set the tank to moving forward without the need to press the stick. On the right side of the screen, you'll find another stick for aiming, as well as buttons to zoom the view and fie.
The tanks in this game can use multiple types of ammunition. Each ammo type has its own damage rating, reload time, and other properties. You can actually switch ammo types during the match, allowing you to match your firepower to your opponents.
Hurry up and get here!
At this point, Tank Domination lacks a few of Tanktastic's features like a party system and in-game chat. But Game Insight will be adding new features up until- and after the Android game's release, so hopefully those social functions will make it into the game soon enough. Tank Domination should arrive on Android in early 2014. It will be free to play. We'll keep you posted, tank jockeys!
Yeah a rumor about a game, but nothing about dish buying Tmo. I think the Tmo is more important -----------------------------------------
Happy Holiday's from my phone to yours...

I care more about this game coming to Android than Dish or T-Mobile. ಠ益ಠ

If the game was already released I might agree with you, but how many games do we hear rumors about them coming soon and they never actually show up.
I think a rumor about T-Mo being bought is far more important than a rumor about a game.

This is not a rumor. It's an official announcement. Me, I don't give a rat's about T-Mobile. I write about games. :P

One thing to mention Duke Nuke 'em Forever It is never official until it is in you hand

A game that is announced but doesn't come out is called vaporware. Less than 10% of games announced by professional publishers (probably closer to 2-5%) end up as vaporware. It does happen, but so infrequently that it needn't be a cause for concern. As for this particular game, it's already out on iOS and in the process of being ported to Android. It's the publisher's single largest and most important title. They're not going to fail to finish the port. Anyway, they're an established and reputable company and we're reporting on their announcement. Whether a game comes out or not is in their hands, not ours.

But until said release, it is a rumor or in this case a planned release. When constant deadlines come and go, then it becomes vaporware. No matter what the game is, the Tmo rumor is more important to Android as a whole than any game -----------------------------------------
Happy Holiday's from my phone to yours...

A rumor is when someone has a piece of information that can't be confirmed through official sources. I'm sure T-Mobile is very important. But different people cover different stuff here, and different readers have their own interests.

I tank so too. Sent from my Note 3 rockin Jelly Bean 4.3

Nope. Don't care at all about Tmo. Sooo yeah, look forward to this being released. Posted via Android Central App

You should. It either directly or indirectly affects you -----------------------------------------
Happy Holiday's from my phone to yours...

I wish I could connect Moga Pro controller to this game.

Got this on Ipad, then got rid of it after 10 minutes. Probably didn't give it a chance lol Posted via Android Central App

Can't wait for this game hope it will also cone to steam as well Posted via Android Central App

Guys, it's been more than a year and it's not on Android.
Android Central Newsletter
Get the best of Android Central in in your inbox, every day!
Thank you for signing up to Android Central. You will receive a verification email shortly.
There was a problem. Please refresh the page and try again.