SwiftKey Cloud beta launched with sync, backup and trending phrases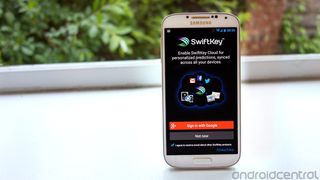 SwiftKey has launched a new range of cloud-based features as part of its new version 4.2 beta. SwiftKey Cloud allows users to back up their personalizations and predictions to the cloud, and keep them in sync across multiple devices. That means your personally-tweaked writing style is conveniently saved if you upgrade or switch devices. The new version also allows your dictionary to be automatically updated with "trending phrases" based on local current events, without requiring a separate app update.
The SwiftKey Cloud system itself uses Google+ sign-in, meaning you can get things set up with a single tap. When you log in with your Google accounts, SwiftKey will also personalize itself based upon your Gmail history. And it's become easier to personalize your keyboard through Facebook too, with support for the social network's APIs.
We've given SwiftKey Cloud a go for a little bit now and came away pretty impressed. Setup was quick and easy — brilliantly so. We saw nothing that should scare away an average user. You can remove devices and accounts as easily as you added them. Everything's handled over SSL and https, and removing an account does so on all devices.
The new SwiftKey beta is available now from the app's beta site, linked below. We've got official promo video, screen shots and the press release after the break. You're gonna want to give this a try.
More: SwiftKey Beta
Image 1 of 9
Introducing SwiftKey Cloud
Backup & Sync, Enhanced Personalization and
Trending Phrases Come to Android's Number One Paid App
San Francisco, CA, July 24, 2013 -- SwiftKey, the award-winning Android keyboard app, unveiled a suite of new services called SwiftKey Cloud as part of its latest beta release on Tuesday. SwiftKey Cloud gives users of the popular app the ability to seamlessly backup and sync their personal writing style across multiple devices, creating a cloud-based hub for each user's personal language profile.
Using powerful language analysis of major news stories and popular events, SwiftKey Cloud also updates the keyboard's predictions with daily Trending Phrases, letting users discuss the day's current affairs with ease. What's more, SwiftKey Cloud makes it easier to personalize the keyboard based on online message archives, with an enhanced management console and new support for Yahoo! Mail.
SwiftKey Cloud comes as part of SwiftKey 4.2 Beta, available as a free download at http://beta.swiftkey.net/.
Enabling SwiftKey Cloud brings these three essential features:
Backup & Sync - The words and phrases that matter to you, backed up securely and seamlessly synced across all of your devices. If your mobile or tablet is upgraded, lost or stolen, your personal profile is kept safe in the cloud, giving you the personalized SwiftKey experience within seconds of installing the app on a new device.
Trending Phrases - SwiftKey's technology analyzes Twitter and other news sources to sift out the most relevant daily discussions and localized trending topics. Using advanced language technology, SwiftKey captures the day's most important phrases from the worlds of news, showbiz and sport to help you type about what's on the agenda that day. Launch support for users of US and UK English, and 11 other languages with more coming soon.
Enhanced Personalization - SwiftKey Cloud beta makes it easier than ever to ensure your next-word predictions and auto-corrections are tailored to you. Full integration with the Gmail and Facebook APIs allows for 'one-click' personalization for accounts registered on your device, and Yahoo! Mail has been added alongside Twitter, RSS and SMS personalization options.
"SwiftKey Cloud represents the next step in personalized technology," SwiftKey co-founder and CTO Ben Medlock said. "The words and phrases that matter to you are intelligently updated across all your devices and kept safe in case you upgrade your phone or it is lost or stolen. Every day, SwiftKey will be in tune with your world, ready to offer predictions for the news events, sporting fixtures or celebrities that are getting people talking where you are. What's more, through enhanced personalization, SwiftKey Cloud gets to know you better than ever before -- and you can enable this all with a single tap," Medlock continued.
SwiftKey 4.2 beta also introduces a range of other features including a clearer settings menu and enhanced configuration options for devices with a built-in or Bluetooth-attached physical keyboard.
Android Central Newsletter
Get instant access to breaking news, the hottest reviews, great deals and helpful tips
Alex was with Android Central for over a decade, producing written and video content for the site, and served as global Executive Editor from 2016 to 2022.
Talk about taking a (yet another) page out of Swype's book. I suppose if the ideas are good and the business model successful, why not?

There's nothing wrong with that; in fact, it was a good idea, and something that they should have been able to do for some time. Apple is even encouraged to take a page from Android — they need it.

Quote: " We so nothing that should scare away an average user. " We so not sure. We so don't see why my keyboard should know where I am just to offer me trending phrases from my location. The other stuff is nice, if you have multiple devices.

I thought the same thing. I'm not a tinfoil hat guy...but when my keyboard needs to be "in the cloud" and needs to know my location I generally think 2 things. 1. This is going to be slow at somepoint. I don't want to have to have a fast data connection just to type 2. Who else gets to see my info

I don't understand the big fuss, why would I care about swiftkey company seeing my location?

The fact that Swiftkey keeps pushing the envelope with a keyboard is impressive.

Great! As a Swifkey user who frequently swap phones this is a lifesaver.

I can't get the apk to open... Posted via Android Central App

Me neither. Actually, for some strange reason pocket casts kept trying to open the file. I uninstalled it and now my nexus 4 just tells me that the file can't be opened. Posted via Android Central App

Just use a different browser than chrome, I can confirm it works! Posted via Android Central App

Or install it from your file explorer, that works too.

.apk won't install for me either on my T-Mobile S3. When I go to install the app the install button doesn't register, just the cancel button...strange.

I'm rocking the galaxy s3 too. I wonder if that's the cause... Posted via Android Central App

Nope, just tried it on my Nexus 7. Won't work there either. Posted via Android Central App

Just saw a tweet from swiftkey that suggests using a different browser to open/download the apk Posted via Android Central App

I love seeing new features but wonder if Alex was using SwiftKey when he got "so" instead of "saw". Don't usually comment on typos. We all do them. I just thought it was ironic in an article about text prediction software. :-)

It would've been better if it searched the phone for another installation of swiftkey and sync it's data instead of starting all over to learning my writing style.

People still use SwiftKey? As of JB I've been using stock on my N4 and Minuum on my N7.

I can't live without swiftkey! I love the predictions.

People still use stock? Posted via Android Central App

For swipe entry, I've found the stock JB to be better than SwiftKey's swipe. Swype is better too, but I don't use it because it is a resource hog since they decided to integrate Dragon Dictate. It would be perfect if it used the built-in VTT engine.

Ah. I guess I don't use the swipe function much.

Too bad swiftkey is so hard to swipe with. Some words just won't swipe and I gave up and uninstalled.

Learn to type Posted via Android Central App

I also found Swype much better for swipe typing, however this new Beta version of SwiftKey seems a lot better in the flow department... Could be just me tho I guess Posted via Android Central App

Woohoo finally. Done quite a few rom swaps lately and waiting for SwiftKey to learn again has been annoying. Also love how easy it is to setup now. Posted via Android Central App

This will be great for a ROMer like me Posted via Android Central App

I thought external betas weren't allowed anymore for applications already in the play store? It's a pain to have another keyboard installed, of a keyboard I already have installed.
That being said, it'll be a nice function to have included once out of beta Posted via Android Central App

Oh man, I really hoped this new beta would allow me to turn off the automatic space-after-punctuation feature. Now if I type the same way as I would on a physical keyboard I'm getting double spaces all over the place. I think it's amazing they're expecting people to change typing behavior in order to be able to use the keyboard. The issue is starred to death in their feedback system as well. Really weird.

Nice feature for sure, especially when you're crack flashing roms Personally, I keep falling back to another KB because I hate the keyboard layout when press the "123" key and losing the additional dedicated row of numbers (note2)

The new features are nice but I also wish they had spent time improving their flow feature, which is really subpar compared to the likes of Swype and stock. Posted via Android Central App
Android Central Newsletter
Get instant access to breaking news, the hottest reviews, great deals and helpful tips
Thank you for signing up to Android Central. You will receive a verification email shortly.
There was a problem. Please refresh the page and try again.