Microsoft Surface Duo expands to international markets on February 18, US price drops to $999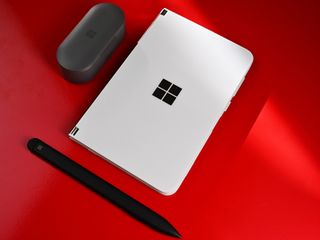 (Image credit: Daniel Rubino / Android Central)
What you need to know
We finally have a launch date for Surface Duo's international expansion.
The Surface Duo will launch in the UK, France, Germany, and Canada from February 18th.
It'll still be expensive, priced at £1349 at launch.
After launching last year in the U.S. only, the Surface Duo is finally coming to parts of Europe and Canada (via The Verge). It'll be launching next week on February 18th, five months after the launch of the Duo launched in in the U.S. It is accompanying a price-drop in the U.S, where the Duo will now cost $999, but it'll be a bit more expensive in Europe, setting users back £1349 and €1549 in the UK and Germany respectively.
The Surface Duo will be sold at the regular UK Microsoft Store and Currys, but the company says that there will no pre-orders though.
Microsoft's Surface Duo is an interesting concept and a unique style of foldable. It's not like the Galaxy Flip or the Galaxy Fold, both of which offer flexible screens. It's two screens connected by a hinge, allowing to avoid the reliability issues which plagued early generations of foldables. That said, it was certainly buggy at launch, with our review being more than a little bit critical.
It's been a few months and a few updates later however, so perhaps the Surface Duo is a better buy in 2021 than it was in 2020.
Microsoft Surface Duo
The Surface Duo is Microsoft's first foray into the world of Android hardware, with a slim design and unique hinge mechanism. The different take on the software is optimized for the dual-screen form factor, as Microsoft considers this to be the ultimate productivity device, allowing you to easily multitask between the displays.
That should have been the price from jump. 1500 for a Microsoft phone. DOA

Not DoA because of the price, but because of what it lacked. The Fold 2 wasn't worth the higher price because of the Samsung brand, but because it wasn't compromised on hardware in the same ways as the Duo. I wanted a Duo and would have bought the 256 GB model at $1,200, at most. I wasn't about to throw $1,500 at a device that had one worst-in-class camera (meaning I need to carry my G8 to take decent photos), no microSD slot (meaning I HAVE to buy the 256 GB model to hold local music and other files), no wireless charging, an 18-month-old SoC (the same in my G8 that was under $600 new), and no headphone jack (meaning I definitely need to carry the G8 with me). They skimped heavily on hardware features, so I passed at the price. With as much as they left out, $1,000 was the most I probably would have paid. Now that it's reached that price, it's 6+ months old and not worth that price tag. It needs to be down a few hundred dollars more, given it's something using 2-year-old parts and missing most every feature from the high-end phone market.
Android Central Newsletter
Thank you for signing up to Android Central. You will receive a verification email shortly.
There was a problem. Please refresh the page and try again.