Advertisement Feature
The XGIMI AURA 4K projector lets you have a huge TV and save space at the same time
And it's on sale for Amazon Prime Day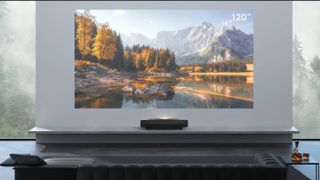 (Image credit: XGIMI)
Upgrading your TV is never an easy decision. Do you go bigger? What technologies do you need to get in order for it to truly be an upgrade? If you're looking at TVs for your next upgrade, you might actually be looking in the wrong place. XGIMI has a powerful solution for the home theater, and it's not the TV you were expecting.
The XGIMI AURA is a 4K Ultra Short Throw (UST) laser projector. Maybe you're already familiar with the idea of using a projector to cast an image across a large room in order to get a big picture — and hopefully not get a shadow every time someone walks in front of the projector. That solution can be great, but it can make getting your desired image size dependent on how large your room is. An UST projector like the XGIMI AURA is a very different solution.
The XGIMI AURA sits right next to the wall you want to project onto, much like a TV except way smaller. It then puts an image onto your wall, much like a TV except way bigger. The XGIMI AURA only needs to sit a small distance from your wall to make a huge picture. You'll get an 80-inch image at 4.3 inches from the wall or a 120-inch image at 11.7 inches from the wall. You can even dial it up to 150 inches for family movie nights by pulling the Aura just 17.3 inches away from the wall. An 8-point keystone correction will let you align your image with your wall even if the projector and wall aren't perfectly aligned.
XGIMI isn't just providing a big picture. The XGIMI AURA delivers a sharp, 4K picture at a bright 2,400 ANSI Lumens — bright enough to watch many types of content even during the daytime. That brightness also backs up the high dynamic range and vivid 10-bit color brought through HDR10, making for a stunning picture. It's also producing that brightness with a laser light source, which has a much longer 20,000-hour lifespan that vastly exceeds the halogen bulbs of the projectors you might be familiar with. XGIMI also protects your eyes from that extreme brightness with its Intelligent Eye Protection system that uses IR sensors to dim the lights if anyone gets too close to the front of the projector.
Big, bright, and colorful. What more could you want? How about sound? The XGIMI AURA really packs it all in. The system runs four 15W Harman Kardon speakers for big sound to pair with the massive picture. Better still, the projector runs Android TV, so you've truly got all you need to start enjoying content right in the same package.
Normally, a massive 80-inch TV and larger can be hard enough to fit through the front door, let alone a budget. And as you go even bigger, the price makes major leaps, not to mention the difficulty getting into your home. But the XGIMI AURA doesn't get more expensive when you want a bigger picture. It retails for $2799, and to drive the value even further home, XGIMI is cutting the price down to $2379 for Amazon Prime Day.
Android Central Newsletter
Get the best of Android Central in in your inbox, every day!
Thank you for signing up to Android Central. You will receive a verification email shortly.
There was a problem. Please refresh the page and try again.