Spotify adds another big name to their catalog with the full works of Pink Floyd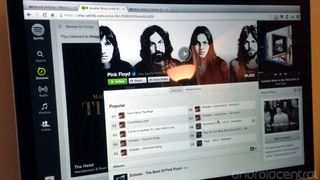 Legendary band's full back catalog available to stream only on Spotify, staking another claim to be king of the streaming game
Spotify continues to try and establish themselves as the biggest players in the streaming game, and their latest acquisition won't harm their chances. Following the addition of Metallica in late 2012, the streaming service can now add the complete works of Pink Floyd to their ever increasing catalog.
Other services -- including Google Play Music All Access -- do have some Pink Floyd available to stream, but Spotify takes the prize for being the first to offer it all. The 'unlocking' of the content came after they asked listeners to stream classic track "Wish You Were Here" to show their interest, and it clocked up 1 million listens just this weekend alone.
All of this is available to listen to free of charge using your desktop Spotify app, or the pretty sweet web app. Premium customers are really going to enjoy it though, as they have the capability to download every single sweet, sweet track to their Android devices to listen to on the go.
Source: Spotify
Android Central Newsletter
Get instant access to breaking news, the hottest reviews, great deals and helpful tips
I love Spotify - and I love Pink Floyd.
I just hope they survive the onslaught of iPandora and gSpot-ify

Pissed off that All Access Has No Led Zeppelin, wtf? Play Music sells Led Zeppelin, but does not offer it in All Access

I always wanted Pink Floyd on Spotify, but when i saw they were already available on google play music services I was done with Spotify.

It's great news for Spotify users, but "only on Spotify" is wrong -- all of Pink Floyd's music is available to stream on Rdio, and has been for ages.

Yup.. for at least 2 years according to the comments on some of the albums.

I want family plans.. Until the wife and I can listen to the same account at one time they can forget my money. Posted via Android Central App

You can share Google music. You just can't stream at the same time. But if you pin your play list like me, my wife and daughter you can all use at same time. Posted via Android Central App

This is awesome. Though for some reason the Wish You Were Here album is missing. The single is there but not the album, how odd. Anyone else see the album? Posted via Android Central App

I do.. on Rdio. ;) http://rd.io/x/QFq4PkzReQ/

At this point in the game, which is better: Spotify, MOG, or Google Play music? I currently have MOG and pay $9.99/month. Posted via Android Central App

Tried them all. Rdio wins for me: - collection feature
- new music notifications
- remote control playback (playback on one device controlling it from a different device)
- UI
- mobile app
- heavy rotation (shows what albums are popular with my friends right now) what it lacks in content I supplement with Google Music.
Android Central Newsletter
Get instant access to breaking news, the hottest reviews, great deals and helpful tips
Thank you for signing up to Android Central. You will receive a verification email shortly.
There was a problem. Please refresh the page and try again.