Pixel and Nexus dialer will send spam calls directly to voicemail [Update]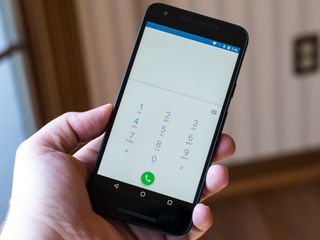 (Image credit: Android Central)
Updated July 13, 2018: Well, looks like those "few weeks" ended up being a few months. Either way, this feature is now widely rolling out to all users. To access it, open the Phone app and go to Settings -> Caller ID & Spam and you'll see a new toggle labeled "Filter spam calls." Once you turn this on, you'll never be interrupted by a spam call again.
You know what's not fun? Spam calls. Picking up the phone to be told you've won an all-expense-paid cruise after simply handing over your credit card info gets old real fast, and to help filter these out of your day, the Google Phone app for Pixel and Nexus devices is getting a new direct-to-voicemail feature for them.
First spotted by 9to5Google, this will send any calls that are detected as spam right to your voicemail. You'll be able to listen to the messages on the voicemail tab in Google Phone and you'll see the calls show up in your call history, but your phone won't ring and you won't get a notification when a voicemail is left.
Google Phone already offers some protection against spam calls by showing a red screen when it detects one with a "Suspected spam caller" message, but this still rings your phone like a regular incoming call. Not being notified of these calls altogether is a big change, but it's one I imagine most people will be perfectly fine with.
You can access this now by signing up for the Google Phone beta testing program. If you're not a tester yet but want to become one, just find the Google Phone app in the Play Store, scroll down to the bottom of its page, and tap "I'm in" on the "Become a beta tester" card.
Alternatively, you can just wait for this to come to the public version of the app in the next few weeks.
Download: Google Phone (free) (opens in new tab)
Joe Maring was a Senior Editor for Android Central between 2017 and 2021. You can reach him on Twitter at @JoeMaring1.
I want a dialer that will block it totally and not allow them to leave a voicemail. If I block a number I want it blocked completely.

Yes! I don't need voicemail piling up I never get notified about

Spam callers don't leave voicemail.

Um some of the robocalls do leave message if it detects a voice.

Yes they do, it's a partial recording

YES! Exactly what you said.

It's not doable at the phone level. It is a network thing. The carrier sends it to VM. The term used Call forward, no answer.

Actually, it could be done. The dialer would just need to answer the call and immediately hang up. I believe that Should I Answer has this as an option.

Just make sure you're not on a plan with limited minutes or you're burning 1 of them doing this.

wouldn't answer/hangup be giving spammer information? "phone number responded, promote its status in the list" unless the timing invovled was random enough that they can't detect what happened...? maybe i'm giving them too much credit, but we shouldn't underestimate.

There is an app that flees this. It's called the extreme call blocker

I just use youmail. It leaves the "this phone is disconnected" tone and message so they stop calling.

How will the dialer know if a number is spam? 🤔🤔🤔🤔🤔🤔

Google probably uses a DB of known spam numbers. It will also most likely be country specific as well.

Totally agree. Kind of defeats the objective of using it in the first place.

Check out this link https://support.google.com/phoneapp/answer/3459196?visit_id=1-6366719762...

I have all my call forwarded to GVoice Mail. I block on the dialer and then block and mark spam in GVoice. When they call they get this phone is disconnected and no longer in service. Reduced my spam calls dramatically. It's a two step process but it works and it works well.

Same. Best solution so far.

That's right, ain't nobody got time for that! 😂 😂 😂

I want the spam callers that have the same area code and 3 digits after that to stop as well. I am tired of it.

I use TrueCaller, you can set it up to block any sequence of numbers, like area code and the first 3 numbers. I got so tired of receiving so many of those calls, now it automatically blocks them.

I straight up do not answer phone calls anymore. I left a good outgoing message urging people to leave a message if they need me. Now my voicemail is filled with 3 second messages clearly from spam/scammers.

I use true caller top. Really like the app, but it has been kind of annoying lately with all the notification badges and then the notifications just asking to upgrade to pro.

This will be a welcome feature. Finally some actual phone innovation.

I use Hiya for blocking all my spam texts and calls.

Samsung integrated Hiya into their app. Nice to not have to run a second app, but I felt like Hiya was a little more verbose when it came to caller ID.

Beware, as this feature has been around for a bit, that it'll associate most 800 numbers with spam. I've had customer support and whatnot come in as a spam cal, so I get worried about answering it. That's a little issue that I've experienced.

Yeah. And sometimes they're awesome. Last year my wife won $1000 from our ISP. Normally, their calls are shown as spam and that's fine - they're usually trying sell us up. But that time would've sucked if we hadn't been notified of the call/message. Each winner (20) had 24 hours to claim the prize before they moved down the list. Weird but absolutely true. Several had been passed over for failing to do so.

Great for my Moto X4 spam calls. I wish they would add like others have said area code and partial number sequences block.

Who else will I be able to ask what color panties they have on?

Ugh, finally. I moved from Google Voice to Fi, and while GV blocks spam calls, Fi just oh-so-helpfully tells me "this is probably spam". If it can identify it as a Spam call, why ring?

Project Fi will block spam calls, it's in the Project Fi app. Open the app scroll to the bottom to "Blocked numbers" and add the number. Anytime that number calls again it will get a disconnected number message

You can do this in the stock dialer as well, long press on a number and press block.

Too bad my Nexus 6P isn't usable anymore with the early shut-off issue smh.

The worst thing is that some calls you're expecting (because they're following up on a tech issue for example) get flagged as spam (at least here in Australia). I hope this new feature is just an option you can turn off.

I'm also guessing that might be part of why they're forwarding straight to your voice mail and not just blocking it. Like when my ISP calls me it's marked by spam automatically by truecaller app, but it may be a legit call I'm waiting on regarding an issue. I wouldn't want it to be automatic unless I've already verified the number is definitely spam which I'll never need to pick up.

True but forwarding to voicemail just means you have to call them back and get stuck in the queue again. Not an ideal solution which is why I hope this is just an option that can be turned off.

It's off by default AFAIK. I've found it's more effective if you have the numbers in your contacts.

Wow, it's almost like TrueCaller, which has done this for years.

My YouMail app has done this for years now. I've spent a long time keeping those phone calls from my phone.

Samsung already as Smart caller ID tells you the name of businesses or identify numbers known as scams, fraud

Yep, 1 of Samsung better features,
auto spam detection.

The beta has been doing this for a while as I have it on my Nokia 8.

Mr. Number
https://www.androidcentral.com/e?link=https2F2F...

This is live for me in the Google Dialler app on the Nokia 7 Plus and I'm not in the Beta programme.

I have this feature on my Pixel 2 XL and it works really well.

This feature went live for me a good while ago, and I'm not in a beta program. Google must be rolling out in stages.

That would make sense unless the beta has something extra that the non beta version doesn't have.

"your decide is not compatible with this version"
Really?! Unlocked Moto Z Play running Oreo is not compatible? What is it then? Selected few devices in the ocean of Android? This is just ridiculous.

That's odd, I wonder if there is something on Moto devices that makes it incompatible as Moto devices tend to be close to stock AFAIK. What version of Android is it running?

It is not Moto devices as it works on the Z3 Play. Maybe some, but not as a brand.

8.0
Just recently updated.
I also tried on Oreo 8.0 Z2 Play (unlocked) and still won't work.

I like that this feature isn't on crappy Moto whos phones are so overrated.

Why doesn't this app work on Samsung? After being on google phone wagon for years I finally gave a Samsung a chance. And now I miss this dialer

Because it's Samsung and they have their own dialer so you don't need the stock Android version.

Samsung's dialer already has had a block unknown caller option.

Samsung's software sucks balls this is a Pixel and and Nexus related article go focus on Samsung articles.

Lol. So basically google is doing for free a service that Ajit Pai just decided that everyone needs to pay the FCC over $200 to do? Sounds good to me.
Android Central Newsletter
Get the best of Android Central in in your inbox, every day!
Thank you for signing up to Android Central. You will receive a verification email shortly.
There was a problem. Please refresh the page and try again.