Sony Xperia TX hands-on preview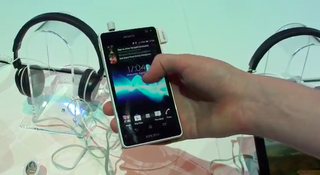 It's been an epic wait for the Sony Xperia TX, first rumored back in January under the codename "Hayabusa." Today we finally saw Sony's late 2012 flagship in the flesh, and it's brought in a whole heap of welcome changes. First up is ICS out of the box, complete with on-screen buttons to satisfy Android purists. There's also a 13MP BSI rear camera, promising improvements over the 12MP sensor in the Xperia S, and a 4.6-inch 720p HD LCD display, which looks as good as any smartphone screen we've seen. There's a lot to dig into in the latest Sony flagship, and we've kicked things off with a quick hands-on preview video. We'll have more from the TX, and the other new members of the Xperia family, from IFA in Berlin later this week.
More from the day's developments in Germany at our IFA 2012 portal
Android Central Newsletter
Get instant access to breaking news, the hottest reviews, great deals and helpful tips
Alex was with Android Central for over a decade, producing written and video content for the site, and served as global Executive Editor from 2016 to 2022.
Verizon needs to get this phone now!

could not agree more. I wonder why Sony did not go with the quad core instead of the dual core.

Possibly the Sony Xperia Nexus in the future?

That does have a nice sound to it doesn't it. I remember reading that Sony bid on building a Nexus device but lost out to Samsung.

Rumor still is that there will be three more Nexus devices this year, possibly LG, Samsung, and Sony. If this does prelude to a possible Nexus I think it will probably be my next phone, sounds pretty nice so far.

Here's my crazy speculation - you got the Xperia T announced today and then the Xperia TX later. Google likes to emphasize the "X" in their Nexus line and in all kinds of ways. So my point - Sony just ironically threw an "X" onto a top-spec'd/new flagship phone? (of course I guess the same could be said about the HOX) I thought LG, Samsung, and Sony all had possible bids for the next Nexus, not just Samsung. I also heard a rumor that the PS4 will be HEAVILY focused/integrated around Android - makes sense to warm people up to that possibility now with the Sony Xperia Nexus!

Love how it looks. Sony is the only Android OEM that I would consider leaving HTC for. Luckily for HTC, Sony has never had an Android phone on Verizon or Sprint that I've wanted. (no, I'm not here for the Xperia Play). Although, I wish they would start!

That would be awesome if Sony did make a Nexus device. It would give them a huge boost to there sales here in the States. Maybe they could eventually grab enough market share to push Samsung and HTC and Gogglerolla into better designed phones.

I love motorola, but i also love Sony products. If Sony begins to wake up they will be the top manufacturer out there. They have good display, cameras and their designs and speakers are awesome.

Doesn't look as sleek as the ARC line but it's still better than the ION. This had better have the S4 Processor.The ION really deserved better than last years' S3.

Very curious, would you go for a Sony Xperia T or a Sony Xperia V?

Sony's naming scheme is terrible. Someone should explain to them that this is the case. I like the consistency of using the Xperia brand on all of their phones. But the letters seem to be meaningless.

Why announce a phone that's already obsolete? S4 ? It needs the S4 pro quad core. 4.6" screen with on screen buttons? The screen is already smaller than the competition and then you take away a huge chunk! Including the buttons, that's like 1/2 inch less usable space than the Samsung GS3 and HTC One X. That makes it a 4.3" screen or smaller. ICS????? Come on Sony!!! The only thing going for it for me is the pentaband support, but with the T-Mobile 1900 MHz refarm imminent, that will be moot soon also. Jesus!!!

I will wait, if I can hold myself from getting this sexy phone, until it upgrades to JB...dual core with JB is blazing fast already. QuadCores kill batteries like crazy. DualCores right now I think are just right for smartphones. Sony TX with Jelly Bean...now that's a very good sound in my ears.
Android Central Newsletter
Get instant access to breaking news, the hottest reviews, great deals and helpful tips
Thank you for signing up to Android Central. You will receive a verification email shortly.
There was a problem. Please refresh the page and try again.