Sony Cyber-shot QX10 camera review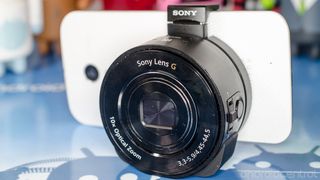 A stand-alone lens for your phone? It's so crazy it just might work
The Sony Cyber-short QX10 is here to fill a need you had no idea needed filled. It mates the improved pictures of a good point-and-shoot camera with your smartphone. Rather than build a phone with a high-powered camera like the Galaxy S4 Zoom, the QX10 is a stand-alone unit that works with any Android smartphone. (Or the iPhone, if that's how you roll.)
Using wireless (NFC and WIfi Direct) the QX10 pairs with your phone (or tablet if you're into that) and the device's screen becomes the live-view from the lens. It can be a little clunky, and there's some software between the two that allow it to happen. Often-times finicky software. To the point where it's almost easier to forgo the software and shoot blind, unconnected to a phone. Yes, it can do that, too.
To top things off, the QX10 costs as much as a good point and shoot camera does — $250.
It's going to have to do two things well to find a place in anyone's gear bag — take great pictures, and be easy to use. Hit the break and see if it can do them.
Sony DSC-QX10 Lens-style camera ($249)
QX10 construction and specifications
When you consider that the QX10 aims to replace a point-and-shoot camera, it's fairly compact. It's about 2.5-inches in diameter, 2-inches tall (while the lens is closed) and weighs about 4 ounces. It's completely self-contained with on-board storage via an microSD card slot, and you charge the removable battery through a microUSB port hidden under a flap on the lens body. When it's all buttoned up, there's nothing dangling off to snag your pocket, and it fits nicely into a small bag. If you have room for a standard computer mouse in your satchel of goodies or pocket, you have room for the QX10.
When you want to use the camera to take a picture, your Android comes into play. Using the two spring-loaded jaws to clamp to your phone, you can run an app that allows you to see what the camera sees on your phone screen. At this point, you're probably asking, "Why bother?" You already have a camera on your phone that you can use without any special apps or fiddling with spring loaded clamps.
Because of the image quality. We'll take a long, close look at the pictures you can take with the QX10 further down the page, but for now just be aware that you'll get much better pictures from the QX10 than you will with even the best smartphone camera. Physics and math come into play, and you won't have the sensor size or the lens size and quality or the focal distance in a smartphone — even a great big smartphone or one with a big honking hump on the back.
Sony Cyber-shot QX10 specs
Sony G series lens
f/3.3 - f/8.0
Optical image stabilization
Intelligent automatic settings to identify and adjust for macro, low-light, back-lit, motion and more
Multi-point auto-focus
ISO 100 - 12800
BIONZ image processor on-board
10x optical zoom
18MP 1/2.3 inch Exmor R back-lit CMOS sensor
1080p / 30 HD video capture in mp4 format
One-touch connection via NFC and Wifi direct (for supported devices with NFC)
630mAh battery, good for about 225 shots
62.4mm x 61.8mm x 30.0mm; 105g
The Sony PlayMemories Mobile Android app
All the fancy hardware in the lens isn't much good if you can't have a way to see what you're taking a picture of. While you can use the QX10 without an Android attached, you probably won't want to. The screen of your device is your link to what the lens sees.
Setting things up is simple enough for most Android devices, just tap your phone to the NFC logo on top of the unit. Usually this works without any app open or even Wifi turned on, but you're better off starting the PlayMemories Mobile app before you get started. Things can be a little finicky, as we'll see later. Once you have a connection, you'll be able to see the camera images on your screen.
You can either use the clamps mentioned above to attach the QX10 to your phone, or hold and maneuver the lens and device separately. The connection seems to be good for about 20 feet. Most times you'll end up attaching things together, but with the QX10 on a tripod and a Nexus 7 in your hands, you can get a little more creative with your shots if you like by getting in the scene.
Once you have your picture properly framed, you can tap the screen to lock focus and tap the shutter button, or tap the shutter button for intelligent auto-focus. The camera will then snap a picture, and depending on your settings, you'll get a copy to review right on your screen.
You have three shooting modes to choose from — Superior Auto, Intelligent Auto, and Program Auto. While in Program Auto you're able to adjust the exposure manually, but things like aperture and shutter speed are not adjustable. The Automatic modes do a good job selecting the right settings, and your pictures will likely look good if you pick one and leave it there. Do experiment though, and find the setting you like. You can also set things like the image size and aspect ratio, or set a self-timer in the application settings.
The images you take are stored on the QX10's SD card, and a copy is sent to your tethered device. You can choose the size of the copied image, and the device settings also have options to transfer the untouched image to your phone, as well as format the SD card.
The app isn't without its problems. It seems to be at its best with the Nexus 7 or the Nexus 4. The farther you move away from "Stock" Android, the more disconnections and image lag you'll see. The app doesn't discriminate here — Samsung, HTC, LG and Sony devices are affected fairly equally. Be sure to go into your device's Wifi settings and turn off any options that offer "best" Wifi performance or battery-saving connections, as these greatly affect the connection with the QX10.
Sony needs to improve its app. But the good news is that it has a wide-open SDK and the QX10 and QX100 are well supported. Camera360 has already announced that it will update its application to work with these cameras, so we'll soon have more choices.
Image examples
Here's the interesting part. Since this is a camera and not a phone or tablet, the most crucial part of the review is the pictures that it produces. While the QX10 is by no means intended to replace a "professional" camera — a phrase we hear so often it almost has no meaning anymore — at $250 it had better take some damn good pictures.
And it does. The QX10 won't turn you into Ansel Adams, but for most folks this is all the camera you will ever need. The images are crisp and clear, and look great both on your smartphone screen or the computer screen. Yes, enthusiasts and professionals have cameras that take "better" pictures. You won't want to use the QX10 if you're looking for a shot to use in a magazine, but you'll certainly have a nice collection of memories to look through or even print.
Look through these random images I've taken in the past couple weeks. Yes, some are better than others (I included an example even if it wasn't perfect), but all of them are pretty darn good. We'll talk about some of the highlights afterwards.
Image 1 of 46
Highlights
Color accuracy is impressive. A couple examples here will make you feel like you're looking at TouchWiz, but the super-saturated orange color in both the Halloween sign and the center ring on the flower is an accurate representation of real life. Sony does a great job of not only capturing the image data, but assembling it to catch bright colors without blowing out the highlights.
Exposure compensation is very nice as well. You can't always trust the information you get from metering light levels, and it's hard to find any automatic that can get it right the majority of the time. The bright white screen in a dark room is really hard to get a picture of, as is a box of light in a dark arcade. The QX10 does a great job here, and it does it all automatically.
Low-light performance is excellent. The Angry Birds dog toy picture looks better than it did in real life, and yes, the picture on the right was lit with only the tiny 9-watt bulbs in the fake Tiffany-style sport lamps.
With 10x optical zoom, you can reach way out and still get an acceptable picture, even in low light. I looked like an idiot with a tiny orb on a tripod in the Target parking lot, but the results speak for themselves. The zoomed image is far from perfect, but it's a good representation of the clarity and color reproduction you get from zooming in tight under very harsh conditions.
The bottom line
Look, $250 is more than just pocket change. With the latest crop of smartphones, the cameras are better than what we've seen even just a few months ago — hello, G2. And you're not getting pictures like you would from a DSLR. These are three very important things to consider here.
The PlayMemories app also leaves a lot to be desired. It's OK for a staged picture, where you have as much time as you would like to take pictures of things that are not moving all over the place, but getting the lens connected and the app turned on before your kids stop being extra-cute or your dog stops doing that trick isn't always going to happen. And frankly, using the QX10 blind (without a tethered device) is a fool's errand with no viewfinder to frame a shot.
In the end it's also one extra thing to carry and keep charged, costs about the same as a decent point and shoot, and most folks will end up using the camera on their phone anyway. Camera enthusiasts will love this thing because it's a cool new toy. Most folks should probably pass on it though.
That was my sensible side. Here comes my geek-out side.
I love this little gadget, but it fills a very particular need for me. Last year, AC picked me up a Nikon D5100 and a nice assortment of lenses. The package takes great pictures, but it's not something I can slip into my pocket and carry around every day. While most folks can get away with a smartphone that has a good camera, I like to be prepared to grab a picture for Mobile Nations when I'm out and about. Smartphone cameras struggle here.
I've tried various point-and-shoot cameras and micro-four-thirds cameras, but the QX10 is small enough to fit in my pocket, and if I need to grab a picture I can just attach it to my phone and snap away. All my blog posts of late have had pictures taken with the QX10, and my Nikon hasn't left the tripod since I got this.
If you're in the market for something ultra-portable, and don't need to take a lot of action shots or the flexibility you get from manual controls, the QX10 is something you should consider.
If your smartphone pictures are good enough, and chances are that they will be, save the $250 towards your next Android purchase.
Get the Android Central Newsletter
Instant access to breaking news, the hottest reviews, great deals and helpful tips.
Senior Editor — Google Ecosystem
Jerry is an amateur woodworker and struggling shade tree mechanic. There's nothing he can't take apart, but many things he can't reassemble. You'll find him writing and speaking his loud opinion on Android Central and occasionally on Twitter.