Sony Cyber-shot QX10 camera review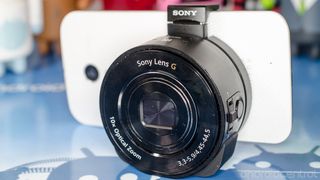 A stand-alone lens for your phone? It's so crazy it just might work
The Sony Cyber-short QX10 is here to fill a need you had no idea needed filled. It mates the improved pictures of a good point-and-shoot camera with your smartphone. Rather than build a phone with a high-powered camera like the Galaxy S4 Zoom, the QX10 is a stand-alone unit that works with any Android smartphone. (Or the iPhone, if that's how you roll.)
Using wireless (NFC and WIfi Direct) the QX10 pairs with your phone (or tablet if you're into that) and the device's screen becomes the live-view from the lens. It can be a little clunky, and there's some software between the two that allow it to happen. Often-times finicky software. To the point where it's almost easier to forgo the software and shoot blind, unconnected to a phone. Yes, it can do that, too.
To top things off, the QX10 costs as much as a good point and shoot camera does — $250.
It's going to have to do two things well to find a place in anyone's gear bag — take great pictures, and be easy to use. Hit the break and see if it can do them.
Sony DSC-QX10 Lens-style camera ($249)
QX10 construction and specifications
When you consider that the QX10 aims to replace a point-and-shoot camera, it's fairly compact. It's about 2.5-inches in diameter, 2-inches tall (while the lens is closed) and weighs about 4 ounces. It's completely self-contained with on-board storage via an microSD card slot, and you charge the removable battery through a microUSB port hidden under a flap on the lens body. When it's all buttoned up, there's nothing dangling off to snag your pocket, and it fits nicely into a small bag. If you have room for a standard computer mouse in your satchel of goodies or pocket, you have room for the QX10.
When you want to use the camera to take a picture, your Android comes into play. Using the two spring-loaded jaws to clamp to your phone, you can run an app that allows you to see what the camera sees on your phone screen. At this point, you're probably asking, "Why bother?" You already have a camera on your phone that you can use without any special apps or fiddling with spring loaded clamps.
Because of the image quality. We'll take a long, close look at the pictures you can take with the QX10 further down the page, but for now just be aware that you'll get much better pictures from the QX10 than you will with even the best smartphone camera. Physics and math come into play, and you won't have the sensor size or the lens size and quality or the focal distance in a smartphone — even a great big smartphone or one with a big honking hump on the back.
Sony Cyber-shot QX10 specs
Sony G series lens
f/3.3 - f/8.0
Optical image stabilization
Intelligent automatic settings to identify and adjust for macro, low-light, back-lit, motion and more
Multi-point auto-focus
ISO 100 - 12800
BIONZ image processor on-board
10x optical zoom
18MP 1/2.3 inch Exmor R back-lit CMOS sensor
1080p / 30 HD video capture in mp4 format
One-touch connection via NFC and Wifi direct (for supported devices with NFC)
630mAh battery, good for about 225 shots
62.4mm x 61.8mm x 30.0mm; 105g
The Sony PlayMemories Mobile Android app
All the fancy hardware in the lens isn't much good if you can't have a way to see what you're taking a picture of. While you can use the QX10 without an Android attached, you probably won't want to. The screen of your device is your link to what the lens sees.
Setting things up is simple enough for most Android devices, just tap your phone to the NFC logo on top of the unit. Usually this works without any app open or even Wifi turned on, but you're better off starting the PlayMemories Mobile app before you get started. Things can be a little finicky, as we'll see later. Once you have a connection, you'll be able to see the camera images on your screen.
You can either use the clamps mentioned above to attach the QX10 to your phone, or hold and maneuver the lens and device separately. The connection seems to be good for about 20 feet. Most times you'll end up attaching things together, but with the QX10 on a tripod and a Nexus 7 in your hands, you can get a little more creative with your shots if you like by getting in the scene.
Once you have your picture properly framed, you can tap the screen to lock focus and tap the shutter button, or tap the shutter button for intelligent auto-focus. The camera will then snap a picture, and depending on your settings, you'll get a copy to review right on your screen.
You have three shooting modes to choose from — Superior Auto, Intelligent Auto, and Program Auto. While in Program Auto you're able to adjust the exposure manually, but things like aperture and shutter speed are not adjustable. The Automatic modes do a good job selecting the right settings, and your pictures will likely look good if you pick one and leave it there. Do experiment though, and find the setting you like. You can also set things like the image size and aspect ratio, or set a self-timer in the application settings.
The images you take are stored on the QX10's SD card, and a copy is sent to your tethered device. You can choose the size of the copied image, and the device settings also have options to transfer the untouched image to your phone, as well as format the SD card.
The app isn't without its problems. It seems to be at its best with the Nexus 7 or the Nexus 4. The farther you move away from "Stock" Android, the more disconnections and image lag you'll see. The app doesn't discriminate here — Samsung, HTC, LG and Sony devices are affected fairly equally. Be sure to go into your device's Wifi settings and turn off any options that offer "best" Wifi performance or battery-saving connections, as these greatly affect the connection with the QX10.
Sony needs to improve its app. But the good news is that it has a wide-open SDK and the QX10 and QX100 are well supported. Camera360 has already announced that it will update its application to work with these cameras, so we'll soon have more choices.
Image examples
Here's the interesting part. Since this is a camera and not a phone or tablet, the most crucial part of the review is the pictures that it produces. While the QX10 is by no means intended to replace a "professional" camera — a phrase we hear so often it almost has no meaning anymore — at $250 it had better take some damn good pictures.
And it does. The QX10 won't turn you into Ansel Adams, but for most folks this is all the camera you will ever need. The images are crisp and clear, and look great both on your smartphone screen or the computer screen. Yes, enthusiasts and professionals have cameras that take "better" pictures. You won't want to use the QX10 if you're looking for a shot to use in a magazine, but you'll certainly have a nice collection of memories to look through or even print.
Look through these random images I've taken in the past couple weeks. Yes, some are better than others (I included an example even if it wasn't perfect), but all of them are pretty darn good. We'll talk about some of the highlights afterwards.
Image 1 of 46
Image 2 of 46
Image 3 of 46
Image 4 of 46
Image 5 of 46
Image 6 of 46
Image 7 of 46
Image 8 of 46
Image 9 of 46
Image 10 of 46
Image 11 of 46
Image 12 of 46
Image 13 of 46
Image 14 of 46
Image 15 of 46
Image 16 of 46
Image 17 of 46
Image 18 of 46
Image 19 of 46
Image 20 of 46
Image 21 of 46
Image 22 of 46
Image 23 of 46
Image 24 of 46
Image 25 of 46
Image 26 of 46
Image 27 of 46
Image 28 of 46
Image 29 of 46
Image 30 of 46
Image 31 of 46
Image 32 of 46
Image 33 of 46
Image 34 of 46
Image 35 of 46
Image 36 of 46
Image 37 of 46
Image 38 of 46
Image 39 of 46
Image 40 of 46
Image 41 of 46
Image 42 of 46
Image 43 of 46
Image 44 of 46
Image 45 of 46
Image 46 of 46
Highlights
Color accuracy is impressive. A couple examples here will make you feel like you're looking at TouchWiz, but the super-saturated orange color in both the Halloween sign and the center ring on the flower is an accurate representation of real life. Sony does a great job of not only capturing the image data, but assembling it to catch bright colors without blowing out the highlights.
Exposure compensation is very nice as well. You can't always trust the information you get from metering light levels, and it's hard to find any automatic that can get it right the majority of the time. The bright white screen in a dark room is really hard to get a picture of, as is a box of light in a dark arcade. The QX10 does a great job here, and it does it all automatically.
Low-light performance is excellent. The Angry Birds dog toy picture looks better than it did in real life, and yes, the picture on the right was lit with only the tiny 9-watt bulbs in the fake Tiffany-style sport lamps.
With 10x optical zoom, you can reach way out and still get an acceptable picture, even in low light. I looked like an idiot with a tiny orb on a tripod in the Target parking lot, but the results speak for themselves. The zoomed image is far from perfect, but it's a good representation of the clarity and color reproduction you get from zooming in tight under very harsh conditions.
The bottom line
Look, $250 is more than just pocket change. With the latest crop of smartphones, the cameras are better than what we've seen even just a few months ago — hello, G2. And you're not getting pictures like you would from a DSLR. These are three very important things to consider here.
The PlayMemories app also leaves a lot to be desired. It's OK for a staged picture, where you have as much time as you would like to take pictures of things that are not moving all over the place, but getting the lens connected and the app turned on before your kids stop being extra-cute or your dog stops doing that trick isn't always going to happen. And frankly, using the QX10 blind (without a tethered device) is a fool's errand with no viewfinder to frame a shot.
In the end it's also one extra thing to carry and keep charged, costs about the same as a decent point and shoot, and most folks will end up using the camera on their phone anyway. Camera enthusiasts will love this thing because it's a cool new toy. Most folks should probably pass on it though.
That was my sensible side. Here comes my geek-out side.
I love this little gadget, but it fills a very particular need for me. Last year, AC picked me up a Nikon D5100 and a nice assortment of lenses. The package takes great pictures, but it's not something I can slip into my pocket and carry around every day. While most folks can get away with a smartphone that has a good camera, I like to be prepared to grab a picture for Mobile Nations when I'm out and about. Smartphone cameras struggle here.
I've tried various point-and-shoot cameras and micro-four-thirds cameras, but the QX10 is small enough to fit in my pocket, and if I need to grab a picture I can just attach it to my phone and snap away. All my blog posts of late have had pictures taken with the QX10, and my Nikon hasn't left the tripod since I got this.
If you're in the market for something ultra-portable, and don't need to take a lot of action shots or the flexibility you get from manual controls, the QX10 is something you should consider.
If your smartphone pictures are good enough, and chances are that they will be, save the $250 towards your next Android purchase.
Jerry is an amateur woodworker and struggling shade tree mechanic. There's nothing he can't take apart, but many things he can't reassemble. You'll find him writing and speaking his loud opinion on Android Central and occasionally on Twitter.
So... if anyone here find out why we have a view finder kind of window... ?

Jerry, I noticed on the Amazon pictures, that little window is a battery indicator.

I really don't shoot to many mobile shots since I am a weekend photographer/heavy enthusiast and always carrying my DSLR around. That being said, I absolutely *love* cool and unique gadgets like this. If I had one, I'd certainly be using it quite a bit I think and it's something I would make a point of using more often. I did just pick up the G2 a couple days ago and haven't had a chance to run it through it's paces yet, but these Sony lens/cameras are very very intriguing and cool in my opinion. May have to get one just to satisfy my gear lust for it. Thanks for the review, you just made my decision harder yet!

I wouldn't call myself an enthusiast... but I do have and used a DSLR for years (and some older SLR camera bodies for many years before "digital"). I don't know what I was expecting, but it was a little bit more than what I am reading in this review. I hoped that this would fill some in-between (phone camera and DSLR) niche for me, but I just don't see that it would. I guess I was just hoping for the option of manual aperture/shutter control, better light gathering (f#), and a lossless file type option. I really like the concept here, just a lens, and your regular phone is the camera body. And I really wanted to want this. In broad daylight (easy to photograph situations), or just mundane snapshots of typical day-to-day stuff (only going to be viewed in small sizes or thumbnails), I really can't complain about the N4 camera (although lots of other people do). I would like to retire the weight and bulk of the DSLR and lenses that I carry around in my backpack while hiking/traveling/doing memorable things. Hey, at least I don't have to buy film and then pay for developing costs! But then, I would also like a car that'll get 1000 miles per gallon, for the price of standard compact car. Maybe someday... but today I'm kinda bummed this lens-thing wasn't more than it was.

You're 100% correct. This is nothing but the lens and logic from a CyberShot WX150 that you attach to your phone. The QX100 has a better lens and slightly more manual controls, but you're still stuck with jpg output and at the mercy of Sony's algorithms. This fills a very small niche as far as needs go.

Have you checked out any of the compact interchangeable lens cameras our there? I've been quite impressed with what I've seen of the Sony NEX one, but have been seriously contemplating one for some time to do exactly what you described.

I haven't seen any review mention how long the jaws on this can extend. Could you attach it to a new Nexus 7?

I believe Jerry answered that and said it will not fit on a Nexus 7. I believe he said the max seems to be the original Samsung Galaxy Note. Posted via Android Central App

No. I mention in the video that it barely fits the original Galaxy Note.

Thanks! I only read the review, didn't watch the video.

I agree it will fill only a small niche but it's an interesting device that will probably get better. Cell phone cameras will always be limited as you mentioned a couple weeks ago on the podcast Posted via Android Central App

I like the concept, but there is something i dislike from the App itself. This picture taking is supposed to be fluid. From the review I can see taking a picture and then waiting for it to transfer and after that confirming to go back. While it is true you can turn off the transferring a copy to the phone feature, I'd have rather expected shooting, (transferring on the background) and shooting a second picture immediatly just like anyone would take pictures naturally on any camera or smartphone. Even if the background copying consumed all the wifi bandwidth the technology can give on a peer-to-peer basis, it can be changed to a much smooth slower transfer while keeping the shooting aspects alive to make it fun really fun. So I adhere to the same conclusion: the app needs improvement! Posted via Android Central App

Jerry- How do you think this compares to the galaxy camera.

In my short time with the Galaxy camera, I would say this takes better pictures, but the Galaxy camera is faster at taking them.

Im tempted to get one, but I have a question, what's if my Android device doesn't have NFC or WiFi-Direct *cough*XOOM*cough* , can I use it via Bluetooth ? as always, great review Jerry.

The QX10 will act as a wifi access point. Just connect your Xoom to it and go. Having said that, I've no idea how well the app will work with the Xoom. Make sure you can return it should things be ugly :)

Cool, thanks Jerry i appreciate it.

13MP in 16:9, seems not a lot ??

A Nikon D70 is 6.1MP. Advertisements between poster-sized and highway billboard-sized look excellent with pictures taken from it, I know this from personal experience with folks who take them for a living :)

+1 I have a old Nikon D40 that also shoots at 6.1. Never had an issue with quality images. |❌_❌|

About how big of a phone will the lens fit in looking to get note 3 do you think it would fit in that. Do you think it would fit an iPad Mini?

Note 3, i have the same question. iPad mini is to big.

It fits the Galaxy Note (83mm — 3.275 inches). It's not going to fit anything wider. The Note 3 is 79.2mm (3.125-inches) wide. It should fit. NOTE: It wasn't designed to spread that far. You have to spring the jaws out like this \____/ instead of like this |___| to get it to fit. I would guess it was DESIGNED to spread to about 75-77mm. The G2 is 71mm, and it fits with plenty to spare.

Just tried today in a shop, can't fit Z Ultra(oh the irony)

Jerry, I see you ordered a MotoX Dev and are now using it in your reviews. Did you dump your Nexus 4 for the MotoX as your daily driver? Posted via Android Central App

That's exactly what I did except I do t have a developer edition. Posted via Android Central App on my Moto X

It's so crazy it will never work. I see color changing tee shirts making a come back before this ever gains traction. Posted From my Motorola side view pager via 4-5683-8

Sounds like perfect lens fit under table shots. Posted via Android Central App

just take Nokia 1020 camera and put it inside of HTC One.that's all I need. Posted via Android Central App

Maybe I have to get one of these if HTC doesnt get their **** together and fix the purple noise issue in low light on my H1.

Jerry great review, I am really intrigued by this but I have 2 questions. - How does the camera handle without a flash? Is there anyway to use your phone's flash in conjunction with it? - Once the camera and lens are hooked up to your phone if you turn the screen off on your phone how long does it take to take a picture. Is there a lot of lag once you turn the screen back on?

Meh, I liked the review overall but I'd have to disagree with part of the conclusion... This is nothing more than a budget P&S without a display (and with a clunky UI/controls), there's very little there that would attract camera enthusiasts... That being said, the niche for this might be decently sized. The big issue IMO is that it's not easy to slip into a pocket, and a P&S usually is, and a P&S will also take photos quicker (it'll turn on faster and shoot faster), and a P&S around the same price could also have up to 2x the zoom range... So what is the appeal exactly? There's really very little upside here, specially with more and more cameras having wifi built in thatmake transferring pictures and remote control just as seamless as this device does. If they had managed to pack a lens that starts at something like f/2.0 in a similar or smaller package (even if it were only a 3-5x zoom), then THAT might attract camera enthusiasts. The QX100 suffers from a lot of the same issues but at least it's somewhat cheaper than an RX100 mk1. As it stands, I just don't see why I wouldn't carry an old Panasonic ZS 20x travel zoom instead, or a wifi enabled Canon S110 which is much smaller and will take much much better low light pics, or a Panasonic LF1 if you want more zoom range and remote control (or an RX100 if budget isn't an issue). They'll all fit in a pocket, won't drain my phone battery when taking pictures, will take better pictures, and are basically all upside and no downside. If these QX add ons offered more lens variety (maybe something truly well suited for low light, not just better than a phone) or the connection process was quicker then they'd be a game changer. The concept is certainly interesting and worth decry developing, but the current importation is weak. I guess women or anyone who carries a bag and wants RX100 quality for less or a long zoom could find the interesting, but the QX10 is not that long a zoom and the lack of RAW or other shooting modes limits the QX100.

If a person was on my right taking a picture with their ipad and a person was on my left taking a picture with one of these strapped to their cell phone, I would have to think hard about which one to ridicule more... -Suntan

Yes, because sarcasm aside...that is what mature individuals do.

Who was claiming maturity around here? -Suntan

Sony obviously not expecting much here in the uk. They giving them away with Z1 on O2! Posted via Android Central App

It looks all right, but I presume most people who care about image quality already own a point-and-shoot and/or DSLR, which could be paired with an Eye-Fi SD card to link to your phone for far less. The lens itself is not much different in size from a small P&S, and you're carrying an additional device anyway. It's an interesting idea, but I don't see much of a use case for this to be widely successful.

Does it works with samsung galaxy note 1 , the sony showroom guy told that it will not work unless or otherwise a device must have NFC ... ?? pls clarify thanks in advance

Hi Kathik, According to the video and article, your device doesn't require NFC. Works without it too. Curious as to how a sony showroom guy (a.k.a brand guardian), can pass on such misinformation.... Hope this helps :) Regards,
Tersh

I chanced upon this gadget about 2 days ago and can't stop thinking about it. There are several reasons that attract me to this nifty gadget. That being said, I am not an advance photographer type person. I do the usual photo taboos of random food shots, sceneries, selfies, occasional plants and feetshots such as #globalfootprints on instagram - and then filter the crap out of it. a.k.a Photography boo boos. I'd get this for the following reasons: (in no particular order of preference) 1. I travel quite a bit and my dslr is too heavy and bulky.
2. I want to be able to share images without having to remove SD and copy images over before I can edit.
3. I like that this gadget is small enough to fit into tight corners for some interesting photo angles.
4. It has replaceable battery.
5. I'm a sucker for packaging and that white lens with the rose gold just reels me in.
6. That NFC feature is pretty neat.
7. I carry my mobile devices with me everywhere: I intend to use this as an enhancement for my iPad mini and Samsung Note 2
8. I believe that Sony's app for this gadget will be enhanced and improved (it is still in a primitive state) Getting it this weekend. Can't wait! I'll post up some shots (unfiltered) on @skybambi instagram account if anyone wants to have a look :)

I have sony xperia z ultra, can i used this camera??

Seriously, how do the pics (and the taking of) compare with the best small P+S cameras, which wouldnt be much harder to carry as a 2nd item? Its hard to believe a dedicated camera with the same lens (as someone suggested) wouldnt do it quicker (if not better) and not bulge your pocket any more than this lens alone. I'm asking, not doubting, but isn't the Sony camera it was supposedly derived from $60 cheaper (or did I look up the wrong sony point and shoot)?

Firstly there are things attaching this to a smartphone offers that the majority of point and shoots don't offer. Also there are things you can do with this that would require expensive HD capture devices that aren't connected to the internet, have limited battery life is they are connected, require a computer, logging into propitiatory web services or only able to use certain web sites. This add-on offers the ability to live stream in HD via Livestream or UStream. It also allows HD video recording with the updated firmware, its better in low light conditions than any smartphone camera. You can use a handful of Sony WiFi camera and Canon Wifi camera with your smartphone but it's more expensive than using this plus a phone you already own.

Jerry, are you still using it as much as you did or has the inconveniences wore out its welcome?
Android Central Newsletter
Get the best of Android Central in in your inbox, every day!
Thank you for signing up to Android Central. You will receive a verification email shortly.
There was a problem. Please refresh the page and try again.