Songza curating multi-million dollar bid from Google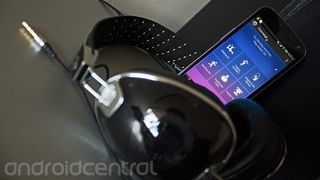 Hold onto your headphones. Google is apparently in talks to buy the popular free music streaming and recommendation service Songza. Founded in late 2007, Songza has built up over 5.5 million active users. Google's own Larry Page is allegedly leading the charge to acquire Songza for $15 million.
In the world of free music streaming, Songza has set itself apart by offering up curated playlists based on your current activity. There aren't any algorithms are work to make these playlists, instead music experts create these for specific occasions. Songza has apps on iOS, Android, Windows Phone, Windows 8, BlackBerry, Sonos and a web application.
$15 million does seem awfully small for a music streaming service. Afterall, Apple did just buy Beats Electronics and Beats Music for $3 billion, of which less than $500 million was for the streaming component. It also pales in comparison to companies like Spotify (valued at $4 billion) and Pandora (market cap of $5 billion).
Good move for Songza to be aquired by Google? Do you use Songza? Sound off below!
Source: New York Post
Get the Android Central Newsletter
Instant access to breaking news, the hottest reviews, great deals and helpful tips.
Awesome news. I love the free component the best. This app is one I use daily which there are not too many of those. I would hate to see this service get rolled into all access.

I used songza before Google play music came around. Now it's my secondary service, like the musical roulette with he playlists and it has a smaller data footprint than Google Play. Posted via Android Central App

GPMAA badly needs better algorithms. Love the service but there room for improvement. Posted via Android Central App

Interested to know the plans afterwards. Posted via Android Central App w/G2

Dammit. Since you can only use one device with GPMAA at a time, when we both want to listen to music at the same time, the other person almost always uses Songza. Fix this Google instead of buying up our alternatives... Posted via Android Central App

Fix what? So you and someone else are trying to use the same account (which i m pretty sure isnt what google intended) and you are mad? Is that what you are saying?

You don't have a family or understand how that works?

Use Songza along with Google Play All Access. I find the playlists to be a good and easy way to mix things up. Have used slacker, Rdio and others, but find the combination of Google and Songza to be the best.

I am not a GPMAA subscriber, and I use Songze quite a bit actually. I really like it and the lack of ads is a HUGE bonus.
I usually set it to play through my home sound system for HOURS on end, and it just works. Love the idea of them mergin, but curious how it will all work out in the end.

GPMAA has never been quite up to snuff so when I'm looking for an unplanned mix, I typically use Songza (especially since Pandora's ads have gotten so invasive.

I use it every day, and am not a GPMAA subscriber. Loves me some Songza!

Curious to see how this works out. After Play Music, Songza is my number two music app. I would hate to see it go away altogether. Posted via Android Central App

Ill be honest. Never heard of it. Posted via Android Central App

Same here. Posted via Android Central App

man, i was gonna get on here to bitch about google buying some BS company... BUT, after seeing everyone give it so much praise i am gonna give it a shot! Already a GPMAA subscriber but i will use pandora occasionally (especially more lately with the BS "cant play the stream" crap going on)

They might just integrate this into google music. Posted via Android Central App

My problem with Songza is it is a big drain on the battery for an app with such a low quality bit rate. Which means there is way too much running in the background aka ads. I also wish they would let you swipe to the next track. Much easier than using the tiny forward button and clicking an ad by mistake. That said, I do love the playlists. They do get repetitive after awhile. But it is a good listen. Especially for 90's music but overall a good cross section. Google music radio stations are embarrassing in comparison. Slacker does stations the best followed by Songza. You can't save the playlists for offline though in Songza. Posted via Android Central App

First time ive heard of it.. Posted via Android Central App

Nope don't really stream unless it's my own list on Google music. I will on occasion use Pandora through the TV. Posted via Android Central App

I love songza. I hope they don't go android exclusive.

How many services has Google made Android exclusive? This is a baseless concern. Posted via Android Central App

$15m is cheap! Considering $16 Billion for whatsapp,

Won't lie as musically on top of things I am I've never heard of them, which is probably why they are so cheap, kinda Like a diamond in the rough. But Google could go higher should go higher, don't want to Insult them Posted via Android Central App

Did not know they existed until now. Just signed up and it looks great.

I love the idea of using Playlists like Songza's combined with the features of Google play. I was about to switch to Spotify just because of the Playlists, but if this deal is real, I will wait and see what will come out of it. However I Think 15 million is way too small for a service like Songza. Make it 1.5 billion and I will feel better for the creators of Songza. Posted via Android Central App

I'd rather see Slacker get picked up, but anything curated would be a plus. And maybe even give it a facelift like Samsung's Milk music for the Galaxies. Nifty interface and no ads.