Qualcomm wants to own the 'kid watch' market with its new Snapdragon Wear 2500 platform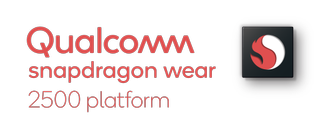 The Android smartwatch space may be sputtering along, but Qualcomm is not worried. Its new Snapdragon Wear 2500 platform, a pseudo-successor to the Snapdragon Wear 2100, is aimed at children. Specifically, kids aged four to 10 years old.
Such an age bracket may seem a bit young to be outfitted with connected gadgets — most kids under 10 don't yet have a smartphone — but Qualcomm thinks the realities are related. Parents want their kids to be accessible and trackable without giving them phones, and the Snapdragon Wear 2500 platform ostensibly provides the tools for manufacturers like Huawei, a hardware launch partner, to build those experiences.
The Snapdragon Wear 2500 platform builds on the Snapdragon Wear 2100, which was itself based on the aging Snapdragon 400 smartphone chip from 2013, by integrating a number of Cortex-A7 cores, a built-in LTE modem for phone calls, always-listening voice activation for Google Assistant, a sensor hub for gestures and activity tracking, NFC for payments at school, GPS and geofencing for location, and even a 5MP camera for video calls.
Qualcomm says that these watches won't run Wear OS but a variant of Android Oreo optimized for small screens and just 512MB of RAM.
One area Qualcomm says it's improved dramatically over the Snapdragon Wear 2100 is the battery: by utilizing improvements in design, power efficiency in various chips, and a lower-power modem, Qualcomm believes Snapdragon Wear 2500-powered watches will get over a day of use despite doing much more than the average smartwatch.
In reality, though, what it sounds like Qualcomm is doing is providing the tools for hardware companies to build small, basic wrist-worn smartphones for kids. Huawei thinks this could offset the lull in smartwatch interest, but it remains to be seen whether there's a sizeable audience for these kinds of experiences, especially since plain Android on a watch has typically been awful.
Qualcomm will be shipping development kits to interested parties in the fall of 2018, so it's unlikely we'll see any commercial products based on the Snapdragon Wear 2500 platform until 2019. In the meantime, we're still waiting for Qualcomm's real update to its smartwatch platform — the one that's set to power the next-generation of adult smartwatches. That is, if anyone's still buying.
Press release:
Qualcomm Helps to accelerate 4G Kid Watch Segment with Dedicated Snapdragon Wear 2500 Platform
—Qualcomm Snapdragon Wear 2100 Platform Now Widely Used in Kid Watch Products by more than 10 OEMs Across more than 10 Operators in more than 10 Countries—
**SHANGHAI, CHINA – June 27, 2018 ** Today, at Mobile World Congress Shanghai, Qualcomm Technologies, Inc., a subsidiary of Qualcomm Incorporated, announced its first platform targeted specifically for 4G connected kids watches. The Qualcomm® Snapdragon WearTM 2500 platform is designed to deliver a robust foundation with extended battery life, an integrated sensor hub with pre-optimized algorithms, low power location tracking, and the company's fifth generation 4G LTE modem, and optimized version of Android for kids. Built into a variety of customer devices, the Snapdragon Wear 2500 platform helps children to keep in touch with family, learn and grow with access to rich multimedia content, have fun and play with friends, and stay fit and active throughout the day – while also helping provide parents with peace of mind.
"If you look at the targeted kid watch and tracker segment the growth in these designed-for-kids but highly capable devices, is very exciting, and customers are seeing wide spread global demand. Qualcomm Technologies, Inc. has helped to drive this fast expansion of 4G kid watches with its Snapdragon Wear 2100 platform and there are more than 10 devices commercially available today through retail and carriers," said Anthony Murray, senior vice president and general manager, voice & music and wearables, Qualcomm Technologies International, Ltd. "With this next generation Snapdragon Wear 2500 platform, we are supporting new performance and features that customers will be able to use to create even more fun features and compelling use cases for these connected 4G kid watches and with our dedicated kid watch platform we aim to deliver a robust foundation that supports a rich and engaging experience for children."
A Robust Kid Watch Platform
Snapdragon Wear 2500 is designed for low power with up to 14 percent longer battery life across both active and standby modes of operation compared to prior generations. This extended battery life is supported via several new features including: Wearable PMIC, RF Front End (RFFE), location engine, Bluetooth streaming architecture, and processor and modem software optimizations. The new Wearable PMIC is designed to reduce Rock Bottom Sleep Current (RBSC) by up to 14 percent, is smaller by 38 percent and comes in a compact package that integrates power management, charger, fuel gauge, and haptics driver functionality. The new Gallium Arsenide (GaAs) based RF PAs are designed to consume up to 20 percent lower peak power compared to their predecessors.
The Snapdragon Wear 2500 platform is based on Qualcomm Technologies' proven, globally certified fifth generation 4G LTE multi-mode modem. Using the latest in global navigation satellite system and sensor fusion approach, the platform supports more accurate location tracking and is designed to implement reliable geofencing use cases, important for parents eager to track their child's location accurately.
Additionally, the Snapdragon Wear 2500 hardware platform is accompanied with an optimized version of Android for kid watches. Based on Android "O", this version fits in a 512MB memory footprint, is designed to consume low power by shutting off capabilities not needed, right sizes the modem for wearables use cases, integrates the sensor hub for low power highly accurate sensing, and adds kid watch specific features.
Designed to Bring Tomorrow's Kid Watch Experiences Today
Based on high-performance quad-core A7 processors and an Adreno-class graphics engine, the Snapdragon Wear 2500 platform is designed to bring rich messaging and integrated learning experiences to children. The platform supports a five mega-pixel camera for parents to get in touch with their child over a video call or for the kids to enjoy rich educational video-based content. The platform incorporates Qualcomm® Voice Activation and supports popular AI-based voice assistants, making it possible to converse naturally and access rich educational content on the web. The platform also integrates NXP's next generation highly secure NFC solution, which is designed to allow kids to leave their wallet behind for everyday purchases at school.
The platform integrates an ultra-low power sensor hub and comes with pre-optimized sensor algorithms designed to provide a highly accurate smart sensing experience. Using these sensors can help children to stay active and fit while parents can monitor the health of their loved ones. Additionally, the platform supports gesture-based gaming and entertainment applications so children continue to enjoy their experience with the kid watch.
Ecosystem Collaboration to Extend the Benefits of the Platform
Qualcomm Technologies announced that it is collaborating with Huawei as the lead customer for the Snapdragon Wear 2500 platform and is working closely with InvenSense, Inc. to extend choice of sensor algorithms to its customers.
"At Huawei, we are proud to be the first company expected to commercialize a 4G Kids watch based on the new Snapdragon Wear 2500 platform," said Rico Zhang, Smart Wearable and Health Product Line President, Huawei. "Built on the outstanding power-efficiency, 4G connectivity, smart sensing, and location capabilities that the new platform is designed to deliver, we are pleased to extend our long-time collaboration with Qualcomm Technologies, Inc. in the wearables segment and bring our next generation kid watches to the industry."
"We're excited to be working with Qualcomm Technologies, Inc. on the Snapdragon Wear 2500 kid watch platform", said Nicolas Sauvage, Senior Director, Ecosystem, InvenSense, Inc., a TDK Group Company. "Utilizing our vast algorithmic expertise in six-axis motion sensing, InvenSense, Inc is supporting multiple meaningful gestures on this platform, helping to provide OEMs with customizable responses to gestures, reducing development time, and humanizing the digital experience."
Qualcomm Technologies, Inc. is shipping commercial samples of the Snapdragon Wear 2500 platform to customers and via sales channels now. To help device makers bring exciting kid watches more efficiently and cost-effectively, Qualcomm Technologies, Inc. is working with a number of original design manufacturers (ODMs) on 4G kid watch designs. Additionally, Intrinsyc, a leading contributor in this effort, is aiming to offer a Snapdragon Wear 2500 based system-on-module and development kit will be available in the third quarter of 2018. The Development Kit is available for pre-order at http://shop.intrinsyc.com/collections/product- development-kits. Additional information is available at: https://www.intrinsyc.com/system-on- modules/.
Get the Android Central Newsletter
Instant access to breaking news, the hottest reviews, great deals and helpful tips.
Daniel Bader was a former Android Central Editor-in-Chief and Executive Editor for iMore and Windows Central.