The Simpsons: Tapped Out takes on Clash of Clans in latest update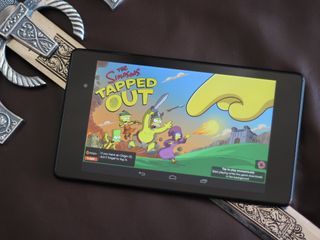 The Simpsons: Tapped Out is taking Clash of Clans head on in its latest update. Now your Springfield citizens can take up bows and swords and raid the cities of your friends similar to the Clash of Clans mechanism. Obviously you'll need to put up your own defenses to keep invaders out as well.
If you're just getting started with the game, take a gander at our top tips and tricks for The Simpsons: Tapped Out.
Tapped out has always been hilariously self-referential about its casual game status, and this update is no different. You'll still need to regularly check in on your town to collect cash and experience points, send familiar characters on quests for additional bonuses, and save up (or cave in to IAPs) to get the good stuff.
How many of you guys are already well-entrenched in Tapped Out?
Simon has been covering mobile since before the first iPhone came out. After producing news articles, podcasts, review videos, and everything in between, he's now helping industry partners get the word about their latest products. Get in touch with him at simon@futurenet.com.
I got lucky and found a support group for ex-Tapped Out junkies. Sure, the coffee is bland and the folding chairs are cold, but the support of the group is really why we are there. Without it, I may never have gotten off that toilet and stopped staring at my phone screen for hours on end waiting for the next building to get finished or the next character to complete their task. I can finally live my life again. It feels amazing. It really does.

Do I have to apply to get in or is everyone welcome? Posted via Android Central App

Everyone is welcome. It is starting to get rather large though, so we may have to add some more meeting times to the schedule.

I have been Tapped Out free for almost six months now, it had been wonderful to get my life back. My wife came back to me, I got a better job, even my cats respect me now. Posted via Android Central App

I'm proud of you! Stay strong, my friend!

I mean no disrespect at all but are you being serous? njo¡! acApp

No. Were you hoping this was real? I seriously bet there are people out there who could use something like this.

Can you restart your city in this game? I played this game way back when it released but screwed up the layout of my city really bad and when I found out I couldn't start over I quit.

Yeah, go to move a building and you'll see the atomic bomb button. It _is_ a pain in the arse to set back up, though.

Silly question. If you do restart your cuty, do you have to stay all the way over, as in from level 0, or does it just wipe the city clean and you have to replace all the buildings? Posted via Android Central App

Just an easy way to place all your items in storage so you can start clean. You'll still be the same level and at the same point in the storyline. njo¡! acApp

CoC and Tapped Out are the only two games I play these days so combining the two is AWESOME! Love it! What a great idea. Posted via Android Central App

I love this game, I dont do much in the way of mobile gaming but this and Family Guy kill ten minutes every now and again. This is the first tapped out update that hasn't done much for me though, would rather see content related to the show.
Android Central Newsletter
Get the best of Android Central in in your inbox, every day!
Thank you for signing up to Android Central. You will receive a verification email shortly.
There was a problem. Please refresh the page and try again.