Simpsons Tapped Out and Family Guy Quest for Stuff get new stuff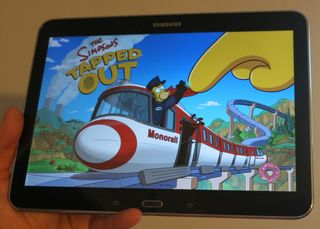 One of the best things about city building games is they grow as fast as the cities of the gamers who play them – sometimes even faster. All the best city builders receive a constant drip feed of new content and events that keep things interesting. In fact, two of the largest and most popular mobile city builders have just gotten major updates: The Simpsons Tapped out from Electronic Arts and Family Guy: The Quest for Stuff from TinyCo.
The Simpsons Tapped Out now features the fabled Monorail, as seen in the classic episode 'Marge vs. The Monorail.' And Family Guy: The Quest for Stuff has a big music-themed event going on called Peterpalooza that features the voices and likenesses of six major artists. And as a bonus for Android users, unlocking all of those artists will get them a free album download from Google Play. Read on for full details!
The Simpsons Tapped Out
In The Simpsons Tapped Out, Homer accidentally destroys the town of Springfield. Players will have to help him rebuild it, one building at a time. Along the way they'll collect and unlock countless iconic locations and characters from the Simpsons.
The Monorail update adds:
Learn to collect junk, recycle it into valuable resources and turn them in to build their Monorail.
Access 5 new characters including Sebastian Cobb, Conductor Homer, Ray Patterson, Jessie Grass and Hippie.
Build 13 new buildings like the Dump, Uriah's Heap Recycling Center, the Monorail Station, terminals and depots.
Play with 31 new decorations: drive the Garbage Truck, watch the Garbage Pile grow, fear the Abandoned Mine, and enjoy the Golf Course Green.
Download the Simpsons Tapped Out (Free) (opens in new tab)
Family Guy: The Quest for Stuff
Stop me if you've heard this one before. Peter Griffin, the "lovable" oaf from Family Guy accidentally destroys his home town of Quahog. Wouldn't you know it, players will have to help him rebuild the clam-loving place? Sounds like a recipe for a city builder alright!
The 'Peterpalooza' update involves our umm, hero Peter organizing his own music festival. Unfortunately, some mysterious saboteur threatens to derail the entire event. Peter will have to recruit and team up with real-life artists like Snoop Dogg, "Weird Al" Yankovic, Deadmau5, Alice Cooper, Avril Lavigne, and Rick Astley in order to pull off the show and stop the show-stopper. All of those artists pitch in their voices for a truly star-studded event.
As if the new characters and festivities weren't enough, the Android version of Quest for Stuff features an exclusive reward. Players who unlock every musical artist during the event will get a free album download "only available on Google Play." What songs are on this mystery album? We can't say for sure, but a compilation of songs from the 'Peterpalooza' guest stars would be pretty freakin' sweet.
The Peterpalooza event is going on now and lasts through Thursday, September 17.
Download Family Guy: The Quest for Stuff (Free) (opens in new tab)
Do you guys play Simpsons Tapped Out or Family Guy: The Quest for Stuff? If so, how tough is it to get this new stuff?
Android Central Newsletter
Get instant access to breaking news, the hottest reviews, great deals and helpful tips
Now if I could only get Family Guy Quest for Stuff to run on my Samsung Tab S 10.5, I'd be set >_<

That's strange I have been playing family guy on my tab s 10.5 since I got it last year... Been working fine for me. What happens when you try to launch the game? Posted via the Android Central App

Installed & played fine at time of installation. Two days later, it would not get beyond the loading screen -- loads to about 93% and then just stops -- wont go beyond the loader.

I stopped playing Family Guy after that South Park episode...really put things into perspective... Posted via Android Central App

I can't stand post-Season 3 Family Guy myself. The South Park episode does take down modern Family Guy's writing quite nicely.
Android Central Newsletter
Get instant access to breaking news, the hottest reviews, great deals and helpful tips
Thank you for signing up to Android Central. You will receive a verification email shortly.
There was a problem. Please refresh the page and try again.