Sid Meier's Civilization Revolution 2 coming to Android devices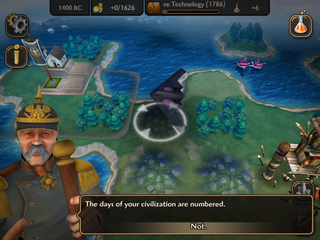 2K Games has announced it will release Sid Meier's Civilization Revolution 2 for Android, but a specific release date and price has yet to be revealed.
Despite the title, Civilization Revolution 2 will in fact be the first game in the long running turn-based strategy series that is being developed from the ground up specifically for mobile devices. The original Civilization Revolution was released for game consoles first in 2008 before being ported to iOS in 2009 and Windows Phone in 2012. However, 2K Games did not release that game for Google's mobile OS. Therefore, the launch of Civilization Revolution 2 will in fact be the first game in the series to be released for Android devices.
Developed by Firaxis Games, Civilization Revolution 2 will feature a user interface created for touchscreen devices. 2K Games added:
The game will have all of the 16 historical leaders that players encountered in the first Civilization Revolution, such as Abraham Lincoln, Gandhi and Napoleon. It will also let players interact with some new famous figures such as Winston Churchill and John F. Kennedy. 2K Games has yet to announce any specific hardware or OS requirements for the Android version.
What do you think of 2K Games finally planning to release a Civilization game for the huge Android marketplace?
William Churchill. Honestly n5

Lol! Via a cool AC App on a great Nexus 4

Big Willy Churchill, a famous man indeed. Excited for this game on Android nonetheless, as addicting as any I've played.

Just curious - Your URL seems to suggest July 2nd, yet your post states no release date? Edit: It also states iPhone and iPad, so I presume copy paste woes. Sorry.

Yeah, I realised that after I posted - Similar post on iMore.

Finally! A worthy replacement to Great Big War Game! I've played Civ since version 1 on an Amiga 2000. Always enjoyed the many permutations to game play. I thought IV was a bit over the top with eye candy at the expense of the game play, but I think I might actually like this.

Heh... Civ was the 1st game I got for my Packard Bell 386. My Hard drive crapped out and had to be sent in for warranty work, and I had Civ on a 5.25 floppy, so I booted to 3.5 and played Civ for 2 weeks until the HD made it back.

You could just give me the full version of Civ 2, updated with a better control scheme for fingers, and I'd buy.

This. My phone is more powerful than the computer I used to run CIV 3 (and 4) on. Just port that to mobile and let me play it...

If you have an Android device, FreeCiv is based on Civ2. https://www.androidcentral.com/e?link=https2F2F...

Is this version based closely on any particular version of the desktop games? What is the level of complexity compared to Civ 1-4? These are the guys who did XCom: Enemy Unknown, yes? If so, they do nice work. I'm looking forward to this...

If it's roughly the same game that's also on iOS and WP (And DS, PSP, etc.), then it's quite good, but it's a lot simpler and not as complex as Civ 4 or 5... Plays a lot faster, if I remember well (played it more than 3 years ago...) you can play a full game in about 3-4 hours. Not the same depth as XCom unfortunately...

Yes! And when?
I've played all versions on PC...

Hoping it's a little more robust than the first Revolutions. I've been considering buying a Surface to play Civ 5 on the go, among other reasons. Posted via Android Central App on my Republic Wireless Moto X

Can't wait!!! Loved the first one on iOS. Posted via Android Central App

can't wait! have played civ series since the first game back in my university days over 20 years ago. hope sid brings out pirates! and railroad tycoon too! Posted via Android Central App

IAP? May work for me without IAP. Posted via Android Central App

I really wish that they would just port over a proper Civ title. Android: It will make you a sexual tyrannosaurus, just like me.

Amazing! fist Civ V available for linux and now this!

Awesome news! This is going to be sweet on my Galaxy Note 3 and Galaxy Note 10.1 2014 Edition. Hopefully they have it take advantage of high resolution screens. Posted via Android Central App

If it's freemium, it can suck my lolly pop. Posted via Android Central App

I can't wait for this! But I have to :(
Android Central Newsletter
Get the best of Android Central in in your inbox, every day!
Thank you for signing up to Android Central. You will receive a verification email shortly.
There was a problem. Please refresh the page and try again.