Shots from the Essential Phone's 360-degree camera are pretty decent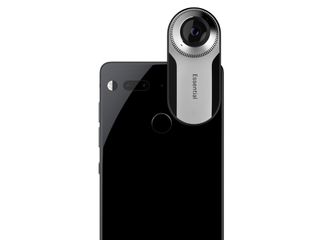 The internet as a whole is getting a good laugh at Essential execs publishing terrible low light shots from the Essential PH-1 on Twitter and pulling them out of embarrassment when seeing the reactions, but YouTube has something more interesting to share. Short clips from the 360-degree camera accessory planned for this phone have been hitting the Essential YouTube channel, and there's a lot to like in these videos.
Assuming you don't have to leave this page to look up who Cameron Dallas is, there are a few things about this video that help tell us how good this 360-camera is. For starters, the stitch lines are blurred well and are only obvious in very specific lighting conditions. This is great, it's the same king of experience you'll get from almost every consumer-grade 360-degree camera right now and holds up well as the video transitions through a bunch of different lighting conditions.
Second, the camera is actively changing light exposure settings during the recording. A lot of lower-end 360-degree cameras can't do this, opting instead to pick a single exposure and record only on that setting. As the video shifts from reasonable lighting indoors to darker hallways to direct sunlight outdoors the camera is compensating and that makes the rest of the video enjoyable.
This short clip gives you a better look at the blur lines to the left and right, but more importantly gives you an idea of how much detail is available from these sensors. Crank that video up to 4K playback, and you can see lots of detail as far back as five seats behind the actual camera. The court is nice and clear as well, though you start losing detail right around the net. This is decent for a fixed focal length camera like this, easily on par with the experience you'd get from the new Gear 360 in this same environment.
It'll obviously be a while before we're able to really put this camera through its paces, and of course the rest of the Essential PH-1 has to be worth using in order to justify this accessory in the first place, but first impressions here are pretty high. Here's hoping we have a good reason to want this camera soon.
Get the Android Central Newsletter
Instant access to breaking news, the hottest reviews, great deals and helpful tips.
Mind if someone who've seen the shots could tell me what was wrong with the low-light shots from the phone? Were they too noisy or had too much detail smeared by noise reduction? Were the highlights overly blown out? Was there too much camera shake? UPDATE: Seen them. I'm unimpressed. Too noisy and lacked dynamic range and detail. It looked like it came out of a phone camera from 2012, to be honest. Hopefully they've sorted out the software processing. I don't mind noise, but that's just too distracting.

These are worse than the lg 360 cam.