Great SAT Prep apps for Android to get you ready for test day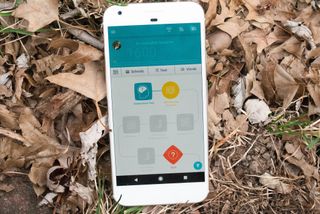 For many high school students, one of the biggest tests they will ever take is the SAT. It can cement their chances of getting into the university of their dreams, or derail those plans. While the SAT can be plenty stressful, by employing a solid studying strategy you can do everything to prepare yourself for the big day. These apps will make sure that you have a solid grasp on what you need to know on the big day.
SAT Vocabulary Flash cards
Getting ready for the SAT definitely involves making sure that you have a solid grasp on a wide vocabulary. After all, vocabulary comprises a full third of the test. If trying to make hundreds of flash cards seems daunting, or you want to be able to study up on word meaning by whipping out your phone during a dull moment, then the SAT Vocabulary Flashcard app should definitely pique your interest.
There are 350 flashcards included in this app, and they're broken down into six categories to make sure you don't get overloaded while studying. Each flashcard gives you the word itself on the front. When you tap the card it will flip giving you the definition of the word, and use it in a sentence. There aren't any options other than learning, and reviewing words.
If you like the setup of this app, you can check out more of Magoosh's SAT prep apps like vocabulary building, and practice testing.
See on Google Play (opens in new tab)
Daily Practice for the New SAT
This app is ideal for students who are still months away from their actual test day, and definitely follows a slow and steady study pattern. It aims to be a quick daily resource that lets you tap through a few quick questions everyday, without turning your life into something that revolves entirely around studying.
There are four daily questions that you can answer, and if you choose to make an account you'll be able to track your responses. You don't need to make an account in order to access the daily practice questions, but without an account you won't have the ability to graph your progress as you study and learn. If you take a full paper and pencil practice test, you can use the app to scan the test and see your answers. This is a great way to see where you are struggling and what you need to focus on.
Additionally, they have a partnership with Khan Academy, where there are courses to help get you prepped for test day.
See on Play Store (opens in new tab)
Ready4SAT
Ready4SAT aims to be a complete personalized preparation for the SAT. You start by inputting your goals for the test, including whether you have taken the SAT before, what your ideal score is, and when you plan to take the test. After you set your goals and make an account you'll be given a roadmap which covers each concept in turn.
Along with learning concepts there are assessment tests, quizzes, vocabulary aids, and more all within the app. As you complete quizzes, and steps on the roadmap the app will provide you with an estimated SAT score. This can help you to see where you are succeeding and struggling. There is also a vocabulary section with 350 words to memorize for use during the test.
While you can get access to tons of features for free, by upgrading to a Pro membership for $4.99 will give you access to practice tests, along with a huge amount of expanded content to make studying for the SAT as easy as possible.
See on Play Store (opens in new tab)
SAT up
SAT up is a great resource for students who are aiming for a better score than the last time they took the SAT. It starts by having you take a diagnostic test so that the app understands your breadth of knowledge, and so that it can create personalized questions. You'll be able to see details on where you're having problems, down to the concept that you are having difficulty with.
If a particular concept is being difficult to wrap your mind around, you can hire a tutor from within the app. This may not be necessary —and will run you $50 an hour— and the app does remind you to try their personalized practice system before ponying up for a tutor. After practicing for a few weeks, you might be inclined to attempt a full practice test, and you can do this from within the app.
See on Play Store (opens in new tab)
Your turn
Preparing for the SAT can be a daunting task, but instead of getting overwhelmed, take a breath and check out one of the apps we've collected here for you. Whether you want to focus on getting your vocabulary up to snuff, you want to raise your score the second time you take the test, or just be as prepared as is possible, these apps can help you to hit those goals.
Is there an SAT prep app that you swear by that we didn't cover here? Have you used any of these apps? Be sure to leave us a comment below and tell us about it!
Android Central Newsletter
Get instant access to breaking news, the hottest reviews, great deals and helpful tips
Jen is a staff writer who spends her time researching the products you didn't know you needed. She's also a fantasy novelist and has a serious Civ VI addiction. You can follow her on Twitter.
Android Central Newsletter
Get instant access to breaking news, the hottest reviews, great deals and helpful tips
Thank you for signing up to Android Central. You will receive a verification email shortly.
There was a problem. Please refresh the page and try again.