Samsung Internet is actually a better Android browser than Chrome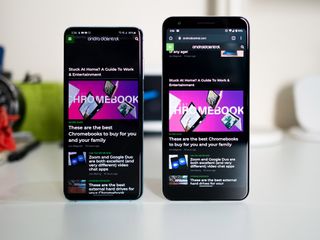 (Image credit: Harish Jonnalagadda / Android Central)
Chrome continues to have the lion's share of the mobile browser market just by the fact that it's pre-installed on most Android phones, but there are exciting alternatives available. There's Firefox (opens in new tab), Brave (opens in new tab), Microsoft Edge (opens in new tab), and Vivaldi debuted on Android just this week.
Over the last few weeks, I've turned to Samsung Internet as the default browser on my Galaxy S20, and it has been a revelation. I used Samsung's browser several times in the past, but it was never my default browser. So I decided to make the switch and see how it holds up over extended use, and I can now say that it is better than Chrome for day-to-day use.
Samsung Internet is installed out of the box on every Galaxy phone, and if you're using a phone from another manufacturer you can install it from the Play Store (opens in new tab). The user interface itself is clean, and you get a list of recent sites as well as a news feed powered by DailyHunt. Like Chrome, the stories that you see in the news feed change based on your browsing history. Of course, if you don't like to see suggestions, you can always turn the feature off.
One of the best things about Samsung Internet is the fact that you can install an ad blocker. There's a dedicated section for ad blockers, and you have the ability to pick from a variety of providers, including AdBlock, AdClear, AdGuard, Adblock Plus, and more. The fact that you can easily install an ad blocker and disable ads on a mobile browser gives Samsung Internet a distinct edge over Chrome, and while Samsung's browser isn't the only one in offering this feature, it stands out in a lot of other areas.
The interface is cleaner, and you get a toolbar at the bottom with the back, forward, and home buttons that make it easier to navigate. As with everything else on the browser, the toolbar is customizable, and you can switch out the default bookmarks and tabs buttons with a host of other options. If you want easy sharing options, you can add the share button to the toolbar, and the same goes for downloads, history, saved pages, print, add-ons, and more.
Starting out with a new browser is cumbersome, but you can get your bookmarks and other data from your desktop Chrome easily with the Samsung Internet extension. Just install the extension and it will sync all bookmarks with Samsung Internet on your phone.
A recent update to Samsung Internet introduced browser extensions on mobile, similar to what you'd find on the desktop version of Chrome. Extensions are available on the Galaxy Apps store, and while there isn't a lot to choose from right now (you'll find Web of Trust and another ad blocker), that could change in the coming months. The browser integrates with most password managers, and 1Password was able to autofill my login information on sites without an issue.
The customizability here gives Samsung Internet a clear edge over Chrome. You can change the position of the scroll bar to the right or left of the screen, or hide it entirely. There's also a QR code scanner, and you can just disable autoplay videos from the browser settings. You can change the search engine from Google to Yahoo, Bing, and DuckDuckGo, switch to a desktop-style tabbed interface, and manually change text scaling on webpages. And like Chrome, you can always pull up a desktop version of a site.
A nifty feature is the distraction-free reading mode that strips away all the design elements on a page, allowing you to focus on the text. The browser also has a robust download manager, and there's a private browsing mode dubbed Secret mode with anti-tracking features enabled by default. The best part with Secret mode is that you can use biometric authentication — like face unlock or fingerprint data — to launch a private browser session.
Samsung Internet automatically launches in dark mode if you have the system-wide dark mode toggle enabled on your phone. The browser has Do Not Track baked in, and while it's off by default, it is easy to toggle the option. You can also disable cookies, sign into websites automatically with Samsung Pass (which stores login info and uses biometric authentication), and Samsung introduced a video assistant last year that gives you more control over video playback within webpages, allowing you to use a pop-up player for videos.
Then there's the fact that Samsung Internet offers a better scrolling experience. The browser itself is based on Chromium and uses the Blink engine — just like Chrome — but there is a noticeable difference in the experience between both browsers. Although the Galaxy S10 has a 120Hz display, there are times when scrolling just isn't smooth on Chrome, and that was not the case on Samsung Internet.
This may vary with your use case, but on my Exynos 990-based S20, I found that Samsung Internet consumes less battery than Chrome. At the end of the day, using Samsung Internet was just a more enjoyable experience. The toolbar at the bottom makes it easy to navigate pages when browsing, the tab manager has a cleaner layout, and you'll love the sheer amount of customization on offer here. There really is a lot to like in Samsung Internet, and if you're not satisfied with Chrome for whatever reason, you should give Samsung's browser a try.
Samsung Internet
Samsung Internet offers a better experience and comes with an exhaustive list of features that include an ad blocker, secure browsing mode, easy customizability, and greater control over video playback. Honestly, there's just so much to like here that you should give Samsung Interet a try if you're looking for a change of pace from Chrome.
Android Central Newsletter
Get instant access to breaking news, the hottest reviews, great deals and helpful tips
Harish Jonnalagadda is a Senior Editor overseeing Asia at Android Central. He leads the site's coverage of Chinese phone brands, contributing to reviews, features, and buying guides. He also writes about storage servers, audio products, and the semiconductor industry. Contact him on Twitter at @chunkynerd.
Well, I don't know if there's any Samsung ass kissing going on, but in the end the reason Chrome is ubiquitous isn't because it's pre-installed - because so is Samsung on Samsung devices - it's because Google's entire plan is to have all the internet services tied together in one Google experience. Which they do very well - Chrome is tied at the hip with all the other Google services. The vast majority of users just go with it because they make it easy. You have to want to change for an actual reason, such as you hate Google, or perhaps you're obsessive-compulsive about a particular feature or you get truly hung up on things like memory use, etc. The vast majority simply don't care, they aren't looking for extra work.

You kind of went around in a circle there...

There's definitely some Samsung ass kissing going on here, Google Chrome is better as it is cross platform and it's Google.

Dude, no. UX is so much better on Samsung Browser and it blocks those nasty ads. The only benefit I kinda see for Chrome is cross-platform but I don't think people care that much about it.

Yeah the Ads are annoying sometimes but I won't use anything else as I think anything else is inferior to Chrome and I have too much investment in Chrome to change plus Safari on iOS is the only other browser I'm interesting in.

I use an add blocker on my iPhone and it is such a better experience. The fact that Samsung allows you to do the same would prompt me to give it a try for sure.

Most Android browsers are actually better browsers than Chrome lol.

This right here. I use a combo of Samsung internet and Microsoft Edge on my Note 10+

I'm with you use edge mostly. I do find it funny that Microsoft got hit hard years ago for having ie installed on all PCs yet the same has not happened to android or ios.

Only in your opinion, not in mine, the only other browser I rate next to Chrome is Apple's Safari on the iPhone. I don't care for other browsers except for those two.

I wanted to try Samsung Internet, but it doesn't seem to support LastPass, so that makes to a no-go for me.

The same reason I don't use it anymore. Roboform is my password manager.

You can't even sign into Google using the Samsung Internet browser. It makes the experience inconvenient for me.

Yes you can? Lol if I chose Google as your search engine just sign in and violá you're in

I tried numerous times. It keeps saying that it can't verify that the account belongs to me. Google is set as my default search engine.

Something else is going on. I have it signed in on my Lenovo tablet and my tablet running revolution remix.

The "News Feed" turn off toggle never worked in any of my Samsung Devices. Turning it off simply adds a different kind of news feed to the browser. There's no way to completely remove the news feed. One reason, Samsung Internet browser is trash IMO.

I'm not interested in Samsung's browser, as I prefer the Google way with Chrome and I'd pick Apple's Safari over any Samsung browser as well.

Chrome is garbage on Android. Easier to get around with Samsung browser, been using it for years. iPhones are junk anyway so have fun with Crashfari

Why is Chrome garbage? Just curious.

more steps to get to the same place. not secure. spam is allowed. not a user friendly interface.

Chrome is better than any other browser with only Safari being it's equal and your comment is clear that you haven't used Chrome.

I've seen switched to Samsung Internet and its so much better than Chrome, its so much smoother and the fact that I can block ads is a bonus along with the awesome customisation options.

I switched after I noticed Chrome was a turtle compared to Samsung Internet. The ad blocking features were the icing on the cake.

I too love the Samsung browser. I use it as well as the Firefox browser. Samsung browser is my default though. Not a fan of Chrome. I prefer Firefox on a desktop and Samsung on the phone.

Did no one catch that the article references the S10 having a 120hz display :p

What??? Android Central usually says that every Google app is the best and Samsung apps are just bloat. I was surprised by this article and I agree with it. I switched to Samsung Internet from Chrome about a year ago. But it's ok to use what ever you like.

Samsung's browser is certainly nice. I love the dark theme (true black), the scrolling is super smooth, the ad-blockers work very well and the opening screen where you can save favorites is just nice to me. However, I spend a lot of time switching between my work laptop and my phone and having the browsing history between the two sync up immediately is just something I cannot get away from. For that reason, I stick with Chrome Once Samsung Internet starts syncing up browsing history then I'll switch permanently.

I can't believe that the very handy "Go to top" wasn't mentioned. After the fact that controls are at the bottom off the screen, this is my favorite feature.

My only issues with the Samsung Internet browser is that LastPass does not work and there's no syncing your history/tabs to PC. However, Google going out of their way to make Chrome terrible for big phones is more than enough reason to not use Chrome on phones. Might switch to Edge on PC just out of spite.

I've changed my mind, since I switched to Samsung Internet on my S20 FE 5G and it rocks no ads and is faster than Chrome ever was and its easier to use than Chrome. So yeah, Samsung Internet is way better than Chrome and any other browser I've used.
Android Central Newsletter
Get instant access to breaking news, the hottest reviews, great deals and helpful tips
Thank you for signing up to Android Central. You will receive a verification email shortly.
There was a problem. Please refresh the page and try again.