Samsung Galaxy Watch vs. Gear S2: Should you upgrade?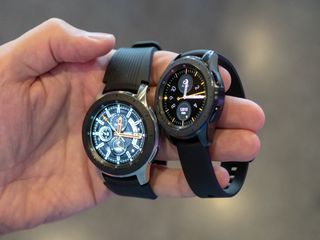 (Image credit: Android Central)
If you've got an Android phone, one of the dominant forces in the smartwatch market is Samsung. The company's Tizen operating system and unique hardware design have allowed for some truly excellent wearables over the years, and in 2018, Samsung's big smartwatch is the Galaxy Watch.
The Galaxy Watch has a lot going for it, but for owners of the Gear S2 from 2015, is it worth the $329 upgrade?
Let's find out!
What the Galaxy Watch does better
Samsung's Galaxy Watch is its newest wearable gadget, and as such, you'll find all of the latest available tech packed inside of it.
The two biggest upgrades you get with the Galaxy Watch lies with its performance and battery endurance. Samsung's using an "optimized" Exynos 9110 processor to power the Watch, allowing for faster app-loading times, UI navigation, and more compared to the dual-core 1GHz Pega-W CPU of the Gear S2.
That "optimized" processor also means you won't have to charge the Galaxy Watch as frequently. While the Gear S2's 250 mAh battery only lasts for about a day, the Galaxy Watch has a reported 5 days of use before needing to hit the charger.
The Galaxy Watch also ships with Tizen 4.0 out of the box — a new version of Samsung's wearable operating system that likely won't ever make it to the 3-year-old Gear S2. Tizen 4.0 looks a lot like previous versions of the OS but offers a stronger focus on fitness with the ability to record 40 different workouts and auto-detect seven of the most popular ones. Speaking of fitness, the Galaxy Watch even has a built-in GPS chip.
Last but certainly not least, the Galaxy Watch comes in 42mm and 46mm sizes (the Gear S2 is only available in 42mm) and has 5 ATM water resistance with Corning's new Gorilla Glass DX+ display that's built specifically for smartwatch wear and tear.
See at Samsung (opens in new tab)
What the Gear S2 still does well
The Gear S2 is certainly getting up in its years, but that's not to say it should automatically be thrown to the curb. In fact, it holds up quite well to the Galaxy Watch in some regards.
This past March, Samsung updated the Gear S2 with a completely refreshed UI, more robust fitness-tracking features, Gear VR controller support, and more. I wouldn't hold my breath for Tizen 4.0 to make its way to the Gear S2, but in its current form, it's essentially running the same exact software found on the Gear Sport that was just released last October.
As for hardware features, the Gear S2 has a heart-rate monitor, support for Samsung Pay using NFC, Samsung's excellent rotating bezel, and an optional 3G model that's still sold at (opens in new tab) some U.S. carriers.
Should you upgrade?
Considering the Gear S2's age, it's kind of remarkable as to just how well it's held up over the years. It still looks great compared to more recent smartwatches, has many of the same hardware features, and Samsung's commitment to sending software updates its way has allowed it to get even better with age — something we seldom see in this field.
If you're still holding onto your Gear S2 and don't feel like throwing down $329 on the Galaxy Watch, you can keep using it without missing out on too much.
On the flip side, if you've got the cash to spend, the Galaxy Watch has everything that makes the Gear S2 great with a faster processor, considerably better battery life, GPS, and will see better software support going down the road.
What do you plan on doing? Are you going to pick up the Galaxy Watch? Let us know in the comments below!
Joe Maring was a Senior Editor for Android Central between 2017 and 2021. You can reach him on Twitter at @JoeMaring1.
Gear/Galaxy watch desperately needs to either integrate Google assistant, maps, etc. Or if that's not possible, it's time to switch the WearOS.

I wouldn't say, "desperately", since lots of people get along just fine without GA or Maps on our wrists. Having navigation was nice on my Moto 360, but I haven't missed it at all since switching to a Gear S2. It probably matters more for a watch that has LTE built in, since those are more likely to be used without having your phone nearby. But I personally wouldn't want to lose Tizen's speed and UI just to gain Google features that I can use on my phone.

I'm still rockin an S2 and don't see any reason to drop $300+ for basically the same thing. It handles all notifications extremely well, fitness, music, etc... I could care less if doesn't have some ridiculous app like maps because I'm never using that on a freaking watch. Props to Samsung for sticking with Tizen, it's superior

Probably sticking with my S2, love Tizen, I'm used to charging daily, just like my phone, not a big deal

My Gear S2 still works perfectly fine for me. I'll spend that $300 somewhere else.

In February, I bought a used Gear S2 that had mostly sat in its box since being purchased by the original owner. I wear it every day for about 15-16 hours, and the battery is typically around 60-70% when I put it back on the charger. I don't see a reason to buy a Galaxy Watch now, but I'll probably be looking at it in a year or two when it's discounted.

I too bought both mine and my son's 2nd hand. Mine comes off the charger at 5:30am goes back on just after 7:30pm. I end the day with 71-74% battery life left. I get calls, text messages and life360 notifications on it. I have GPS, mobile data and BT turned on. Sticking with this until it dies.

I still have a Gear S2 Classic. Smaller than later models but fits my wrist perfectly. Notifications and workouts and basic watch functions are all I need from it. Plus it still looks great. I'm sticking with it.

Isn't there supposed to be some big news regarding smartwatches this fall? Something about a big leap in battery management or processor power draw? I think I'll just wait and see what the fuss is about. Til then, I'll still be rocking a Pebble. ;)

Id upgrade to the s3 frontier first, probably cheaper than the new one.

That's WearOS watches, this is Tizen so that won't impact this

The biggest reason NOT to leave your S2 behind... Samsung Pay MST is NOT in the Galaxy Watch. Only NFC for Galaxy Watch. I find VERY few places I can't use Samsung Pay with MST. Yet NFC only seems to be functional at 1 of 5 places I shop. This is an absolute deal killer for the Galaxy Watch.

Only the Gear S3 has MST.

I've never been able to use any sort of pay feature on my s2. I think you need a Galaxy phone for it

Love my Gear S3. Where does MST make a difference?

I retired my Gear S2 last months after 2 years of continuous use. It still showed good performance, 1.5/2 days battery life, and the rotating bezel never stopped thrilling me. The only reason I got rid of it was because one of the straps wasn't holding in place anymore (I made a mistake when replacing the straps). The only solution was to replace the entire housing.
I replaced it with a Gear Fit 2 Pro this month, and although I love it's performance and offline Spotify feature, I really miss the rotating bezel, classy and compact design of the Gear S2

Still rocking my gear s3 frontier. Battery life is not as good as day 1 but it can get me through a day and a half to 2 days. And I think the Gear s3 frontier looks better also. I can't wait to pair it up to my Note 9 tomorrow.

The wife and bought 3G S2 for AT&T's network and really enjoyed the freedom from our phone they gave us while out and about. We ended up having to switch to VRZN and lost the feature we loved most and could also never get them to connect to our new phones. Anyways, seems like an expensive toy now, versus a tool. Based on this article, it does not seem worth upgrading if you already have a S2.

Still using my S2 Classic linked to my iPhone for work and last year's Gear Sport attached to my One plus 5T. Don't see a need to update yet since both of these give me everything I want in a smartwatch. My wife has an Apple watch and I'm loving my Samsung watches in comparison.

I still have my S2. Almost perfect Watch i just need more battery and better Bluetooth.

So if it's a coin flip on upgrading from the S2, then I'm definitely not going to bother thinking about upgrading from my S3.

Purchased my s2 3g from Verizon 2 + years ago for $50 (still can't believe it). Have a couple of really nice stainless bands and the watch still looks and performs like the day I got it. Still pains me that my S1 sits in a drawer. Anyway don't see any compelling reason to upgrade. Maybe if I could get an S3 3g for $50...

I currently have an S2, which has been fine for me. I was given an S3 frontier yesterday as a present, which I haven't opened it yet. I'm considering returning the s3 and getting a galaxy watch. However, from what I've read, I may just keep the S3. I use Samsung pay on my note 8 frequently and I'm used to charging every other day with my S2. The current price difference is about $83 pm amazon. Does anyone have insight or experiences to share regarding upgrading to s3 vs galaxy watch from an s2?

I am quite happy with my S2, but I've preordered the Galaxy Watch anyway here in the Netherlands to check for myself how much better the screen is (more depth?). I also like the better battery life which would allow me to check on my sleeping patterns and the "goodnight" mode, which would prevent me from going blind during the night when I wake up. As mentioned in the article, the GW sounds like a more complete S2. The pre-order deal includes the wireless Duo charger, which I think makes it worthwhile. If the Galaxy Watch disappoints I will return it and continue to use the S2 without much regret.

I've had my Gear S2 Classic since April 2016. If I don't interact with it all too much, its battery can last 2 days or so before needing a recharge. I also mostly wear when I'm going away somewhere (school, work, etc.) or when my family have guests. I'm saving to potentially buy a Galaxy Watch later this year or early next year.
Android Central Newsletter
Thank you for signing up to Android Central. You will receive a verification email shortly.
There was a problem. Please refresh the page and try again.