Samsung Galaxy S6 versus iPhone 6: Camera shootout!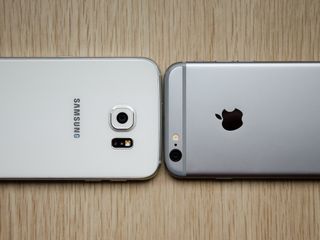 Advancements in smartphone photography prowess have turned everyone into a photographer, and while taking a great photo isn't just about the device you use it certainly doesn't hurt to have the best technology available. Both the Galaxy S6 and iPhone 6 represent the top end of what's available in terms of smartphone camera technology, giving you plenty of potential to work with when capturing the moments that matter to you. Naturally we wanted to put these smartphones to a test, then, to see which can do better in a variety of photography situations.
Will the Galaxy S6 or iPhone 6 come out on top? We tested both to see which phone does the best in common photography situations.
READ NOW: Galaxy S6 versus iPhone 6: Camera shootout
Testing method
The goal of this comparison is to see how both phones handle photography in a few different situations while handheld, in full automatic mode, with auto HDR enabled. This best represents the way smartphones are used for pictures — pick out a scene, take out the phone and snap a picture.
For reference on some of the shots, we also took the same photo with an Olympus E-PL5 camera using a 25mm f/1.8 lens to give you a better feel for the scene. None of the photos were edited after capture or cropped, though we've chosen to change the Galaxy S6 to a 4:3 aspect ratio (in the camera settings) to match the iPhone 6 and Olympus camera.
As a warning, you may notice slight differences in framing between shots due to the photos being taken by hand and the differences in focal lengths between the cameras. All images will be shown side-by-side and properly labeled — click each image to view it larger in the window, and use the arrows on the picture to see the comparison picture. Due to web page restrictions the images are limited in their size, but you can view and download high-resolution versions from this Google+ post.
A note for mobile users: Due to the number of images, the comparison will be best viewed on a computer and will not fully load in the Android Central App. Our apologies — we hope you can view the full story on a computer!
Daylight photos
When it comes to photography, the more light you have the more forgiving the scene is. Most modern smartphones are pretty solid in these well-lit situations, and as long as the software processing doesn't go overboard you can get an accurate shot. The big difference comes in the extra bit of processing to get the right white balance, the proper sharpening and enough extra contrast so that the picture is pleasing to the eye. Nowadays its also important how often and when the phone chooses to shoot in HDR, which can fix some of the issues associated with taking smartphone photos.
Image 1 of 2
Galaxy S6: left / iPhone 6: right
Image 1 of 2
Image 1 of 2
Image 1 of 2
Image 1 of 2
Image 1 of 2
Image 1 of 2
Image 1 of 3
Galaxy S6: left / Olympus: center / iPhone 6: right
Image 1 of 3
Image 1 of 2
Image 1 of 2