Samsung Galaxy Note 5 versus iPhone 6s Plus: Big screens and bigger expectations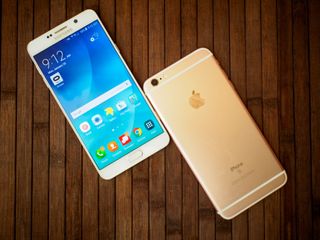 Samsung has been making big phones for a long time now, and through all the ridicule and mockery the company saw a clear market for folks who wanted a bigger screen in their pockets. While the Galaxy Note line has always been set up as the phone for people who want to do more work and be more productive, the reality of this line as an entertainment machine can't be ignored. In fact when Apple stepped up to the plate with their bigger "Plus" iPhone variants, it was painfully clear that was exactly why Apple was aiming at larger screens.
With Samsung's massive visual identity switch and Apple's push into new technology to take advantage of their bigger screens, it feels like the Galaxy Note 5 and the iPhone 6s Plus exist purely to compete with one another in the hearts and minds of folks looking for a new phone. With that in mind, lets see what happens when you put these phones side by side.
Image 1 of 3
The design language from Samsung and Apple have never been more similar as they are this year, so much so that Apple fans were faster than usual to cry foul when the Galaxy S6 was first announced. Instead of looking like its own line of phones this year, the Galaxy Note 5 looks more like a stretched out Galaxy S6, with two key differences to compensate for that size. Instead of the flat glass back on the S6, the Note 5 has steep curves on the long edges to make the phone easier to hold, which is a big deal when both the front and back of your phone is made of glass. The aluminum band around the outside of the phone complements the design nicely, and offers just enough texture difference to confirm you've got a good grip when holding the phone in your hand.
The second thing that makes the Note 5 special is the stylus. Like all Note phones, you can use the stylus to do a ton of things. You can draw notes without turning on the display or opening an app, you can hover over icons for additional quick-launch features with each app, and several apps have worked with Samsung for even deeper integration. Apple's version of this feature is 3D Touch, which uses a pressure-sensitive display to create a new layer of interaction in their interface. You can press with medium pressure to access menus, and apply even more pressure to "push through" to the next layer of interaction. Like Samsung's S-Pen functionality, third-party support is slow but steady and not even all Apple-made apps have been updated to support it.
Swipe to scroll horizontally
| Category | Galaxy Note 5 | iPhone 6s Plus |
| --- | --- | --- |
| OS | Android 5.1.1 | iOS 9 |
| Screen size | 5.7 inches | 5.5 inches |
| Resolution | 2560x1440 | 1920x1080 |
| Screen type | Super AMOLED | IPS LCD |
| Processor | Exynos 7420 | Apple A9 |
| Storage | 32/64GB | 16/64/128GB |
| RAM | 4GB | 2GB |
| Rear camera | 16MP | 12MP |
| Aperture | f/1.9 | f/2.2 |
| Front camera | 5MP | 5MP |
| Fingerprint | Front button | Front button |
| Battery | 3000 mAh | 2750 mAh |
| Fast charging | Yes | No |
Since this is an "s" year for Apple, the iPhone 6s Plus looks almost exactly like the iPhone 6, which means it's got an aluminum unibody design with a glass front and Apple's signature round home button on the bottom near the ports. The iPhone 6s Plus is 0.3mm thinner than the Galaxy Note 5, but it's also 4.9mm taller and 1.8mm wider. That increase in size allows Apple to put a bigger screen in their big phone than previous generations, but Samsung's smaller frame manages to hold a display that is 0.2 inches bigger than the iPhone 6s Plus. Samsung's display also managed to be significantly higher resolution, noticeably more capable in direct sunlight, and generates richer (though less technically accurate) images than this year's iPhone displays.
At the bottom of each of these phones lies a fingerprint sensor. Samsung and Apple both use physical home buttons with built-in fingerprint sensors, with software baked in that works to authenticate app access and mobile payment systems alike. The key to any fingerprint sensor is speed and accuracy, and in that respect Apple has got Samsung beat this generation. Touch ID is one of the fastest mobile fingerprint systems out there, and the accuracy of that system is slightly better than Samsung's offering as well. It's a noticeable difference side-by-side, but it's unlikely any Note 5 users would find the experience lacking without that direct comparison.
Underneath those displays lie a pair of fairly unique mobile processors. Samsung ditched Qualcomm this generation of Galaxy Note for their own 64-bit octa-core Exynos 7420 and a ridiculous 4GB of RAM. On paper, that sounds a lot more impressive than Apple's 64-bit dual-core A9 with 2GB of RAM. In practice, however, Apple's processor is noticeably more capable than Samsung's offering this year. You're unlikely to notice the difference in scrolling websites or opening simple apps, but loading large files or complex games reveals the edge Apple has over Samsung with performance this year. Considering how much more hardware Samsung is using just to keep pace with Apple, it's clear there's some optimization Samsung needs to do to continue improving.
Apple also has an important advantage over Samsung when it comes to software. Samsung's major release phones, the Galaxy S6 and Note 5, receive software updates much slower than Apple's phones. This includes major and minor software updates, which is important when things like security and optimization are considered. Samsung has finally started working with Google to apply their monthly security patches, but those updates are still coming a month or more later than several other Android smartphones. Meanwhile, when Apple releases an update it applies to all of their currently supported devices — including several previous generations — and is available immediately.
Both Apple and Samsung have placed priority on a quality photography experience, but Samsung and Apple have been approaching things from different perspectives. Apple's focus over the last couple of years was in making their 8MP sensor as good as it could possibly be, and then ramping up this year to the 12MP sensors. Samsung made the megapixel jump early, and the 16MP sensor in the Note 5 is now finally recognized as one of the best in the industry. Both Apple and Samsung use optical image stabilization for the best possible shot every time, but when you compare these two phones side by side you see Samsung's camera experience is slightly better in most situations this year.
A big concern with a lot of smartphone owners is battery life, and that's one of the big things that push people to larger form factors to begin with. Samsung's 3000mAh battery is an impressive difference over Apple's 2750mAh when you consider how much smaller the Note 5 is, but that greater capacity is quickly consumed by Samsung's more demanding hardware. The power-hungry display and less-optimized processor and RAM are going to drain that battery much faster than Apple's setup. As a result, you'll regularly get slightly better battery out of the iPhone 6s Plus. To help deal with this, Samsung's Note 5 supports quick charging both in wired and wireless charging, which means you go from dead to fully charged much faster than the iPhone 6s Plus and can top off at the end of the day in ways you just can't with Apple hardware right now.
Samsung's offerings this year have continued to impress as we use them, and the Note line continues to be a powerhouse compared to just about everything. When it comes to price, Apple's comparable phone comes at a premium even when compared to the Note. The $749 price tag on the base model 16GB iPhone 6s Plus is a little tough to swallow when compared to the $699 price tag on the base model 32GB Note 5, especially when the next model up for Apple is $849 for the same 64GB as Samsung's $799 model. That $50 difference doesn't make much difference at the 64GB level, but at the base level it's significant. Unlike previous Note phones, there's no removable storage option available to go beyond that 64GB model. There's also no 128GB model, which means there's nothing to compete with Apple's top end $949 iPhone 6s Plus.
There's little argument that both of these phones are impressive in their own way, but what Samsung has to offer in the overall experience makes for a compelling purchase. If Android is the way you lean, there are few phones out there that would serve you better than the Galaxy Note 5. As of right now, unless you're already part of the Apple ecosystem, the iPhone 6s Plus is very close but not quite there.
Get the Android Central Newsletter
Instant access to breaking news, the hottest reviews, great deals and helpful tips.