Samsung Galaxy Mega (6.3) review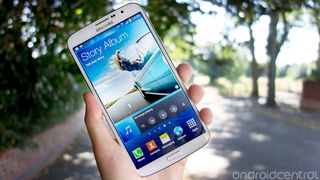 Think of a screen size between 3 inches and 10 inches, and chances are Samsung has a matching mobile device. The Korean manufacturer has come to dominate the Android space with a diverse portfolio of phones, tablets and everything in between.
And "in between" is where we find the Samsung Galaxy Mega — the 6.3-inch version, in this case, not to be confused with the slightly smaller 5.8-inch variant. With such a large display, it's not quite a phone or a tablet, but one of a class of hybrid devices that also includes handsets like the Galaxy Note and LG Optimus G Pro.
We'll say right off the bat that this kind of device isn't going to enjoy the mass appeal of a traditional smartphone like the Galaxy S4. But after a week with the Galaxy Mega, we've come away convinced that there's a place in the world for freakishly large smartphones like this. Join us after break to find out why, in our full review of the Samsung Galaxy Mega.
Pros
Large, bright display, speedy software with many of the GS4's features. Decent camera and solid battery life. 4G LTE connectivity.
Cons
Too large to be the average user's main device. Display quality could be better. Criminally small internal storage.
The Bottom Line
Swipe to scroll horizontally
Video walkthrough
Hardware, build quality and usability
We've almost run out of original ways to describe Samsung's current design language. Suffice it to say if you've handled a Samsung phone or tablet from the past 18 months, you'll know what to expect from the Galaxy Mega. There's an all-glass front, a big clicky home button, a shiny plastic trim and a flexible plastic battery door. Placed next to the Galaxy S4 and Galaxy S4 Mini, the similarities are even more obvious -- the Mega has same subtle diamond pattern on the front and back, the same flattened edges for improved ergonomics, and the same slick, slightly tacky feel.
All the usual trade-offs associated with this design language apply to the Galaxy Mega, too. You get a device that's reasonably light for its size, and that fits comfortably in the hand despite its hefty dimensions. It also feels sturdy, not creaky, probably a little more so than the Galaxy S4. On the other hand, there's no escaping the fact that you're using a very plasticky piece of technology — and the slickness of the finish doesn't make this large handset any easier to grip.
As is the case with most oversized phones, the Galaxy Mega's enormous footprint is simultaneously its main selling point and its greatest weakness. For the vast majority of people — even those who quite happily palm a Galaxy Note or Optimus G Pro — the proverbial line is going to be drawn somewhere before the Mega's 6.3-inch diagonal measurement. Try to use it one-handed and you'll find only a very small area of screen within thumb range. But here's the thing — the Galaxy Mega isn't trying to be a one-handed device, and I don't think it's even intended to serve as a traditional smartphone. Instead it makes more sense as a mid-level tablet that (just about) fits in your pocket. It's a gadget to be held in one hand and used with the other; a companion for a traditional smartphone, not a replacement for one. In a word, it's a niche device.
So here's the all-important Galaxy Mega pocket test. Despite the fact that it's a honkin' great smartphone, the Mega could easily be contained by most of our jeans pockets. Sometimes we noticed the device would protrude slightly from the top of the pocket, which is worth bearing in mind if you wear skinny jeans.
The Galaxy Mega's main attraction is its humongous 6.3-inch screen, which is a 1280x720 TFT LCD panel. It's not a bad looking display by any means — small text is easy enough to make out, and photos and movies look good — but neither the resolution nor the color quality are going to blow you away. The screen is merely adequate, as opposed to impressive. In particular, we noticed colors on the Galaxy Mega weren't as vivid as competing SuperAMOLED, IPS and SuperLCD offerings, and on default settings images appeared to have a cooler tint to them. Samsung's TouchWiz software has a number of software options for tweaking the display and making colors pop a little more, but on the Mega these just seemed to blow out brighter areas.
So that's the outside of the Galaxy Mega, and there's plenty of it. Internally, however, things get a little more familiar, as essentially we're dealing with Galaxy S4 Mini-level hardware. The term 'mid-range' is overused, but it's the best way to describe the Galaxy Mega's hardware. It's powered by a 1.7GHz Qualcomm Snapdragon 400 CPU with 1.5GB of RAM. There's an 8-megapixel camera around the back, with LED flash, and there's 8 gigabytes of storage, expandable via microSD.
Unfortunately the Galaxy Mega is yet another Samsung smartphone with storage space issues. Of the 8GB advertised, around 4.6 is available to use after you've powered the phone on and installed all the required updates. Worse still, the current firmware doesn't yet support moving apps to the SD card, a feature that's been patched onto devices like the Galaxy S4 and S4 Mini. Once again, Samsung fails hard at internal storage.
(Note: Samsung has announced that the U.S. version of the Galaxy Mega will ship with "up to 64GB" of storage, meaning U.S. buyers will likely have more breathing room on their devices' internal storage.)
Fortunately the manufacturer hasn't skimped on battery power, and the Mega packs a massive 3200mAh unit — removable, naturally — which is the biggest battery we've seen ship in a Samsung phone.
Connectivity-wise, you've got just about everything you'd expect from a modern Android smartphone — Wifi a/b/g/n, Bluetooth 4.0 and 4G LTE. Regular voice calls didn't seem to be hindered by the Mega's enormous size. Calls came through loud and clear, and we didn't notice any issues with the mic being further down your face than it would be with a regular smartphone.
The Mega is a solid all-round performer, closely matching the Galaxy S4 in terms of general speediness, app load times and UI responsiveness. In fact, the casual observer probably isn't going to notice any difference in responsiveness between the Galaxy S4, the S4 Mini and the Galaxy Mega. It's also no slouch when it comes to gaming, thanks to its Adreno 305 GPU, and it's surprising how well the Mega's large form factor works as a gaming device. It's the only phone we've used that seems big enough to accommodate on-screen controls without feeling cramped.
Software, OS and apps
The Galaxy Mega runs Android 4.2.2 Jelly Bean and Samsung's latest TouchWiz software, and first impressions are of a device that closely matches the Galaxy S4 in terms of software features.
Samsung's software suite has become just as familiar as its hardware design. TouchWiz is big, bright and bold, with slightly cartoonish icons and an affinity for primary colors. At a cosmetic level, it's identical to the UI of the Galaxy S4 and S4 Mini, not to mention countless other current-generation Samsung phones. TouchWiz remains a little visually disjointed, but there's certainly worse out there in the world of Android "skins."
The manufacturer has clearly realized that you're more likely to be using the Galaxy Mega in landscape orientation than you are a regular smartphone, and as such, the TouchWiz launcher can now operate in landscape mode. This works about as well on the Mega as on an Android tablet — some widgets end up being squished out of shape, but generally speaking, everything works well.
Unlike the Galaxy S4 Mini we reviewed a few weeks back, the Galaxy Mega has retained many of the trademark features of the Galaxy S4. Highlights include "multi-window" — Samsung's way of splitting the screen between two fully-functional apps, which is a great way to take advantage of the larger display.
Other notables include —
Group Play — Link up with other current Galaxy handsets to share photos in real-time, or create a surround sound experience by using each device as a speaker.
Air View — Hover over certain areas in apps to view on-screen previews. For example, hover over an album in the gallery app to see what's in it, or hover over the "next" button in the Samsung Music app to see the next track in a playlist.
S Memo — Samsung's note-taking app, which has adapted well to the larger display. You can create hand-written notes with your finger, text using the keyboard, and embed audio or images.
S Translator — The built-in translator app, with support for nine languages.
Smart Stay — Uses the front-facing camera to track your eyes, and only powers off the display if you're not looking.
In fact, there are only a handful of headline TouchWiz features missing from the Galaxy Mega. S Health is absent, likely due to the lack of pedometer hardware in the device. A more curious omission is the Optical Reader app, which on the GS4 can automatically read business cards and import to your contacts list.
Air Gesture is also missing, so you can't swipe between photos without touching the screen. We don't use this feature much on the GS4, so we didn't miss it much on the Mega.
So Samsung hasn't strayed far from the familiar TouchWiz design language and feature set, but it's tweaked things just enough to make all the built-in gubbins work well on a larger screen. Indeed, some of the features that debuted on the Galaxy S3 and S4 have come into their own on the Mega's larger display.
Batt​ery life
Samsung's pulling no punches with the inclusion of a 3,200mAh battery in the Galaxy Mega, and we found the bundled battery was easily able to keep the device alive and kicking for a full day's worth of mixed use.
Using the Galaxy Mega as our primary phone, we were able to get 16.5 hours of heavy use out of the device before hitting the 20-percent warning level. That included a couple of hours of video streaming, regular web browsing and email-checking and a couple of hours gaming in Sonic 4 Episode 2.
When idling on Wifi, we found the Galaxy Mega consumed barely any juice at all. And we're also happy to report that using the Galaxy Mega on LTE didn't seem to produce any noticeable battery drain compared to HSPA+.
Should you need to extend the Mega's battery on a longer day, the standard TouchWiz power saving controls allow you to cut back on CPU speed, haptic feedback and backlight brightness to extend the device's useful life.
C​amera
The Galaxy Mega has an 8-megapixel rear camera and a basic 1.9-megapixel front-facer. The rear camera produced shots reminiscent of what we've seen from other mid-range Samsung phones, including the Galaxy S4 Mini. In fact, we wouldn't be surprised if the Mega and the Mini shared some (or all) of their camera hardware, given that both also have f/2.6 aperture lenses.
So we're looking at camera performance on par with the Galaxy S4 Mini, Galaxy S3 and Note 2. Though not quite up to the standard of the super-high-quality of the Galaxy S4 — or any number of phones that might launch this fall — the Mega's rear shooter is nevertheless decent. As we've found with most Samsung phone cameras, it performs well across the board, whether taking landscape shots, macros or anything in between. Colors are mostly accurate, and dynamic range is wide enough to take daylight shots without worrying too much about washed-out skies and lost detail.
You also get Samsung's latest camera app, which includes the excellent HDR and panorama modes from other Samsung phones, along with some, but not all the shooting modes from the GS4. The standard night mode, and rapid-fire modes for capturing fast-moving subjects are included, but you'll miss out on eraser shot and animated photo.
One significant Galaxy S4 feature that's absent in the Mega's camera app is the ability to use the front and rear cameras simultaneously to capture a "dual shot" photo of yourself and your subject. It's a heavily-advertised feature that sounds neat, but in practice we've found it's often difficult to properly frame both shots a the same time.
On the video side, you're looking at standard 1080p footage at 30 frames per second. Video recorded on the Galaxy Mega was mainly crisp and clear, with accurate colors and smooth transitions between light and dark areas. Whether you'll want to use this thing as a video camera, however, is another matter.
It's worth noting that there's a significant awkwardness factor associated with using a device of this size to take pictures in public. It's not quite as ridiculous as using a full-sized 10-inch iPad as a viewfinder, but you're probably going get a few funny looks holding this 6.3-inch slab of electronics in front of your face.
The bottom​ line
We'll say it again — the Galaxy Mega isn't for everyone. And unless you have very specific needs, and (literally) deep pockets, you probably won't be able to use this 6.3-incher as your primary smartphone. Yet we've found our time with the Mega surprisingly enjoyable, and somehow we've come away convinced that there is indeed a place in the Android world for this kind of device.
The appeal of the Galaxy Mega isn't as a phone, per se, though it certainly fills that role. But it's also a highly capable, highly portable mid-to-high-end LTE-capable Android tablet. For the majority of use cases, you could argue that a 5-inch smartphone would be a more practical purchase — and you'd be right. But the Mega's display is large enough to give it an edge over traditional smartphones in multimedia tasks, while still being small enough to fit in a jeans or jacket pocket. For most users, it'd probably fill the same role as a tablet, while being infinitely more mobile than most 7-inch slates.
The Mega's price is also worth taking into consideration, and at around £350 SIM-free in the UK, it's a decent value proposition. It's £150 clear of the top high-end smartphones, and offers a larger display than phones that typically retail around this price point. It compares somewhat less favorably to some Android tablets, such as the new Nexus 7, but you're paying for portability and LTE connectivity (and a much better camera) rather than top-end internals.
The six-plus-inch smartphone form factor is here to stay, and there are more devices in this class set to arrive towards the end of the year with higher-resolution displays and fancier specs. The Xperia Z Ultra and HTC One Max loom large on the horizon, as does Samsung's own Galaxy Note 3. For the moment, though, the Galaxy Mega might represent the best value in this quirky, but growing product segment.
Thanks to Clove Technology for providing the Galaxy Mega for review
Get the Android Central Newsletter
Instant access to breaking news, the hottest reviews, great deals and helpful tips.
Alex was with Android Central for over a decade, producing written and video content for the site, and served as global Executive Editor from 2016 to 2022.