Reviewed: Chromecast and Chromecast Audio for 2015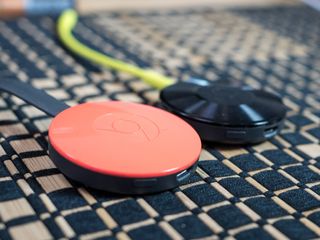 Rare is the gadget that gets out of the way and just works. Even rarer is for that to be true when you're talking about using more than one device to stream content. We're all used to the simple-but-not-really process that is Bluetooth. Wifi Direct maybe is closer — one device talking to another directly via the Wifi protocol.
But Chromecast is different. From the first time in the summer of 2013 that we used Google's HDMI not-quite-a-dongle, it was clear it had something going. Whereas Miracast tried (and mostly failed) to push high-definition content from a phone or tablet to a display, Chromecast cut out the middleman. Your phone would initiate the stream, in a sense, telling the Chromecast what to play, and controlling the playback. But that's it. Everything else was going straight from the Internet to your TV, and not through your phone.
It worked. And what's more — it did so on the cheap. Just $35 for what has become one of Google's more innovative products. And it's sold more than 20 million of them. And it also works with iOS, and with Chrome on Windows.
But two years is a long time for one product. And so in 2015 we finally have a Chromecast refresh. In fact, we get a second, audio-only Chromecast — aptly named Chromecast Audio — to go along with Chromecast prime.
Here's our review.
About this review
We're using retail versions of Chromecast (the new version) and Chromecast Audio as given to us by Google, as well as purchased by us from the Google Store. The Chromecast is on firmware 1.16.44433, and Chromecast Audio is on firmware 1.16.43955. All are running through a Google OnHub router.
Chromecast prime
Perhaps the biggest difference between the first- and second-generation Chromecast is pretty physical. We've gone from a key-shaped accessory to a dangling miniature hockey puck. And for us as end-users that redesign really means the opportunity for better Wifi connections. Chromecast now supports 5GHz Wifi in addition to 2.5GHz, so it's got more options when it comes to keeping your streaming smooth. Plus it's got new antennas to use, and it supports the 802.11ac protocol — basically as fast as you can get at home now.
There was a good bit of discussion amongst those worried about such things whether the original Chromecast really was a dongle, given that it requires external power via a microUSB plug. That's still the case (and you still get a generous 1.75 meters of cable). But new this time is some serious dangle to the dongle — a couple inches of play between the HDMI plug and the puck.
But Google's got a little trick up its sleeve here. Obviously you don't want anything hanging from your TV's HDMI port, putting stress on the connection. So there's a small magnet on the side of the HDMI plug. You then use that slack in the cable to fold it back on itself and attach the puck to the plug via the magnet. It all looks quite smart, actually. But that's assuming you've actually got room for the puck to double back on the magnet. It's fine on one of my TV's. On another, though, there's simply no room. So you might have to switch ports and fool around with it a bit.
Or, it might not work at all, and the dongle's just going to have to dangle.
Other than that — and the LED light and reset button on the body of the puck — that's it insofar as the physical stuff goes. And that's pretty much it for setup on your TV. Just plug things in.
Where the real work begins is on your phone or tablet, and that starts with the all-new Chromecast app.
Once you're plugged in, the Chromecast app takes care of the rest. It'll spot that there's a new Chromecast within view. A couple taps and confirmations later — and perhaps a firmware update (with Google wisely using that time now to show a basic Chromecast how-to video) — and you're on your way.
After that, the experience is exactly the same as it was before. If you're in a Chromecast-capable app, you just hit the icon, choose your target, and stream away.
More: Where to buy Chromecast
Chromecast specs
| Category | Features |
| --- | --- |
| Resolution | 1080p |
| Wifi connection | 802.11 ac (2.4GHz/5GHz) |
| Size | 51.9 x 51.9 x 13.49mm (not counting cables) |
| Weight | 39.1 grams |
| Power cable | 1.75 meters |
| Colors | Black, yellow, coral |
| Connectors | HDMI (video/audio), microUSB (power) |
| Supported OS | Android 4.1+, iOS 7+, Mac OSX 10.7+, Windows 7+ |
Chromecast Audio
The other side of the Chromecast coin is Chromecast Audio. It's the puck, minus the HDMI cord and plug, and instead gaining a 3.5mm audio jack.
To that end, hardware setup is exactly the same, though the end result isn't quite as invisible, depending on where you're intending to use this thing. You plug the puck into a wall outlet via microUSB. You plug the puck into a speaker via a 3.5mm cable. (The included cable is short — 5.7 inches end to end.) Cool trick here — and one I didn't even realize was possible — is that you get the usual analog connection or a digital connection via the single 3.5mm jack. You'll need a round optical cable, of course. But for those who want digital audio, there's that option. (And that's also why you might see red light emitting from the hole if there's nothing plugged in.)
The real decision you need to make here is how you're going to use Chromecast Audio. If you're thinking about plugging it into some leftover Bluetooth speaker, you might want to think twice. There's nothing wrong with Bluetooth, really, and Chromecast Audio means two more sections of cable, one of which has to be plugged into a power source. (In most cases that'll be a wall socket.) So my dreams of using Chromecast Audio in the kitchen, along with an always plugged-in Samsung speaker, were pretty quickly dashed.
But if you're plugging in to a receiver or some other bookshelf space — basically anywhere you can hide some wires — then you're going to be good to go.
There is an alternative to this, however, if you just have to have a Cast-enabled speaker out in the open. And that is, well, a Cast-enabled speaker that has the protocol already built in. LG is selling some (opens in new tab), as is Sony. They're not cheap, but they're definitely more elegant than a puck plugged into a wall and into a speaker, where everyone can see the mess of wires.
Right now things are a little bit limited in that you can "only" cast to one target at a time. That'll change later this year, Google said at the Nexus (and Chromecast) launch event on Sept. 30 in San Francisco. So this this isn't a Sonos killer, yet.
More: Where to buy Chromecast Audio
Chromecast Audio specs
| Category | Features |
| --- | --- |
| Wifi connection | 802.11 ac (2.4GHz/5GHz) |
| Size | 51.9 x 51.9 x 13.49mm (not counting cables) |
| Weight | 30.7 grams |
| Power cable | 1.75 meters |
| Audio cable | 146mm |
| Colors | Black |
| Connectors | 3.5mm analog/optical, microUSB (power) |
| Supported OS | Android 4.1+, iOS 7+, Mac OSX 10.7+, Windows 7+ |
The new Chromecast app
And then there's the new Chromecast app. Whereas previously you only ever needed the Chromecast app to set up a Chromecast for the first time (or if you moved it or changed your SSID or some other edge case), it's gained a good bit of usefulness, especially if you're new to Chromecast.
The app has been sectioned off into three parts. There's "What's on," which is sort of a throwback way of looking at things because "What's on" is everything, all the time. (This is the Internet, after all.) But Google presenting content that you might want to watch certainly isn't a bad thing. It just feels a bit forced. Pretty much everything on YouTube is available to watch via Chromecast. (I've never seen anything that you can't stream, anyway.) But YouTube is Google's big cash cow, so it makes sense.
It's worth scrolling to the bottom of the "What's on" section, actually, because there you'll see a quick list of a few of your installed apps that can use Chromecast. That list is pretty limited, though. I'd love to see something more comprehensive, showing all my installed apps that can use Chromecast. Hop over to the third section — "Get Apps" to discover more Chromecast-capable apps. You'll get thrust into the Google Play Store pretty quickly, but it's still a good place to start.
Finally there's the middle section, "Devices." This is where you'll set up new Chromecasts — audio and video — and Google's tossed some basic controls on here as well. So if someone else starts casting something from one device, you can pause or stop it (or just see what's playing) from your device. It's a nice little shortcut.
So all in all it's a pretty major change to the Chromecast app, but even then I haven't exactly found myself coming back to it with any real regularity after a couple weeks of use.
Chromecast 2015 The bottom line
Chromecast has been one of those rare devices that holds up after a couple years. How often can you say that in the tech world? But that's not to say there wasn't room for improvement. If connection issues plagued you with the original Chromecast, you're now able to tap into faster routers and the 5 GHz channel.
Things are still a little more clunky than promo pictures would have you believe; there's still the requirement to plug in to a microUSB port. (And Google now strongly recommends you use the included wall wart.) But that's a minor headache. Otherwise, Chromecast is still as plug and play as ever, and it's something I use just about every day.
Should you buy it? Yes!
Don't think twice. This may well be the best $35 accessory you spend when it comes to making the most out of the Android ecosystem. In fact, buy two. It's that easy to use, and it's that good.
Here's where to buy a new Chromecast for $35:
Google (opens in new tab) Walmart (opens in new tab) Best Buy (opens in new tab) Currys UK (opens in new tab)
And here's where to buy a new Chromecast Audio, also $35:
Google (opens in new tab) Walmart (opens in new tab) Best Buy (opens in new tab) Currys UK (opens in new tab)
I don't like the design choice. I feel like it wouldn't be too hard to accidentally break that hdmi dongle and be out $35. Still buying one for the 5 ghz wifi capability though. Posted via the Android Central App

It just sits behind the TV man, it can be a dick for all I care. But ya really happy about 5ghz Posted from my Nexus 6/Nexus 7 2013/Surface Pro 3

If it's going to be a body part, I choose tits. Hail Putrid Pile

Same Posted from my Nexus 6/Nexus 7 2013/Surface Pro 3

That wasn't your first choice though... Lol +++ Insert witty signature, watch as others not get it, profit +++

Lol I know Posted from my Nexus 6/Nexus 7 2013/Surface Pro 3

Hahaha well said. Posted via my S6 on the Android Central App

Have you seen the tear down of it? That thing is rock solid around the HDMI connection.
https://www.ifixit.com/Teardown/Chromecast+2015+Teardown/50189

I bought 2 more plus an audio the instant they were available on Google Play. My connections are notably better, especially in the bedroom where the signal was harder to hold onto. I can finally pause my Netflix on the couch, walk to the back, crawl in bed and restart on my bedroom tv.
What I need help with, Phil, is how to do a video Hangout with my Chromecast. I'm going to guess the new 5ghz and AC router options might be for a future Casting option in Hangouts. What do we need to make this happen? A WIFI video camera mounted to the TV? A WIFI/Bluetooth microphone connected to the phone? I tried to prop up my Moto X (2013) and cast (old Chromecast) a Skype screen while bluetoothing my Moto earbud, but it kept crashing. I think the phone is not powerful enough, but it'd be nice if Google just made Hangout casting a thing.

I've thought the same thing re Hangouts. I don't see why you couldn't daisy chain a USB webcam between the Chromecast and your power source. Or better yet, just make a Chromecast that's built directly into a webcam. Posted via Android Central App

Bought one yesterday. It's my first experience with the Chromecast and I love it.

Got mine 2 weeks ago Sunday. Posted from my Nexus 6/Nexus 7 2013/Surface Pro 3

Got a brand new smart TV in December of '13. Loved being able to play Netflix and YouTube without having to use the Xbox. Got a Chromecast for Christmas, 3 weeks later, and I haven't touched the smart TV features since. If there was some way for the Chromecast to have voice command (like "Xbox Pause") this would be the absolute, ultimate streaming device for me. Waiting for Google to build that into Google Now. Still love my Chromecast in the meantime, though.

You can buy a speaker that has a built in battery to charge phones, you can use that to power the Chromecast Audio.

BUT CAN YOU USE IT WITH THE NEXUS Q Posted from my Nexus 6/Nexus 7 2013/Surface Pro 3

It's a freaking 3.5mm Jack, think! Posted via the Android Central App - One M9

You could. It's super easy to convert between 3.5mm and RCA (red/white). That's how I currently play music on the stereo in my bedroom, out of my phone's (or tablet's) headphone jack into the RCA "line in" on the stereo. Can't wait to setup a Chromecast Audio and not have to mess the with the wire ever again.

$35 seems like such a great price Posted via the Android Central App

I'm just happy I can finally put my AC WiFi connection to good use. Screen casting has zero lag now. Posted via the Android Central App

Phil, I respectfully think you're missing a tremendous value in connecting the Audio to a Bluetooth speaker. Yes, a Bluetooth speaker can be great streaming audio - that's why I got a decent one. It's when my phone actually rings with a business call that it starts to suck. Having the ability to control the speaker by Chromecast in the office and Bluetooth when I wanna go portable is freaking great. Posted via Android Central App

While it may not make the Chromecast Audio completely redundant, you can set any Bluetooth output device in Android to handle media only and avoid some of the issues you describe. The benefit of Chromecast Audio seems to be eliminating the need to maintain effective Bluetooth range with the source device. Especially if you're not the only one listening to music, you can freely move about and use your phone without hampering the playback. Great for parties. That being said, I think the Chromecast Audio will only really shine in very specific scenarios. Rigging it to a unit connected to a whole-house speaker system immediately comes to mind. But it doesn't look worth it to hook up to a standard Bluetooth speaker though (those cords!). Posted via the Android Central App

Agreed on both the range and when it comes to incoming sounds and notifications are two big ones. I use this on my Samsung M7 speaker. Which may seem a bit redundant as you have streaming services that connect to it. The big one that is missing, Google play music. Plus it has a USB port inside which I use to power the chromecast have to look at the digital audio option though. Posted via the Android Central App

chromecast audio has the added function of streaming playlist. by that i mean u can start a 200 song playlist from play music or spotify to name a few and actually leave the house go to the store and as long as there are songs left the music will continue to play.

I think it depends on the player. For example, I have the Bose Soundlink II which handles streaming audio perfectly. When I receive a call during music playback, the music fades out and lets my phone handle the calls and then resumes playing after as though nothing happened. Its expensive but a fantastic speaker for streaming audio wirelessly. I assume this will perform similarly.

similar yes. but still different. when u get that phone call the chromecast audio does not stop playing same with text.

Interesting. I hadn't realized I'm a relative outlier wrt Chromecast Audio and, apparently, even bluetooth speakers. My phone is my primary audio playing device (music & podcasts) and my use case for bluetooth speakers is less about portability and more about being able to listen to my stuff without having a dedicated player in each room. So, the cords really aren't an issue for me and the Chromecast Audio is a huge win. I'm getting a second one, actually. As always, YMMV, I guess. Posted via the Android Central App

Tablo is snappier with the Chromecast 2.

Will you guys try the chromecast ethernet adaptor with these?

There's a chromecast Ethernet adapter? It'll likely work identically, but I'm sure you'll find someone who's used it in the forums. Posted via the Android Central App

Yup Google previously sold an ethernet adapter when the original Chromecast was still on sale. It's basically just a wall charger with an ethernet jack on it that you plug into the Chromecast to give it power and internet. They don't seem to sell it anymore (probably because of the new+improved Wifi in the new Chromecast), but I see no reason why it wouldn't work on the new Chromecast. It's a pretty standard adapter.

I ordered the ethernet adapter last week and it arrived just yesterday. It's still available. Posted via the Android Central App

I have 3 of the original Chromecasts, but the two I use upstairs sometimes had connection issues (especially the one in the bedroom), so I ordered the new version with its 5ghz band and dynamic band shifting and it's been rock solid. Two weeks of daily use and I never wait to see interaction, and I've never had a show pause or lose connection while streaming (and this was a common occurrence with the old ones). Definitely worth the money to upgrade if you use it regularly and were living on the edge of what the network would handle in your household.

I don't think I'll buy one, simply because my original Chromecast still works just fine, and I've never had any speed or connection problems with it. (although my phone and tablet dropping the apps out of memory and disconnecting is another story, and won't be fixed by new hardware.) I was in currys today, and they are still selling the ordinal Chromecast, alongside the new one, for exactly the same price. Seems pretty dumb. Knock a tenner off or something. Posted via the Android Central App

Mine are still plugging along great as well. Good to know I'm not alone. Posted via the Android Central App

Same here both of mine have been and still are rock solid since I bought them. Posted via the MATERIAL AC App

Mine acts up from time to time, but that is probably more a result of my apt having been struck by lightning back in June ;) Most everything else plugged into the TV was completely fried.

I can finally replace that BlackBerry gateway you guys recommended a while back :)

Aside from not having any issues w/ my current Chromecasts, I find I would still rather have a sit back experience with a dumb remote. Especially when watching with other people. Yes, there's the Nexus Player, but it almost feels like Android TV is so barren. And a Roku works with both Amazon and Google content.

I wish the extended the codec support with the new chromecast. MPEG2 and DTS always get the shaft.

Wish they would have both connections and just charge a little more. Also not a fan of the app changes, so not updating that until I have to.

I won't be replacing my current Chromecast with the new uglier version because there's absolutely no need for it. I will however get the Audio one to revive an old music system. But I'll have to see if I can actually get it for the $35 because over here Google is selling it for 39€ (That's around $45) for some odd reason and I'm not paying 39€ when 'muricans are only paying $35 :P Posted via the Android Central App

In Brazil retailers are selling the original for $65 haha

EU price includes VAT, the US price doesn't. Posted via Android Central App

Because every county in every city in every state has its own sales tax. It would be impossible to include it in the price.

I assume that the new Chromecasts are not 802.11ac only, as it says in the specs here in this post.

any time that specs list 802.11ac, that means that theyre compatible up to that. You'll be able to use this just fine on b/g/n, too.

Or 802.11a God Andrew Posted from my Nexus 6/Nexus 7 2013/Surface Pro 3

I got the audio and I actually find myself using it more than I use my video Chromecast, mostly because Roku is just a better overall experience for everything other than actual Google apps and Android screencasting, which BTW, it is great for. The CC Audio is attached to the 9 year old surround sound home entertainment system that is squatting in our basement. I had a Moto Stream on it for a while but this is less clunky to use and doesn't require me to keep the phone nor worry about notifications beeping. Kudos to Google.

Why do they strongly recommend the wall wart when I can just plug directly into my TV. Posted via the Android Central App

Google can't guarantee that the USB port on the back of your TV outputs enough power, so they're always going to recommend that you use the wall wart.

Exactly. I'm fortunate that the USB on our RCA TV does just fine, so I can put a shorty cord on it.

Using the original Chromecast, I find it very difficult to screen mirror to my TV. It will connect, but not stay connected. It disconnects every few minutes, making it unusable. Question: Might the new Chromecast address this problem?

have u checked ur wifi connection and speed

I feel like the chromecast could have been more... Like it shoulder be great if it had hdmi pass-through. But I guess that is what they want the nexus player to be used for. Posted via the Android Central App

Yeah, I would prefer that they keep the Chromecast as simple and inexpensive as possible, and let other devices handle HDMI pass-through and such.

I don't quite understand the purpose of the chromecast audio. What's the point if you have a Bluetooth speaker? How would one use this?

Chromecast can be a more reliable streaming medium, especially if you're moving around a lot or getting a lot of calls/notifications.

That's it. Posted from my Nexus 6/Nexus 7 2013/Surface Pro 3

Bluetooth from my phone eats battery quickly. If Chromecast Audio works like the OG Chromecast, once you set the stream going, you can even turn your phone off without disrupting the stream. Or get in your car and drive away while the rest of your family stays home and enjoys the stream. Besides, most Bluetooth speakers can't compare to the sound quality of good dumb speakers connected to a good hi-fi amplifier. With a Chromecast Audio plugged into your hi-fi amp, and a Google Play subscription, you now have access to a vast library of music potentially with more wattage than you'll ever get from a Bluetooth setup.

You can get Bluetooth receivers that connect to hi-fi stereos. So that point is moot.

BT 4.1 is a very light power footprint.

but with chromecast audio u use much less power as ur not sending each song from ur phone. ur giving chromecast access to ur account so the CC audio does 90% of the work the phone jus points it in the right direction. and like RolandStone said u can actually leave the house or turn ur phone off and the songs that u already set will continue to play.

Not needing the phone there while the stream continues to play is a huge plus. I often get family asking if they can watch a movie as I'm getting ready to go, and I just start the cast and head on out. Chromecast WILL take a peer to peer connection though, and I stream content that only exists on my phone. I don't do that with movies because using a direct HDMI connection from the phone works better, but the new higher speed of the ChromeCast V2 should make that better. I don't have any problems with Bluetooth draining my battery though, and I use BT streaming in the car and to stereo headphones a lot with no significant impact on battery. PS: StreamBot makes a small Bluetooth module that can change between being a receiver and a transmitter with the flip of a switch. I thought it was a waste of time so I got the receiver only, but now I wish I had gotten the switchable one.

So, I take it the streaming is independent of the phone/tablet? It doesn't stream from the phone to the chromecast then to the speaker? The chromecast gets the stream directly and the phone just acts as a remote control?

Yup. Just like the standard Chromecast (video) works. You're just telling the Chromecast what to stream — it handles the streaming on its own independent of the device you used to initiated the stream. That way it isn't reliant on your device, saves battery and has better performance.

Right , the phone app hands off the music to the Chrome Audio device which then streams through wi-fi from the cloud or phone. Being over wifi allows for higher quality signal, no more interference when you move about the house. You can take calls and play games on the phone without them interfering with the streaming music playing on your speakers. They are separate now. What's nice also is the Chrome Audio has an optical out, for use on larger receiver and speakers. Just be sure to order a mini tos link cable. It's definately an improvement over the 3.5mm input for me using a Denon DM-39 Microsystem and Pioneer sub.

Makes sense and definitely seems looking into!

No need to update my four Chromecast's and Nexus Player, but I did pick up the Chromecast Audio for my Bose SoundTouch 20 and it has added much needed usability to it. Airplay on it is horrible, app did a good job putting desired channels on it, but with no Google Music support I was missing out a lot. It's big enough to hide the wires and dongle behind. It does have a USB port on the back so I am going to check and see if that works. Posted via the Android Central App

I'm definitely picking these up for the holiday season. S6 edge+/AC App

Please stop saying you can plug Chromecast Audio into a "speaker" unless you add "POWERED" speaker. Otherwise it plugs into an amplifier, boombox or any other audio device with an auxiliary input.Your paragraph about your dreams being dashed regarding kitchen Samsung speaker is incomprehensible. Are you complaining about it requiring power? The Chromecast (non-audio) also requires power so what's your beef?

A distinction without a difference.

Does it support portal login? For College wpa2 wifi? Posted via the Android Central App

I'm excited about CC audio only as my v1 CC still works just fine and I use it often. I plan to implement the audio version with an integrated amp in a dedicated 2-channel audio room. Nice to see Google giving more streaming options and advancing the hardware. For $35 bucks, how can you not play around with it. Posted via the Android Central App

Why do reviewers seem to miss the point of the audio chromecast? While I'm sure some may attach it left-over PC speakers, or assume it's a bluetooth replacement. They're providing a low cost streaming option that'll work with Google Play Music for people that have home stereos. Because you know what, no one with a semi-decent stereo wants to have to have a television on in order to listen to audio (when turning the TV off turns off the receiver audio as well, cuz technology). At the price point, the value proposition isn't really there. Yes, it's cheaper than existing solutions, but people choosing between this and the video version will think long and hard. The people getting the audio version will really have to want it. And for that, I can't imagine they'll be moving many of these. The only other missing app I want is a PrintCast (ChromePrint? ChromeCast Paper?)

I agree that chromecast audio is for home stereo users, not little portable units and reviewers seem to miss that. I don't understand your next paragraph where you say that it's not a good value.
You mentioned people with home stereos don't want to have their tv on listen to music and your right about that.
So why wouldn't someone with an existing set of really good speakers like me want to buy chromecast audio For $35 I can get a completely digital signal into my existing receiver of high quality audio.
Instead of buying additional expensive sonos speakers and locking myself into that proprietary framework.
Or dealing with battery drain and notifications sounds via bluetooth I think it's the perfect addition for people who already have good home audio systems
I eliminates all of the hassles (except a few extra cords) that sonos does, for a small fraction of the price.
and when hooking this tiny connector to a real stereo your aren't going to notice the wires at all. that's an amazingly value proposition compared to rebuying all your speakers again.
It's not only rich people that have decent home audio systems, lots of people do.
I have a chromecast audo hooked up to my Pioneer Elite and Polk Audio surround sound system, it's the best cheap upgrade to my stereo I've ever made.

its great for portable also my mom uses a sony Bluetooth speaker, she likes it. but when getting text, emails and phone calls and fb notifications while shes baking it interrupts her music. i get her the CC audio she loves it all her notifications come thru but they dont interrupt her music from playing.

Hi dr4stic, what about audio quality? I already have the original chromecast device but was thinking to try the new chromecast audio.
Currently I have this config: chromecast device connected to a yamaha rxv 467 receiver via hdmi then receiver audio output to a couple of bookshelf Klipsch speakers and video passed to TV via hdmi. For streaming music to chromecast I use Google Music.
I heard that new Chromecast Audio has great great audio quality (hifi) and I thought could connect it to my Yamaha receiver via optical input.
Do you think I will notice any improvement in audio quality when streaming same Google Music?
Thx for your comments.

Chromecast for me has been awesome,so simple, deceptively sophisticated and as essential as my smartphone...
Streaming and using my device for other stuff at the same time is brilliant. Posted via the Android Central App

I just don't get the rabid devotion to these, beyond the really low price. I mean, "essential"? I couldn't call this essential when every TV in my house already has 2 or 3 different ways to stream content.

" ...every TV in my house already has 2 or 3 different ways to stream content" Only the specific apps that they support. Meanwhile, the Chromecast is the conduit for hundreds of apps controlled by the best interface we have at the moment, the smarthphone. These apps can be, and often are, updated regularly to add even more functionality over time. Meanwhile, smart apps embedded in devices are often abandoned or stop working when APIs are inevitably changed.

Sorry Scott. I just don't agree with the idea that the smartphone is the best interface. It's a novel interface, and it is acceptable when your life revolves around you sitting by yourself in front of the TV with your phone in your hand, but it is hardly ideal as the main interface in every situation.

may not be the best interface but it does offer more content than a smart tv currently does.

How does it offer more content than a Roku?

a roku has nowhere near as many apps as a phone or tablet. and every app on ur phone and tablet can either cast or screen mirror

Only if it supports 4k. For the size and price it would sell like crazy.

It still will without 4k Posted from my Nexus 6/Nexus 7 2013/Surface Pro 3

Pretty weak review. Basically, this is all information that is already completely known from the release. Is the analog audio markedly better than any of the bluetooth dongles that support AptX? Does the digital audio output support bit-streaming of any codecs? Does it just support 2 ch PCM or does it support multichannel-PCM? What bitrates are supported? Are their any apps that support FLAC and will it result in completely bit accurate audio to a receiver? etc. etc. Do mobile devices stay "aware" of the the new chromecast app (or dongles) over a longer period of time? Or do you still occasionally have to "reconnect" to the dongle before you can pause/stop/skip back? A little more objectivity would be appreciated.

Plex supports all that you listed. So if used Plex you can cast this audio to the chromecast. However does is support DTS? Dolbly? who knows... they didnt tell you, or really test it for that matter. I would not call this a review. These things are seriously getting lame...

Plex transcodes everything to make it so "universal." Therefore it is of little use for people wanting high quality audio playback. A small device that can natively decode (or bitstream) high quality audio formats is pretty rare. Of course, getting vendors to add that support will never happen when most "reviews" talk nothing about it while spending multiple paragraphs covering the novelty of a magnet...

Negative, if you have devices that support it plex does not need to and will not transcode. You can use direct play. Edit: They seem to have removed support for FLAC and ALAC at the moment. should be back eventually. https://support.plex.tv/hc/en-us/articles/203810286-What-media-formats-a...

Ok, my point is not to get off on a tangent about PLEX. The fact remains, if the chromecast audio doesn't support FLAC natively, then PLEX will transcode it, making PLEX w/ Chromecast relatively pointless over any other existing option.

it stays aware since it uses wifi no reconnection.

Just like the existing chromecast "stays aware" yet often requires a person to reconnect with their phone before being able to control it again...?

I absolutely love the chromecast audio... I've got it hooked up to my pioneer a/v relievers zone 2 which powers all the in ceiling speakers scattered throughout my home and my back yard speakers. I can now control my whole home audio from my phone and finally stream spotify reliably! I've been trying to find a way to do this for sometimes because Bluetooth range is so small and unreliable so it drove me crazy... I almost bought a sonos connect that would have cost me $399 here in Canada to do the exact same thing I'm doing with the chromecast audio for only $45.... Absolutely love this thing and it's so simple to use even my wife streams music throughout the house now. Posted via the Android Central App

I bought this a few days ago, have to say I am pleased with it (minus the fact of the slim list of supported screen cast phones/tablets). I did however have my first crash on the chromecast, it crashed into what looked exactly like html code when going into Spotify. A quick reboot remedied it thankfully.

So when you say "you get the usual analog connection or a digital connection via the single 3.5mm jack" are you saying that you get digital audio over the 3.5mm or that you can use BOTH the 3.5mm along with the optical out? Also you have really done nothing but give me an overview of the product, how does it audio sound? did you compare sound from all three outputs? Can it output DTS? Dolby digital? Also it has RCA out no?

I am pretty sure 3.5mm or RCA is NOT digital... also only supports 2 channel.

This very miss leading. You DO NOT get digital OVER 3.5mm. However as in a lot of devices the digital optical/3.5mm share the same port. If the artical writer knew anything about audio, they would know this. All three connections are possible out of the same port but use DIFFERENT connections. 3.5mm and RCA are NOT digital...

I got the original Chromecast and the new one! The new one is better than the original! Got the new Chromecast audio too! They all work great along side my Nexus 6 and Nexus 9!

Oh great,wise and mighty chromecast reviewers can you help me! and let this low and unworthy peasant know if there is a way to use the new chromecast in a hotel (where you need to connect to the internet via a website then log in via a pasword rather than the more normal router and password option we normally have in most places)
Thanks in advance Qwox

If you want a good hotel option, you really should get a Fire Stick over a Chromecast.

A laptop with an HDMI cable is better than both options.

Not in my experience. Some hotels have the TV secured to a table with no room for the laptop to sit. You can either put it on the nasty hotel room carpet, or try to set it precariously on the TV base. Both very poor solutions. Not to mention that carrying a laptop on a trip just to watch TV is pointless. More troublesome is that often times a person wants to surf the net/do email/do business work; while watching TV. Something that becomes very difficult when the laptop is tethered to the hotel room TV. Lastly, the small remote for the fire TV means you can control the tv... ...with a remote... instead of having to get up and walk across the room to press pause, or jank with a wireless mouse. The fire stick takes up little space, and when paired with any of a number of available portable router/USB/SD hubs, can be a self contained media system to carry your digital library along with you.

I've found that a 3M velcro strip will go a long way in securing tiny devices to the back of your tv to keep them A, out of sight; B, still usable with an IR remote; and C, eliminate stress on cables. I have my Apple TV (3rd gen) attached to the back of the tv in the top right corner facing up, and did the same when I had a Roku (I think I even did it with an Airport Express for a bit). It's way cheaper than one of those silly brackets you can buy, and I've never had a problem with anything falling off.

For Chromecast audio, a setting nobody appears to mention but can make a huge difference is high dynamic range. Really makes big sound difference when connected to an AVR. Posted via the Android Central App

I'll need to buy one just because now I need an additional Chromecast for my kid. If not, I'd probably just wait until gen 3.

Have the audio but I'm waiting to get a new round? optical cable to plug into my 7:1 system. Good speakers but more accessible will be nice. The old video Chromecasts I have sometimes buffer too much but not enough for me to replace them now. I have 3 AC routers in my system for coverage and the 2.4s are spread out on the spectrum so no interference issues (app "Wifi Analyzer" can check).

Chromecast audio is fantastic. No more paring the phone up with Bluetooth and accidentally walking too far away. No more cables. Simple solution to get music where it needs to be and simple for the family to understand how to use. Multiple people can cast their audio whenever they want to the same device which has become a very heated discussion (mom wins). You can also use the digital input on an inexpensive 2.1 audiobar ($45 at walmart) for your speakers which is easy to hide above the kitchen cabinets.

Why are you so afraid of a few wires? And why does your kitchen have so few wall sockets? :P

Is Chromecast audio a direct de facto WiFi link?? Can it be used in the car? I really hate Bluetooth and that might be a much better solution.

You might be able to use it in your car. You'd need the appropriate outlets and cords to provide power to the dongle. And another cord to attach the dongle to your car stereo's aux input (assuming it has one.) You'd also need to set up your phone as a Wi-Fi hotspot. Seems like a lot of hoops to go through when it would be easier to just hook your phone directly to your car stereo or use Bluetooth.

u cant stream from the same phone and use hotspot at the same time

Yup. You'd need hotspot from one device (presumably your phone) plus a second device (another phone or a tablet) connected to your phone hotspot to control it. Rather impractical compared to a bluetooth dongle.

Even though you wouldn't be "Streaming" from the phone, you'd just be initiating a stream from the cloud to your dongle.?

What about a subwoofer? I have old but good computer speakers that have sub. When i connect the chromecast to the side of the speakers I am getting absolutely no base. Any ideas?

U need a receiver of some sort Posted via the Android Central App

Still need separate WiFi Posted via the Android Central App

Is it rootable/hackable like the first one was?

Great article Phil.. For those who live outside US like me, you can access Netflix, Hulu and similar media stations on your Chromecast by using UnoTelly or similar tools.

Please can anyone help, I'm a complete novice. Can I connect the Chromecast Audio to a Rotel RO -01 and if so how do I do it?

Is it possible to cast only audio to the HDMI versions of Chromecast? I can't find a way. I can cast my screen *and* audio, but if I only want the audio, that seems like a huge waste of bandwidth. It increases latency and reduces stability when the network gets busy. How else can you cast Amazon Prime Music?!? I'll be damned if I'm ever buying a Firestick.
Android Central Newsletter
Get the best of Android Central in in your inbox, every day!
Thank you for signing up to Android Central. You will receive a verification email shortly.
There was a problem. Please refresh the page and try again.