Reviewed: Chromecast and Chromecast Audio for 2015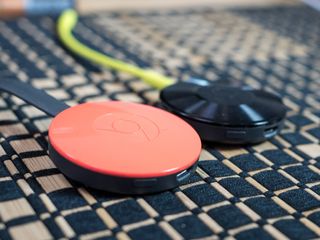 Rare is the gadget that gets out of the way and just works. Even rarer is for that to be true when you're talking about using more than one device to stream content. We're all used to the simple-but-not-really process that is Bluetooth. Wifi Direct maybe is closer — one device talking to another directly via the Wifi protocol.
But Chromecast is different. From the first time in the summer of 2013 that we used Google's HDMI not-quite-a-dongle, it was clear it had something going. Whereas Miracast tried (and mostly failed) to push high-definition content from a phone or tablet to a display, Chromecast cut out the middleman. Your phone would initiate the stream, in a sense, telling the Chromecast what to play, and controlling the playback. But that's it. Everything else was going straight from the Internet to your TV, and not through your phone.
It worked. And what's more — it did so on the cheap. Just $35 for what has become one of Google's more innovative products. And it's sold more than 20 million of them. And it also works with iOS, and with Chrome on Windows.
But two years is a long time for one product. And so in 2015 we finally have a Chromecast refresh. In fact, we get a second, audio-only Chromecast — aptly named Chromecast Audio — to go along with Chromecast prime.
Here's our review.
About this review
We're using retail versions of Chromecast (the new version) and Chromecast Audio as given to us by Google, as well as purchased by us from the Google Store. The Chromecast is on firmware 1.16.44433, and Chromecast Audio is on firmware 1.16.43955. All are running through a Google OnHub router.
Chromecast prime
Perhaps the biggest difference between the first- and second-generation Chromecast is pretty physical. We've gone from a key-shaped accessory to a dangling miniature hockey puck. And for us as end-users that redesign really means the opportunity for better Wifi connections. Chromecast now supports 5GHz Wifi in addition to 2.5GHz, so it's got more options when it comes to keeping your streaming smooth. Plus it's got new antennas to use, and it supports the 802.11ac protocol — basically as fast as you can get at home now.
There was a good bit of discussion amongst those worried about such things whether the original Chromecast really was a dongle, given that it requires external power via a microUSB plug. That's still the case (and you still get a generous 1.75 meters of cable). But new this time is some serious dangle to the dongle — a couple inches of play between the HDMI plug and the puck.
But Google's got a little trick up its sleeve here. Obviously you don't want anything hanging from your TV's HDMI port, putting stress on the connection. So there's a small magnet on the side of the HDMI plug. You then use that slack in the cable to fold it back on itself and attach the puck to the plug via the magnet. It all looks quite smart, actually. But that's assuming you've actually got room for the puck to double back on the magnet. It's fine on one of my TV's. On another, though, there's simply no room. So you might have to switch ports and fool around with it a bit.
Or, it might not work at all, and the dongle's just going to have to dangle.
Other than that — and the LED light and reset button on the body of the puck — that's it insofar as the physical stuff goes. And that's pretty much it for setup on your TV. Just plug things in.
Where the real work begins is on your phone or tablet, and that starts with the all-new Chromecast app.
Once you're plugged in, the Chromecast app takes care of the rest. It'll spot that there's a new Chromecast within view. A couple taps and confirmations later — and perhaps a firmware update (with Google wisely using that time now to show a basic Chromecast how-to video) — and you're on your way.
After that, the experience is exactly the same as it was before. If you're in a Chromecast-capable app, you just hit the icon, choose your target, and stream away.
More: Where to buy Chromecast
Image 1 of 9
Chromecast specs
Swipe to scroll horizontally
| Category | Features |
| --- | --- |
| Resolution | 1080p |
| Wifi connection | 802.11 ac (2.4GHz/5GHz) |
| Size | 51.9 x 51.9 x 13.49mm (not counting cables) |
| Weight | 39.1 grams |
| Power cable | 1.75 meters |
| Colors | Black, yellow, coral |
| Connectors | HDMI (video/audio), microUSB (power) |
| Supported OS | Android 4.1+, iOS 7+, Mac OSX 10.7+, Windows 7+ |
Chromecast Audio
The other side of the Chromecast coin is Chromecast Audio. It's the puck, minus the HDMI cord and plug, and instead gaining a 3.5mm audio jack.
To that end, hardware setup is exactly the same, though the end result isn't quite as invisible, depending on where you're intending to use this thing. You plug the puck into a wall outlet via microUSB. You plug the puck into a speaker via a 3.5mm cable. (The included cable is short — 5.7 inches end to end.) Cool trick here — and one I didn't even realize was possible — is that you get the usual analog connection or a digital connection via the single 3.5mm jack. You'll need a round optical cable, of course. But for those who want digital audio, there's that option. (And that's also why you might see red light emitting from the hole if there's nothing plugged in.)
The real decision you need to make here is how you're going to use Chromecast Audio. If you're thinking about plugging it into some leftover Bluetooth speaker, you might want to think twice. There's nothing wrong with Bluetooth, really, and Chromecast Audio means two more sections of cable, one of which has to be plugged into a power source. (In most cases that'll be a wall socket.) So my dreams of using Chromecast Audio in the kitchen, along with an always plugged-in Samsung speaker, were pretty quickly dashed.
But if you're plugging in to a receiver or some other bookshelf space — basically anywhere you can hide some wires — then you're going to be good to go.
There is an alternative to this, however, if you just have to have a Cast-enabled speaker out in the open. And that is, well, a Cast-enabled speaker that has the protocol already built in. LG is selling some, as is Sony. They're not cheap, but they're definitely more elegant than a puck plugged into a wall and into a speaker, where everyone can see the mess of wires.
Right now things are a little bit limited in that you can "only" cast to one target at a time. That'll change later this year, Google said at the Nexus (and Chromecast) launch event on Sept. 30 in San Francisco. So this this isn't a Sonos killer, yet.
More: Where to buy Chromecast Audio
Image 1 of 6
Chromecast Audio specs
Swipe to scroll horizontally
| Category | Features |
| --- | --- |
| Wifi connection | 802.11 ac (2.4GHz/5GHz) |
| Size | 51.9 x 51.9 x 13.49mm (not counting cables) |
| Weight | 30.7 grams |
| Power cable | 1.75 meters |
| Audio cable | 146mm |
| Colors | Black |
| Connectors | 3.5mm analog/optical, microUSB (power) |
| Supported OS | Android 4.1+, iOS 7+, Mac OSX 10.7+, Windows 7+ |
The new Chromecast app
And then there's the new Chromecast app. Whereas previously you only ever needed the Chromecast app to set up a Chromecast for the first time (or if you moved it or changed your SSID or some other edge case), it's gained a good bit of usefulness, especially if you're new to Chromecast.
The app has been sectioned off into three parts. There's "What's on," which is sort of a throwback way of looking at things because "What's on" is everything, all the time. (This is the Internet, after all.) But Google presenting content that you might want to watch certainly isn't a bad thing. It just feels a bit forced. Pretty much everything on YouTube is available to watch via Chromecast. (I've never seen anything that you can't stream, anyway.) But YouTube is Google's big cash cow, so it makes sense.
It's worth scrolling to the bottom of the "What's on" section, actually, because there you'll see a quick list of a few of your installed apps that can use Chromecast. That list is pretty limited, though. I'd love to see something more comprehensive, showing all my installed apps that can use Chromecast. Hop over to the third section — "Get Apps" to discover more Chromecast-capable apps. You'll get thrust into the Google Play Store pretty quickly, but it's still a good place to start.
Finally there's the middle section, "Devices." This is where you'll set up new Chromecasts — audio and video — and Google's tossed some basic controls on here as well. So if someone else starts casting something from one device, you can pause or stop it (or just see what's playing) from your device. It's a nice little shortcut.
So all in all it's a pretty major change to the Chromecast app, but even then I haven't exactly found myself coming back to it with any real regularity after a couple weeks of use.
Chromecast 2015 The bottom line
Chromecast has been one of those rare devices that holds up after a couple years. How often can you say that in the tech world? But that's not to say there wasn't room for improvement. If connection issues plagued you with the original Chromecast, you're now able to tap into faster routers and the 5 GHz channel.
Things are still a little more clunky than promo pictures would have you believe; there's still the requirement to plug in to a microUSB port. (And Google now strongly recommends you use the included wall wart.) But that's a minor headache. Otherwise, Chromecast is still as plug and play as ever, and it's something I use just about every day.
Should you buy it? Yes!
Don't think twice. This may well be the best $35 accessory you spend when it comes to making the most out of the Android ecosystem. In fact, buy two. It's that easy to use, and it's that good.
Here's where to buy a new Chromecast for $35:
Google Walmart Best Buy Currys UK
And here's where to buy a new Chromecast Audio, also $35:
Get the Android Central Newsletter
Instant access to breaking news, the hottest reviews, great deals and helpful tips.