Retro gamers, rejoice! R-Type shoots its way onto Android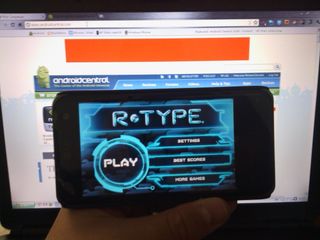 Sometimes you really can't beat the golden oldies, and today sees 1987 classic shoot-em-up R-Type arrive on Android. Developers DotEmu SAS have ported the classic title and released it out to the world.
For those of you out there that are a little young to remember it first time round, you pilot the R9-a Arrowhead, the last hope for the human race against it's alien foes. If you ever played the original, you'll already know that it's not the easiest game to complete.
All features of the original have been retained including:
Items and power-ups to collect throughout the levels
Strong enemies and bosses at the end of each level - 8 in all
The famous "Charge Shot" for more power
It's little 21st century twist comes in the form of OpenFeint compatibility allowing you and your friends to share in all the eighties goodness.
Besides the expected full touch interface, the good news for Xperia Play owners is that it's officially optimized for use with the hardware controls.
Check out the trailer and some screenshots and download links (the game's about $4.12) after the jump.
Youtube link for mobile viewing
The menu screen looks like its from NOVA....

I spent so much money on this game when I was a kid, insert coin, dead, insert coin, dead, ins...
Loved it.

lol,same here Hermond,oh the xbox360 usb pad works with this game on the iconia

Oh man i spent all my pocket money on this as a kid ! Gotta say it was mega hard though.

The price has been reduced to $2.99.

I just looked at the Market, it is still 4.12.

It would be awesome if they came out with Contra for android!

+1. With the famous u u d d l r l r b a start :)

Erm...you can already play Contra on Android with any number of console emulators. Frankly, none of these games play well on a touchscreen IMO :(
Android Central Newsletter
Get the best of Android Central in in your inbox, every day!
Thank you for signing up to Android Central. You will receive a verification email shortly.
There was a problem. Please refresh the page and try again.