Qualcomm completes LTE Category 9 Carrier Aggregation testing with EE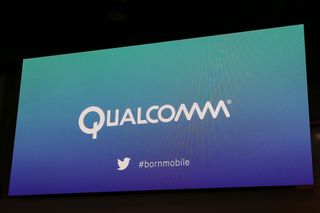 Qualcomm today announced the company has completed inter-company interoperability testing of LTE Category 9 with Huawei and UK mobile network EE. Using the Snapdragon 810 processor, Qualcomm utilized Huawei's commercial infrastructure solution to connect across EE's LTE-A '4G+' network.
The LTE-advanced modem is also backwards compatible with current technologies including GSM/EDGE, CDMA1x/EVDO, TD-SCDMA and WCDMA/HSPA+. With the new tech consumers will be able to enjoy even faster peak data transfer speeds (up to 410Mbps). As was previously shared by Qualcomm, the company expects the new hardware to be available to customers in early 2015.
Check the press release below for more details.
SAN DIEGO, Dec. 22, 2014 -- Qualcomm Technologies, Inc. (QTI), a subsidiary of Qualcomm Incorporated (NASDAQ: QCOM), EE and Huawei today announced the companies have successfully completed inter-company interoperability testing of LTE Category 9 connectivity with 3-carrier downlink aggregation and download speeds of up to 410 Mbps. Testing was conducted using QTI's Qualcomm® Snapdragon™ 810 processor with integrated LTE-Advanced next-generation modem, and Huawei's commercial infrastructure solution, across EE's LTE-A '4G+' network. Category 9 Carrier Aggregation allows EE to aggregate 20MHz of 1800MHz spectrum with another 20MHz of 2.6GHz, and a third carrier of 15MHz of 2.6GHz.
QTI continues to be a leader in driving the commercialization of faster downloads, speedy application performance and reliable connectivity across greater coverage areas enabled by LTE Category 9 connectivity. This test becomes the first announcement of a successful completion of LTE Category 9 interoperability testing with major solutions providers and operators in Europe. Completion of this LTE Category 9 testing further demonstrates the superior end-to-end experience delivered by higher speeds and 3-carrier downlink aggregation.
"We are excited to work with EE and Huawei in ushering in the latest evolution of wireless connectivity," said Enrico Salvatori, senior vice president & president of Qualcomm Europe. "Transitioning from Category 6 to Category 9 LTE-A connectivity will mean 1.5x faster peak download speeds, swift application response times, reliable connectivity and connections to the fastest networks."
"Working closely with the excellent teams at Qualcomm Technologies and Huawei on the next generation LTE Category 9 connectivity enables us to make full use of our spectrum holdings, and continue to offer world class network capabilities, innovating to stay one step ahead of operators in Europe," said Tom Bennett, director of network services and devices at EE.
"Use of our remaining 15MHz of 2.6GHz spectrum enables both our fastest speeds and an increase in capacity across our network and this successful testing phase is a big step forward. We look forward to demonstrating this at Wembley Stadium early next year."
"Huawei is dedicated to improving network capability across the UK – delivering fast speeds and more reliable connection to all mobile devices," said Yang Chaobin, chief marketing officer of Huawei Wireless Network Business Unit. "This test is a truly groundbreaking moment as we move towards the 5G era. This LTE Category 9 interoperability test is the first successfully announced trial of its kind in Europe and we're proud to be working alongside Qualcomm Technologies and EE to drive future networks."
Android Central Newsletter
Get instant access to breaking news, the hottest reviews, great deals and helpful tips
Fair play for this testing but EE are still rip offs Posted via the Android Central App

I pay £15 for 2gb of data and unlimited texts and calls with EE. Seems pretty cheap to me. Are they expensive if you're paying for a "free" phone? Similar packages would be £17 on Vodafone for 1gb, £20 on O2,
3 seems to do 600 minutes and unlimited data for £20, but is known for coverage that's a bit poo.

I imagine the UK isn't much different than the US in terms of some carriers are better in some areas than others. Mostly, I hear about how crazy cheap plans are in the UK. Maybe you should take a long look at your bill and see if there's any charges your don't recognize on there.

Yet another reason not to buy a smartphone now, and another reason to wait for a smartphone with the Snapdragon 810. Posted via the Android Central App

Why wait. US folks will probably never see this. Huawei network equipment! Posted via my "Material Design Modded" Rooted Sprint LG G2. (Rooted Sprint GS3 FreedomPop[MVNO]
(Stock "Contest Won - Sprint Galaxy Note 4"
(Stock Galaxy Note Pro 12.2
(Stock T-Mobile Galaxy Note 3

I pay £56 per month for unlimited text and call with 3gb data I always seem to go over end up paying £67pm 4g is slow and coverage is crap..... I also have another phone with 3 network sim £15pm on that I get 3000 text 300mins to any network and unlimited data with free 4g Posted via the Android Central App

Contract is up in April so not too long until I don't re new it ;) Posted via the Android Central App
Android Central Newsletter
Get instant access to breaking news, the hottest reviews, great deals and helpful tips
Thank you for signing up to Android Central. You will receive a verification email shortly.
There was a problem. Please refresh the page and try again.