PSA: The POCO F1 doesn't have NFC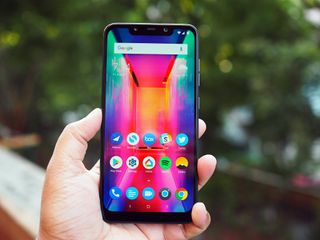 The POCO F1 is turning out to be the deal of the year. Retailing for the equivalent of $300, the phone is currently the most affordable device to be powered by the Snapdragon 845. POCO had to cull a few features to get to that $300 figure, and as such the F1 misses out on NFC.
The lack of NFC doesn't hinder sales in India, where the device is primarily targeted. But with the phone set to go on sale in over 50 global markets — including 30 European markets — the omission of NFC could turn out to be a dealbreaker.
Furthermore, the POCO F1 isn't quite as affordable in global markets, with the phone retailing for €330 ($385) in Spain. You do get a lot for the asking price, including 6GB of RAM and 64GB of storage, a MicroSD slot, dual 12MP + 5MP cameras at the back, 20MP front shooter, and a massive 4000mAh battery with Quick Charge 3.0.
On the software side of things, the POCO F1 is running a custom version of MIUI that includes a launcher and other tweaks to make it more palatable to a Western audience. The skin is based on Android 8.1 Oreo, with POCO stating that it will roll out the Pie update in the coming months.
POCO F1 review: Incredible performance at an unbeatable price
If NFC is a feature that you absolutely need to have in a phone, there's always the Nokia 7 Plus. It's available officially in the UK for £299 ($385) (opens in new tab), and while the Snapdragon 660 isn't as powerful, you do get NFC and the promise of quick updates with Android One.
See at Amazon UK (opens in new tab)
Android Central Newsletter
Get instant access to breaking news, the hottest reviews, great deals and helpful tips
Harish Jonnalagadda is a Senior Editor overseeing Asia at Android Central. He leads the site's coverage of Chinese phone brands, contributing to reviews, features, and buying guides. He also writes about storage servers, audio products, and the semiconductor industry. Contact him on Twitter at @chunkynerd.
Or maybe the Honor Play. Kirin 970 + NFC = £279.

Atleast in india , that is not a concern as NFC payments are not implemented on a wide range like USA and google pay (The US version) is however not available here !

I don't know why NFC is so important to phone reviewers!!! It isn't to regular people.

Reviewers are, by and large technophiles, always looking for the latest at greatest. They want all the bells and whistles and to a large degree the mobile phone industry has been successful in getting the average consumer to buy into that mentality. How else can you explain people shelling out, $1000 when all most do is make calls, send texts, do a little web browsing, and maybe watch some videos? We're still pretty much in the early stages of some people realizing this and buying what they actually need. It's hampered in the U.S. by people mostly still being tied to their provider for their phone purchases.

Features such as NFC are more important in some markets than others. Here in the UK contactless payments are almost everywhere

This is very true, but even here in the UK it seems the vast majority use their card for contactless rather than their phone... Not that I agree with the OP. in 2018 it's no bad thing to let people know a phone doesn't include NFC. While far from ubiquitous, it's certainly on the rise in many places.

I keep trying to explain to people why Google Pay is a lot more secure than using a contactless card and they look at me as if I'm trying to describe Martian. It is odd.

Many people like to keep their phones away from their money. You're far more likely to get your phone snatched (probably unlocked) out on the street than getting your card snatched, which you would only pull out at a shop counter in view of CCTV and shop staff. Sure Google Pay has additional security measures but the fact of knowing that the device containing your financial details just fell into the hands of a thief can be very disconcerting. At least with a card you can just ring up the bank and cancel it. If your phone is stolen, calling the bank might be difficult. FYI I always use a RFID card sleeve, and the risk of getting skimmed during the few seconds when I pull the card out and pay is small enough to be acceptable.

It doesn't matter to those that don't use it, but I go without cash for weeks at a time just because it's so easy to tap and walk out the door. I use it sometimes five or six times a day, so no NFC for me would be a deal breaker. I stop at the Shell gas station, pickup breakfast from Tim Horton's, buy lunch at Subway, stop for milk at Walgreens on the way home, all without opening my wallet.
I also use NFC Tools Pro and can program my own tags and stickers, which is very cool if you are into it ;)

I use NFC about once a year tops.... Contactless is kind of a no go at bars restaurants.

Here in the UK, I use NFC for contactless payment at least 4 times every week. It's far more secure than carrying a card that can be read in your wallet while shopping. With NFC you just turn it off when not required. Your phone has to have the lock functioning for Google Pay to work so it's twice as safe as a card. If a phone dosen't have NFC then it's a big NO for me despite the other specs. All bars and restaurants that I visit accept phone payments.

Do you have to hand over your phone the barkeep or waitress? Curious

No, not usually. Most restaurants and bars that accept cards have mobile payment terminals or readers at the bar itself. It's incredibly rare to even hand a card to a cashier these days.

The US is way behind other markets when it comes to mobile payments. In other markets the waiter brings a payment terminal to your table so you can tap to pay (contactless). You never part with your card or phone. You can even specify a tip. It's a different world.

Carrying a card is no issue... Get a good wallet. They have blocking for readers....

I don't want to be beholden to my phone's battery life for paying my bills either. Just use a secure wallet and no worries.

How can the lack of nfc be a dealbreaker? The phone's $300! There are few; if any $300 phones that have that. None with a snapdragon 845. Gripers.. just make no sense, we might as well have a 40 megapixel cameras, in display fingerprint sensor, etc.. for only $300!

It's a deal breaker because there's no NFC. Full stop.

A couple of quick questions:
1. Is this an Android One device?
2. Is it Google recommended for business? (aka Android Enterprise Recommended)
3. Are monthly security updates offered and for how long? I understand it is a highly speced phone for the price point, but that is secondary, to many of us, compared to service, security, and privacy. If Harish doesn't respond, can any peers react to these honest questions?

POCO is a sub-brand of Xiaomi, and it uses the MIUI ROM. It is heavily skinned, but it has a ton of customization options. That said, it won't get monthly updates (POCO is aiming to roll out one update a quarter), and it isn't recommended for businesses.

Did they fix the Widevine L1 HD compatibility issue yet?

That's unfixable. It's essentially a firmware licensing thing that's only able to be fixed via a factory change.

Why is NFC so important for y'all? Even in America I am *yet* to see anyone use Android/Apple play, or yet to hear anyone actually use the wireless pad.

It isn't "even in America." The US is way behind Europe on this. NFC conceals my "real" credit card and can't be sniffed in my pocket. I use it at least ten times a week, my credit card stays in the safe along with my bank card. Even our local farm co-op as well as all the local cafés, convenience stores and supermarkets take it.

I have to agree. Even our little village store takes contactless payment here in the UK. There are very few outlets that don't offer it. I thought America was supposed to be a first world country. Oh well!!!!!

It is everywhere, accept for small ma and pa stores. Not worth the cost for new terminals. It's the population that isn't using the tech.

Only times I have ever used NFC is when it made it easier to switch phones. Haven't needed that the last couple years. It's quite literally the first thing I turn off on a new or reset handset.

Every Android phone I've owned has had NFC, and it's used so infrequently, I forget it's there until someone on AC writes an article about it. It's virtually useless to me.

I have removed all credit cards from my wallet. Totally reliant on NFC here in AU. DL will soon go digital here so will barely need a wallet

I'll go days without using anything BUT contactless payments. However, if I was paying $300 for a phone with an SD 845, I would not expect it to have the features of an S9.

NFC is useless to me, utterly useless. I use a hard case for my phone with a magnet slipped inside as I use a magnetic dashboard mount. This prevents the NFC from working. I drive for a living so can't have it any other way. I see a lot of contactless card users but I can't ever recall seeing anyone using their phone to pay.

I guess you don't live in Europe then?

Do they not have magnets or drivers in Europe?

It's good to know, but I guess you could say similar things about any phone.
PSA: The Galaxy Note 9 doesn't have fast charging.
PSA: The Pixel 2 XL doesn't have wireless charging.
PSA: The HTC U12 doesn't have buttons. I think a bigger issue is that the F1 does not support HD Netflix playback.
Android Central Newsletter
Get instant access to breaking news, the hottest reviews, great deals and helpful tips
Thank you for signing up to Android Central. You will receive a verification email shortly.
There was a problem. Please refresh the page and try again.