Pressy review: The little 3.5mm plug that could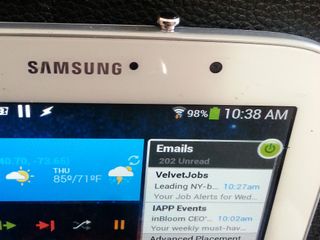 The surprisingly handy accessory opens up a new world of hardware actions
Many of us with Android devices have tasks we would like to accomplish without looking at our screens, but which may not have a dedicated or customizable hardware button (and some devices don't have any hardware buttons at all). Many of us also have headphone jacks on our devices we rarely (if ever) use, particularly given the vast number of Bluetooth audio solutions. If you're in both categories, Pressy, a new Android-only accessory originally funded through Kickstarter and now shipping (first to backers and pre-orders), may be exactly what you're looking for.
Pressy looks like the metal end of a 3.5mm audio plug with a rubbery button attached to the top, and essentially that's what it is. It fits snugly into an open headphone jack on your Android device, and the button end is small enough in diameter to work even with tightly fitted cases like the Otterbox Defender case I have on my Samsung Galaxy S3. Pressy is configured via a free app available through Google Play and activated via a QR/alphanumerical code on the package in which Pressy ships.
To use Pressy, install and run the app, which prompts you to activate it and then insert the Pressy. It takes a bit of fingernail dexterity to seat the Pressy without actually depressing the button, but eventually you get the hang of it. From there, the app prompts you to make it the default app for presses (it can be triggered with both long and short presses), and then leads you into configuration, a tutorial and your customized Pressy triggers. There are a few known issues with Samsung devices (S-Voice and Google Search may need to be disabled before installing Pressy; they can be re-enabled later) and some other brands, so check the FAQ on the Pressy Web site (http://get.pressybutton.com/pages/support) for more information.
Image 1 of 6
The Pressy app comes with a number of standard features that can triggered by one or more long or short button presses, including turning on the LED flash as a flashlight, taking a photo or video, recording audio, adjusting system settings, and others, and can be set to work even if the screen is off. In addition to being able to launch any installed app, Pressy can also work with "Connected Apps," those already compatible with Pressy, to perform specific actions. You can set up to nine separate Pressy triggers, using one, two or three long or short presses plus three additional combinations. When you remove the Pressy, the app gives you additional Settings options (via the menu popup) to turn on/off notifications, vibrate when pressed, and alter the response time (like the double-click rate on a mouse). When you reinsert your Pressy, a box pops up so you can tell the app if you're using Pressy, headphones, or both in the jack.
If you have multiple Android devices, you can use one Pressy with both, switching it back and forth as needed; once the app is activated, it installs onto your second device without needing a new code. You'll want to keep Pressy in place as much as possible, though; not only is it more convenient that way, but it's very small and easily lost. (It does come with a rubberized keychain holder for storage out of your device, but I'm not sure how long its loop will last before it falls off your keychain, Pressy and all.)
I was a Kickstarter backer for Pressy and love mine so far. I have it set to play/pause audio on a single short press, and turn on the LED flashlight with two short presses, and even on the fastest response time, I have no problem triggering either at will. While the price (currently $27 U.S. for one in your choice of colors, with discounts for multiple purchases) may seem high for this tiny device that looks like an audio jack dust cover, the convenience and customizability (with more promised) may well encourage you to press the purchase button for Pressy.
Get the Android Central Newsletter
Instant access to breaking news, the hottest reviews, great deals and helpful tips.